If you are arriving at the railway station in Lopburi, make sure you hold onto your valuables. Or if you are visiting the spectacular ruins of the nearby Phra Prang Sam Yot, come to that. There are thieves about. And they particularly like to pinch cameras from unsuspecting tourists.
Before you decide to give the fascinating historic city of Lopburi a miss however, it is worth knowing that these particular pickpockets are in fact the headline act for most people.
Beware of the Monkeys!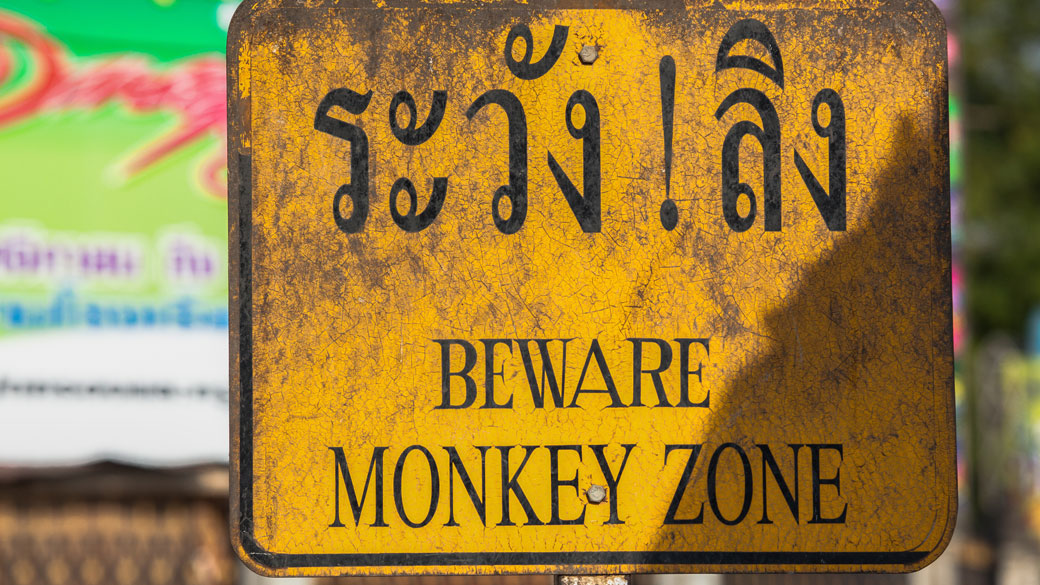 That is because they are not your run-of-the-mill criminals. In fact, these light-fingered rascals are not humans at all, but monkeys. And, if you like to see the animals up to their mischief, then Lopburi is for you.
Where Can I Find Them? 
Located around 150 kilometres north of Bangkok, and dating from the 6th century, Lopburi is one of Thailand's oldest cities. The main ruins you can see today are from the 11th-13th century, when Lopburi was a part of the mighty Khmer empire, and the 17th century when King Narai rejuvenated the city. However, despite this amazing backdrop, it is the monkey residents that make Lopburi such a draw.
Travelling to Lopburi by train is a good option, as it gives you the opportunity to see some stunning scenery along the way. You can tell you have got off at the right station when you see the giant monkey statue on the platform.
You are likely to spot the live version pretty quickly too, on the short walk between Lopburi train station and Phra Prang Sam Yot (or Monkey Temple, as it's often known – I wonder why?). They might be watching you whilst swinging from overhead wires, hitching a lift on a passing car, or simply wandering down the street.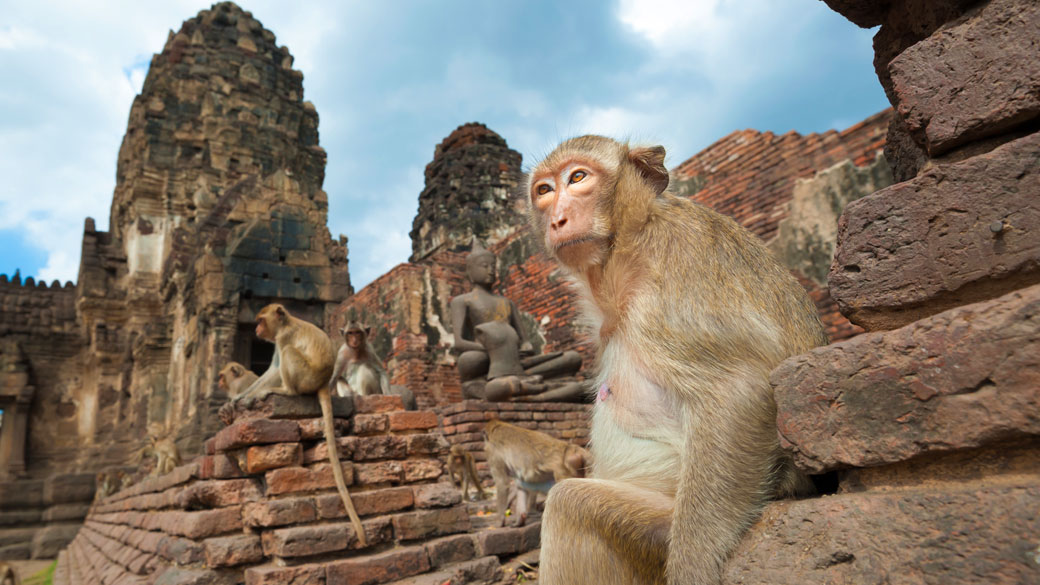 Phra Prang Sam Yot itself is a real hot spot for monkeys. It is hard to miss the monkeys hanging off the temple's prangs, begging their adoring public for nibbles – or having fun playing with their stolen goods.
The monkeys (actually long-tailed macaques) are generally pretty friendly. Be aware however, these cheeky monkeys will go after anything that looks interesting – from cameras, to hair clasps, to glasses – so do make sure you hide away anything you want to keep for yourself. One of their favourite tricks is to swipe hats off the top of their guests' heads. Which is just fine, as long as you don't want it back!
The Lopburi monkeys are also experts at finding any food or drink you have with you, so make sure you are prepared to share any snacks you bring in. Don't think packaging will stop them either. These monkeys have learnt all the tricks, and can easily unscrew a water bottle, open a drink can or get into a bag.
If you prefer to look but not touch (or be touched, to be more accurate), then hire a guide who can keep the monkeys away with a stick. Or simply stand a little away from the main activity and watch those other hapless visitors who forgot to tie their camera strap around their wrist before taking a snap.
The Banquet!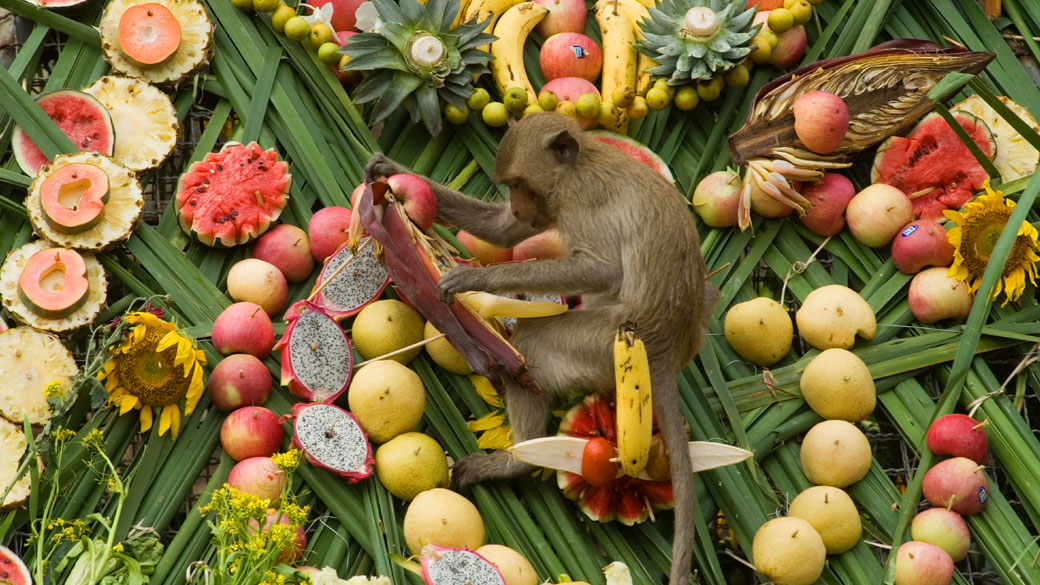 If you really want the full-on monkey experience, on the other hand, try visiting Lopburi during the Monkey Festival that usually takes place on the last Sunday of November.
This bizarre (but rather wonderful) event began in 1989 when the owner of the Lopburi Inn decided to put on a buffet for the monkeys that the townspeople believe bring good luck and fortune. The Lopburi Monkey Festival is now an annual event that takes place in the ruins of the Khmer temple, Phra Prang Sam Yot.
Opening with music and performances, including human monkey dances, the main focus of the festival is still a feast for the monkeys. With delicacies including sticky rice, cashew nuts and tropical fruits to tempt them the monkeys are invited to sit down at long tables covered in red tablecloths.
The day long event usually starts well. But there are monkeys involved remember. So if you do decide to come and visit, just try not to get caught up in one of their food fights. You are likely to lose!