I didn't know a thing about the country before I came to teach in Thailand, apart from that I must go to Chiang Mai and Pai while I was there.
Chiang Mai's famous elephant sanctuaries, white-water rafting courses and long-neck Karen, and Pai's undisputed title of 'Thailand's Hippy Village' certainly made the north enticing. We weren't being culture snobs by opting for Chiang Mai instead of the Full Moon Party, but my liver was still moaning from Bangkok. Plus, what were we going to white-water raft on in Koh Phangan, a river of Sangsom and Chang? Didn't think so.
Chiang Mai has the grandeur of a large city in England. The old town is walled and home to the most beautiful monastery I have ever seen. As far as the markets go, the city is impressive, but this is nothing we hadn't seen before. The true lure of Chiang Mai is in its huge variety of day trips and activities. After having been in the city for just half an hour, we were already booked on an entire day trip for 1000 baht. This just goes to show that walking out of the shop and waiting to be called back is an excellent form of bartering. Don't get embarrassed, and don't cave!
We had a private taxi driver, whose name escapes me, although it was very long and very Thai, and he was amazing. He took us to the Orchard Village, which was the worst ten minutes of my life (who cares about orchards that much, I've been dying to know since), the long-neck Karen village, jungle trekking, to waterfalls, white-water rafting, bamboo rafting and elephant riding.
The long-neck Karens were terrifying. They had been settled in this area of Chiang Mai for only ten years, and no-one was sure why the women elongate their necks with heavy, golden neck rings, sometimes from the age of five. Some say it's to repel slave trade, why others seem to think these giraffe-looking children and women are an expression of beauty and Thai civility, and that it's actually encouraged. I made a point of taking a picture with a young girl who didn't have the neck ring to show her she didn't need it. This village is not for the squeamish!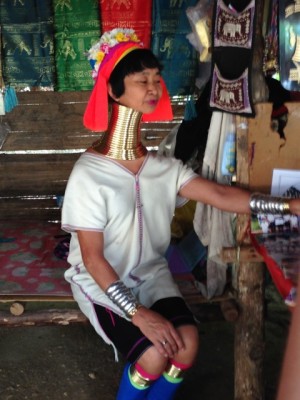 Jungle trekking was exhausting and I can't comprehend why people would purposefully volunteer themselves to do it for three days. Does no-one realise that you have to carry all your stuff uphill, that it's fiendishly steep, and that it's boiling? Even twenty minutes felt like a punishment. Refund? Luckily the waterfalls at the top were worth it. If you're feeling adventurous, slide down the lesser-used waterfalls and pray you come back to the top. White-water rafting was hilarious; we had a ten second tutorial on the positions you have to take in emergencies, and were then told we were going down a 30m waterfall. Our raft did try to flip about five times, and the 30m waterfall was more a stretch of constant rocks and falls, rather than the deep plunge to the abyss we had all imagined. Don't take it seriously as you'll only flip. We were so smug when the French power-couple opposite cheered at overtaking us, only to capsize on the following rock and lose both paddles.
As for the elephant riding, you really do have to do it in Thailand. The ethics of it all are extremely dodgy, and if you're lucky you can find sanctuaries where you wash them, like ours, and then ride them without a seat because the elephants want you to. It was a surreal fifteen minutes, as elephant riding had so much hype, and did deliver. Days like this do immerse you in another world and another culture. It's both tiring and exhilarating, but exploring Thailand like this, in my opinion, really is the best way.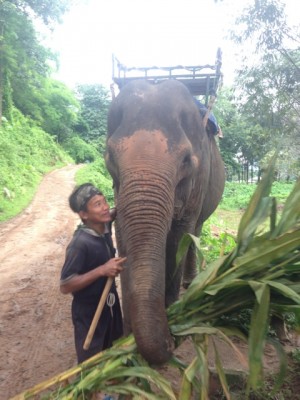 Without a doubt, Pai has been my favourite place so far in Thailand, and it should be declared illegal to venture up north and not go. It's a small village three hours from Chiang Mai, and is just full of small shops, quirky bars down random alleys, every sort of restaurant imaginable and five-room guesthouses. It truly is a haven. We decided to rent mopeds for the day, which was incredibly cheap and also incredibly safe. The travel agents took us on a test drive in a muddy field, which was by far the most perilous part of the day. We rode down huge open valleys, between fields, across waterfalls, through villages and up to viewpoints. It really was the highlight of my trip. Pai isn't that big but there's an atmosphere there which is indescribable. We were there during the four-day weekend, which meant buying alcohol was prohibited. Some of our group decided to get bamboo tattoos, and we spent the weirdest evening paying the tattoo artist to journey out and buy us all beers, as is the nature of Pai! Not too much can be said about the place but it's important to discover it yourself, and then you'll see why it is so renowned.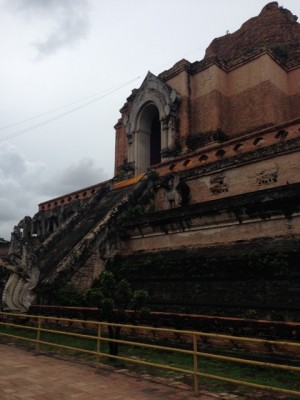 By Josh