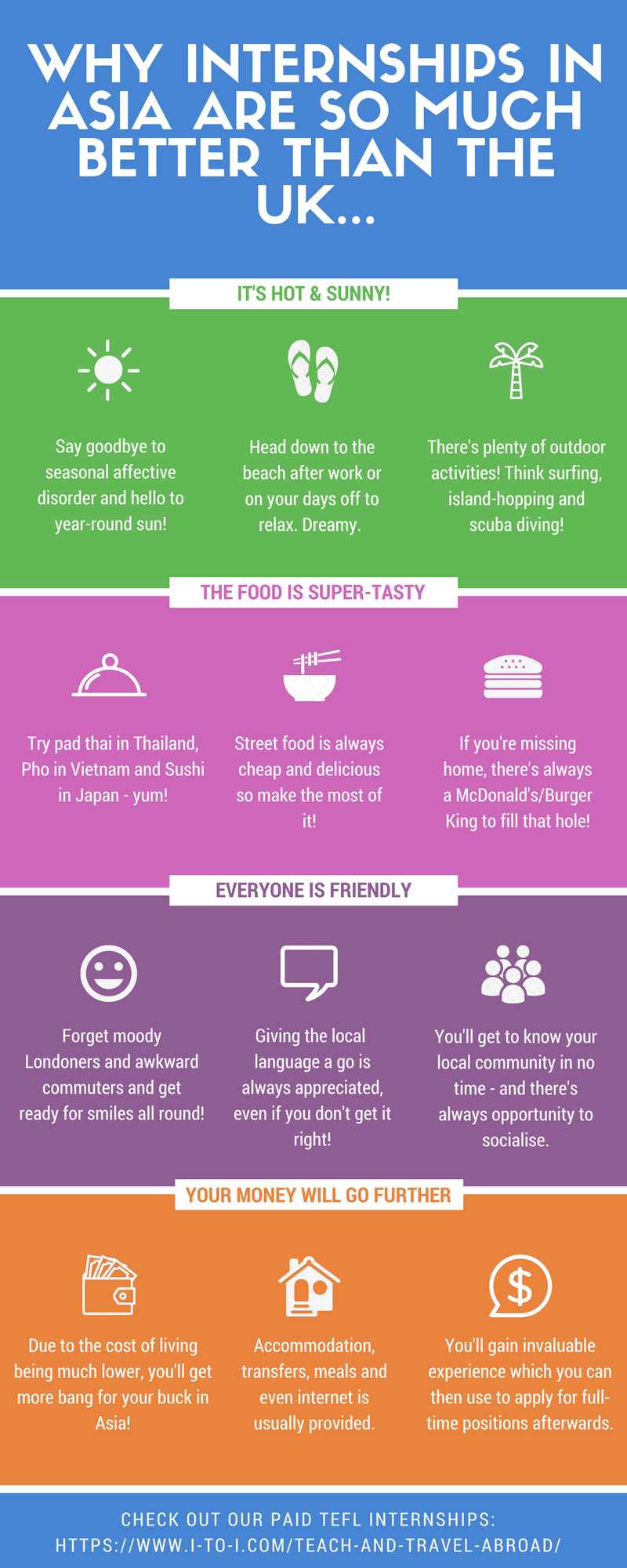 There's plenty of reasons why interning in Asia is better than interning this side of world so we've condensed them into nice digestible chunks for you (Hint: food is involved).
The weather
Of course, number 1 on the list is the difference in climate. Asia benefits from year-round sun and that lovely warm rain every once in a blue moon – while we're here in dreary January sleet and ice-cold winds. No contest. Factor into that the fact that you can practically live in flip-flops and head down to the beach for a swimming/tanning session whenever you feel like it and we're pretty much booking our plane tickets as we speak.
Food, glorious food
Not that we don't love a Sunday roast or fish and chips on a rainy Friday but Asian food is just out-of-this-world tasty. Whether you're a spice-fan, mad for ramen or a soup-slurper, there's so much to try and it's so cheap that you can literally fill your boots. Extra bonus: it's actually healthy, too!
People are nice
Weird, we know, but there's much more of a communal vibe in Asia. Thailand is nicknamed the land of smiles and the feeling's mutual in Vietnam, Cambodia, China… the list goes on. It actually does make a refreshing difference from moody commuters and angry shoppers here in the UK.
You'll be richer
Although internships are generally paid lower than full-time positions, your money will stretch further in Asia due to the lower cost of living. Plus, a lot of the time, you'll get accommodation, airport transfers and possibly meals and internet included. So in reality, there's actually not a lot you need to cover yourself – winner!
Sounds good, right? Check out our Paid TEFL Internships here.