What happens if a jealous devil causes a goddess to drop her magic mirror? It shatters and forms 108 (or possibly 114) turquoise lakes, of course!
Now, before you try and work out if this is some sort of bizarre existential joke, let me put you out of your misery. It is in fact the Tibetan legend of how the stunningly beautiful national park of Jiuzhaigou in China's Sichuan was originally created.
These fantastically blue lakes, set against a backdrop of deep forests and snow-covered mountains certainly seem fit for a goddess – or even a visiting tourist or two (million). Not to mention the golden monkeys, Sichuan takins, pandas and over 100 different species of birds that call it home.
Take a hike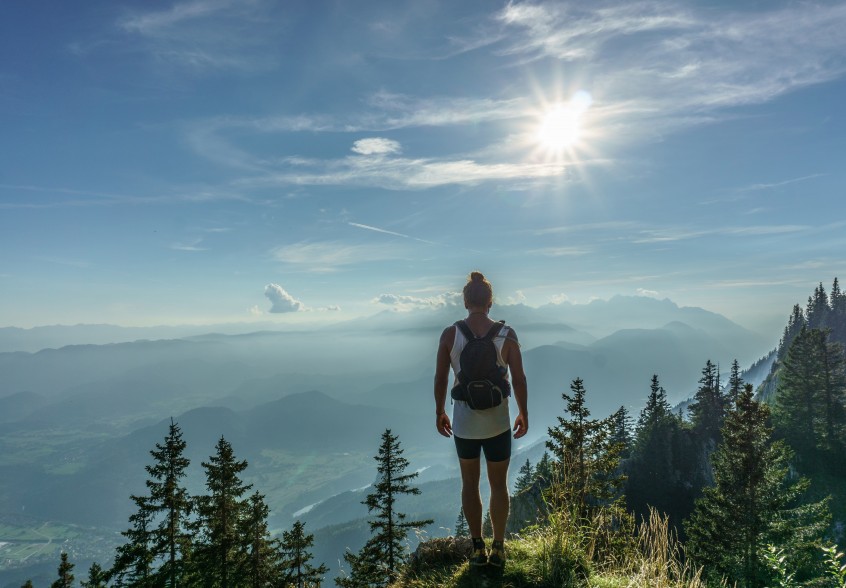 Despite the numerous visitors, it is possible to escape the crowds by experiencing the fairy-tale wonder of Jiuzhaigou National Park on foot. With a series of well-maintained trails, this is ideal hiking territory.
There is also a hop-on-hop-off bus if you want a breather along the way – or, indeed, all the way. As the road usually follows the other side of the lakes to the footpaths, combining bus trips with walks allows you to see as much of Jiuzhaigou as possible.
Solitude in the woods
If it is solitude you are after, head for the Primeval Forest. You can find yourself completely alone as you wander through this ancient woodland towards Arrow Bamboo Lake.
Once you reach Arrow Bamboo Lake look out for the favourite food of giant pandas – the arrow bamboo that gives the lake its name. For you never know, a passing panda might just fancy a tasty snack.
You have got a better chance of seeing a panda at Panda Lake, however. They have been known to come to this lake to drink and play. Although do not get your hopes up too high – it has been a while since one was last spotted here.
Colour, colour and even more colour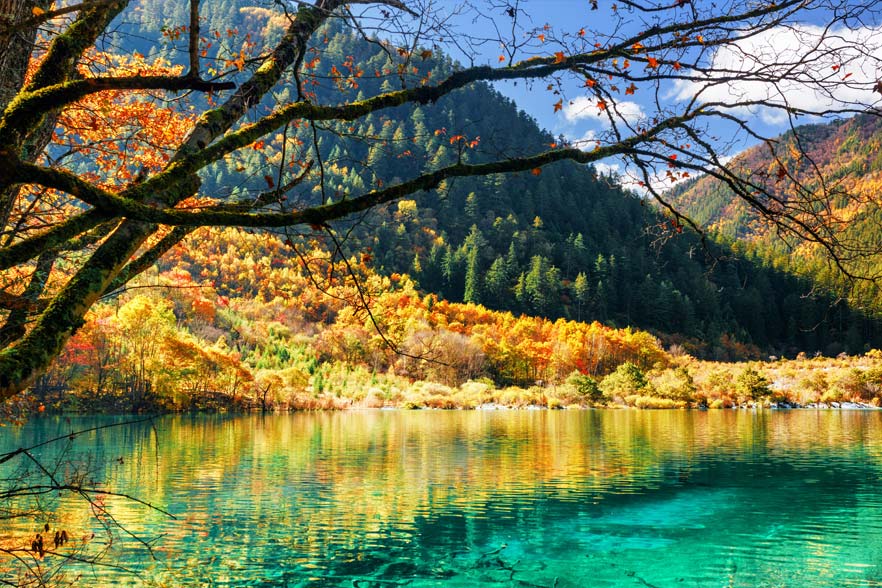 If you are partial to a bit of colour, then make sure you include Tiger Mouth in your itinerary.
From here, you can peer over the cliff edge and down to Five-Flower Lake, regarded as holy by the locals.
Whether the explosion of colourful leaves reflecting on the azure blue of the lake is divine or simply spectacular, prepare for your eyes to be almost overwhelmed by the sheer vibrancy of this sight.
For the most stunning scenery of all however, you need to travel up high. Try taking a bus up to Long Lake and then hiking around to Glass Lake. Make sure you build in frequent stops to gasp in awe along the way.
When to go
If you have the chance, visit Jiuzhaigou National Park in autumn (September to November). At this time of year, the contrast between the seasonal colours and turquoise lakes is simply out of this world. Although if you can cope with sub-zero temperatures, winter offers the dramatic – think waterfalls frozen in mid-flow. To be honest, it is pretty amazing in spring and summer too…
Well, if a place is going to be created by a goddess's mirror, it is going to be special!