We have just returned home from our one week holiday (known as Golden Week); the longest holiday we get over the course of the internship. What an adventure it was! Steph and I decided to take the bullet train to Guizhou, a province that's fairly "off the beaten track" rather than go to Shanghai like most of our friends. It doesn't get any more convenient than travelling in China; all the cities, big and small, are so well connected. There are bullet trains, planes, slow trains and buses that take you absolutely anywhere. Guangzhou South Railway station may as well have been an airport it was beyond enormous! After spending the bulk of the day on trains, we finally arrived in Kaili, Guizhou. The city had great vibes, there was KTV and street vendors on ever corner and the lights that lined the road were a beautful feature. We spent our first day at Xijiang Miao Village. Guizhou is a province with a large population of ethnic minority groups. This particular village is the largest community of Miao people in the world. It was amazing. The natural scenery was stunning. Many people wore traditional Miao costumes which are very brightly coloured clothes adorned with silver decorations and a big silver crown.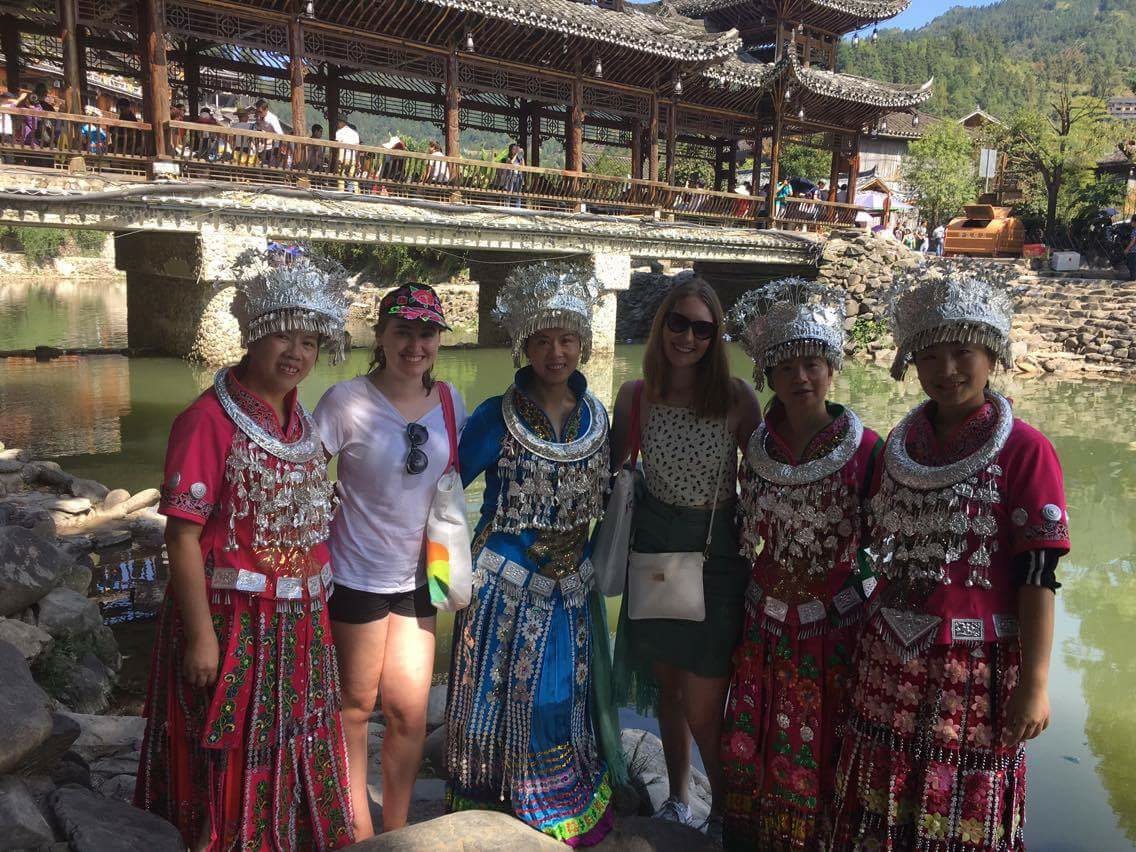 We spend the day strolling through the main streets in and out of shops that sold everything from combs made of horn to bongo drums to fancy Chinese tea. There was one street dedicated to street food which had every food you could possibly imagine and many dishes you couldn't. There was all kinds of noodles, vegetables, barbecued meats, freshly squeezed pomegranate juice, quail egg kebabs, strangle local dish that was warm sticky rice filled with crushed nuts and sugar coated in a powder, just to name a few. We strolled along the river, in and out of rice fields, and up to a lookout point that overlooked the entire village. It was the most beautiful view.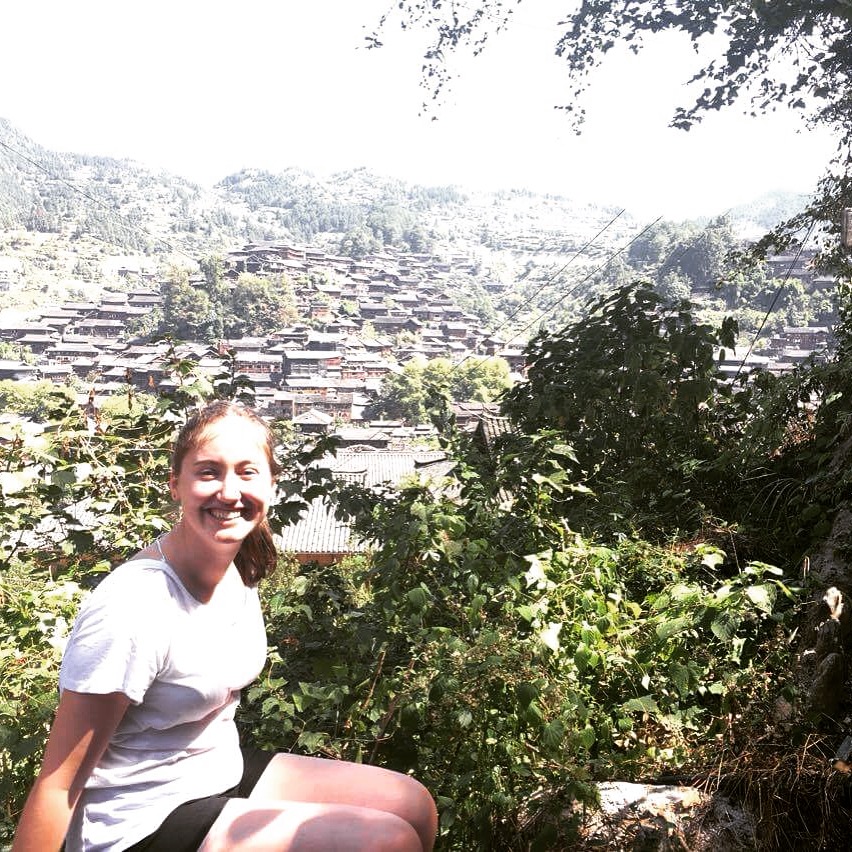 Every building in the village was made of beautiful wood, and every roof upheld the traditional Chinese architecture of black layered tiles that flick out at the corners. An old Miao man painted my Chinese name in calligraphy script for me, it was amazing to watch him paint with such a skilled and practiced hand. We walked up into the backstreets again and came across the village bar the sold rice wine strong enough to knock you out, a Buddhist temple, an artist who painted calligraphy and Chinese style paintings who invited us onto his balcony overlooking the village for home-brewed tea, a traditional Chinese medicine shop that happened to be run by the king of the village, and many others. It was the most wonderful day. Unfortunately it took 3.5 hours to get back to our hotel, but it's one of the busiest times of year so understandable.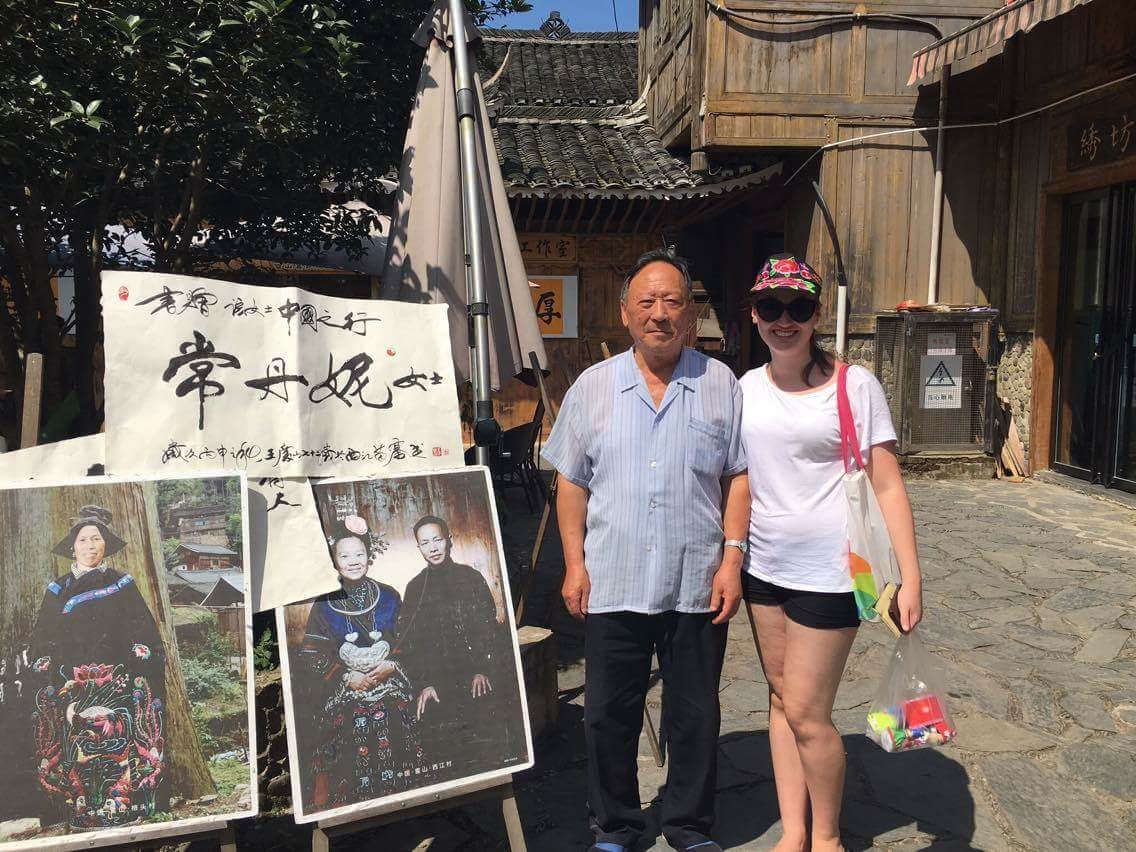 The next day we tried to go to a place called Leigongshan Nature Reserve and climb a big mountain there. This day was quite easily the craziest day of my life and showed that the best things can happen in the most unexpected times. We got on a bus that said it was going to Leigongshan, but after a 2 hour drive (through the most magnificent mountains and terraced rice fields), we arrived at the mountain which we were then told was 'closed'. So we asked the driver if we could stay on his bus since he was returning to Kaili later in the afternoon, we figured he had to be going somewhere. A half hour later we stopped at a tiny wooden mini mart for a toilet stop. The lady running it insisted that Steph and I eat lunch inside and she gave us the spiciest soup I've ever eaten, my mouth was literally on fire. Anyway, we walked outside fifteen minutes later and the bus was gone! He'd left without us! The fear that gripped me in the moment was unlike anything else. Here we were, 2.5 hours away from the city, up a giant mountain that would take hours and hours and hours and hours if we had to walk back down….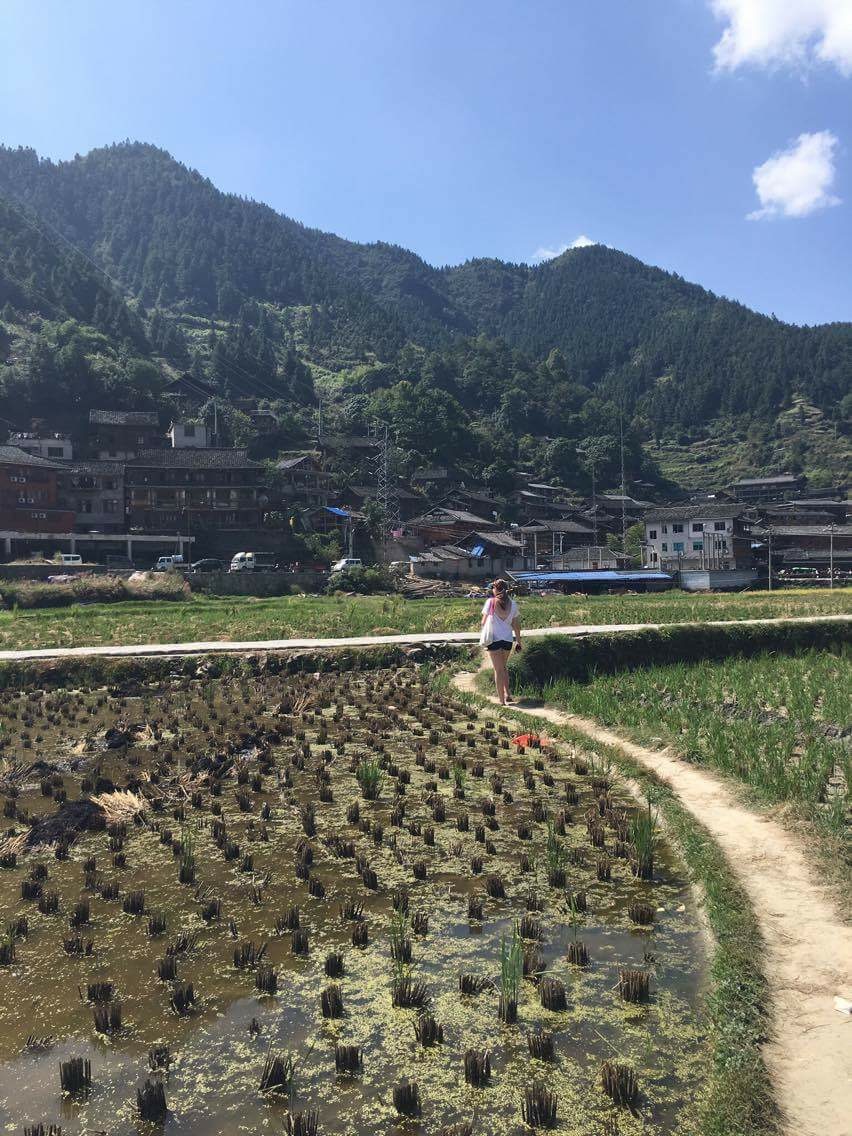 Some middle aged Chinese ladies who happened to also be at this place came to our rescue. They said that they lived in Kaili where we were staying and would drive us back at 4pm. In all there was about 12 of them, all friends, who invited us to have lunch with them. They didn't speak a word of English, they all peeled young bamboo shoots together, and cooked up a spicy fish and bamboo soup. We all sat on tiny wooden stools around a tiny wooden table with a hot plate and the soup was eaten. It was delicious. One of the men started teaching us some interesting points about Chinese characters, and another was telling us that his daughter was studying in America. The blue sky, the peaceful mountains, the river and the kindness of these people made it the most spectacular day. After a couple of hours of having lunch (which was 20% eating, 80% trying not to swallow fish bones), we all drove to another Miao village.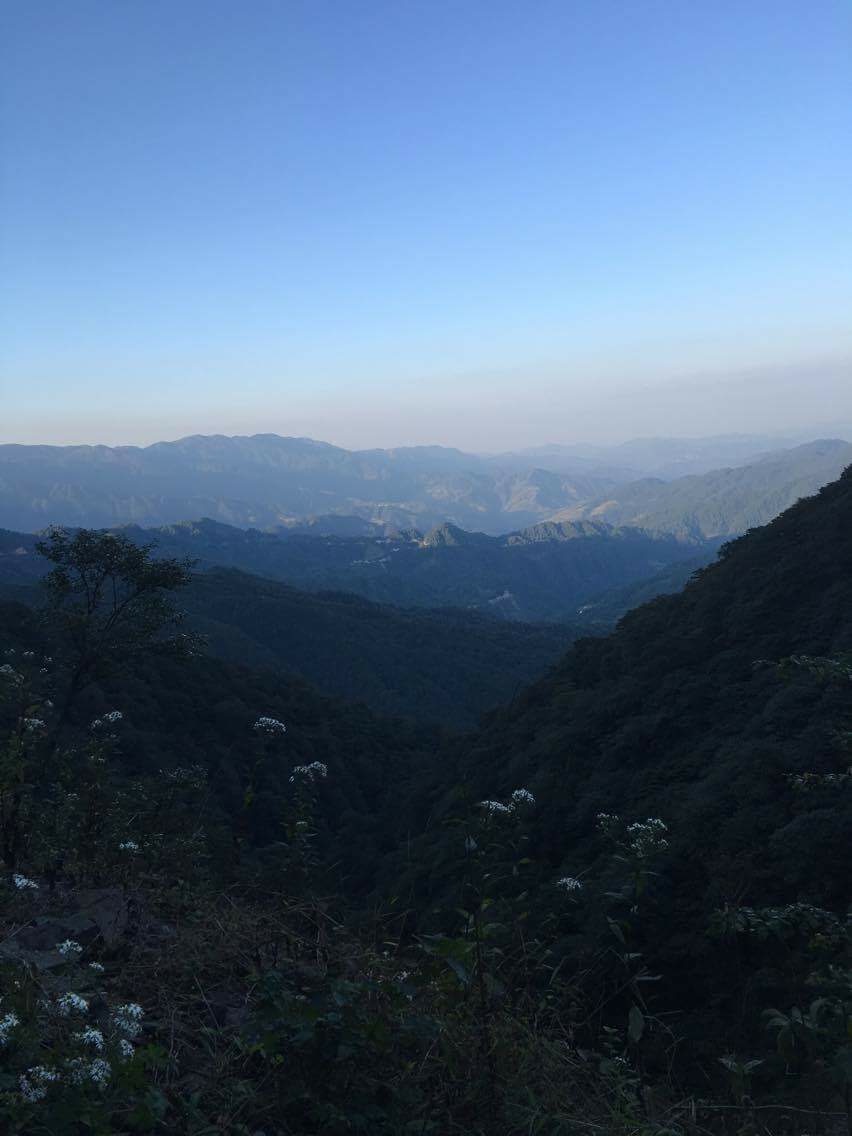 Unlike yesterday's, which was a giant tourist attraction, this one was authentic. The architecture was the same – wooden with tiled roofs, but the main square was filled with rice and chillies drying in the sun. Kids were playing in the water on bamboo rafts, old ladies in traditional clothes were sitting by the street, people were working in the enormous rice fields. It was a very humbling place to see.  Our last stop of the day was a mini waterfall that we hiked down to, crossed a few streams and enjoyed being in the natural environment. Then they drove us home. If it hadn't been for them we might still be wandering around those Chinese mountains, but everything always works out in the end.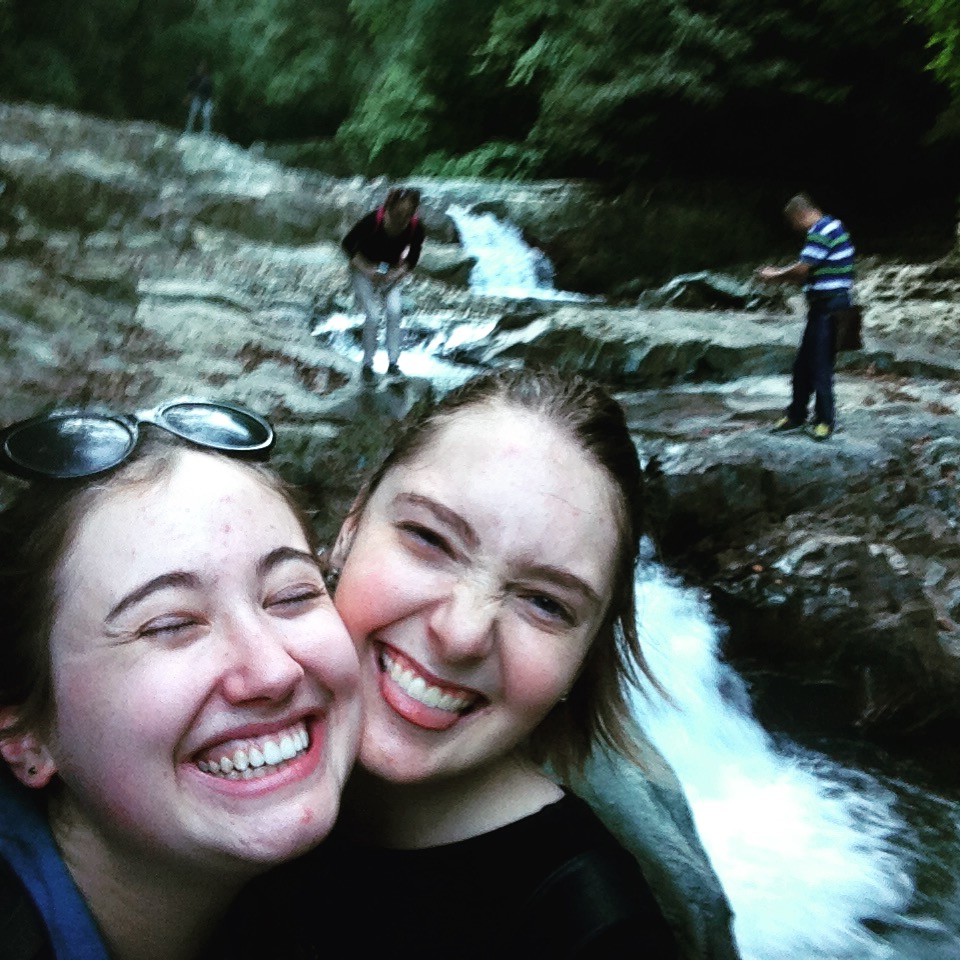 The following day we took the bus to the capital of the province called Guiyang, which was a thriving metropolis compared to Kaili! We spent the remainder of the day and the next day at Qianling Park which was beautiful. We wandered through bamboo forest, along a river covered in blooming lotus flowers, among a large temple from the Ming and Qing dynasties and I had my palm read by an old Chinese man who, after 10 minutes, told me it was ¥100! I forgot about the importance of negotiating a price beforehand….. The other place we wandered through was the JiaXiu Pavillion. This was where the best scholars of the province studied in ancient times.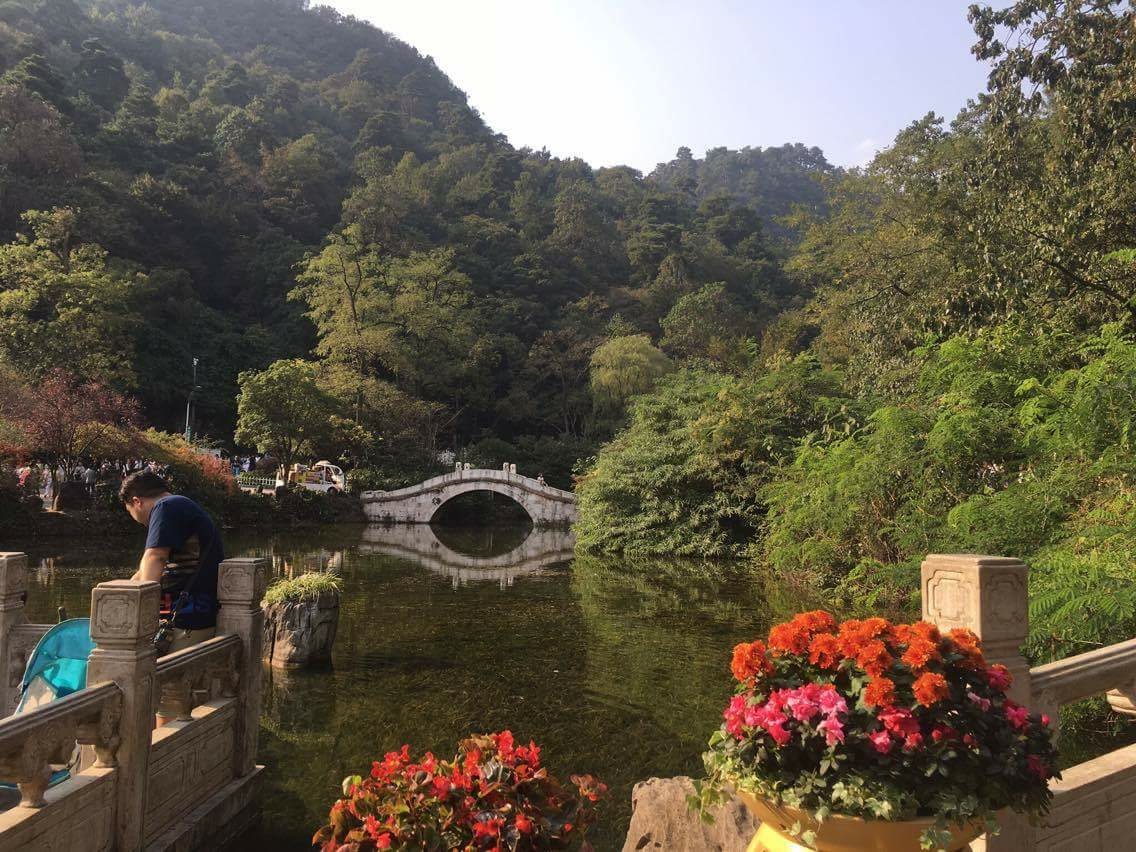 We ate fresh fruit and drank Chinese tea overlooking the water that was lined with willow trees, their vines draping into the water like curtains. It was so peaceful. The pavilion was beautiful, we met another Chinese artist and watched in admiration as he painted a Chinese fan with delicate flowers. We wandered the path of the willow trees, ended up in a market selling fruit, vegetables I've never seen before, meat, noodles and street food. We tried some fried rice, roasted chestnuts, sticky rice stuffed with black beans and deep fried, and rice buns made with rice and sugar. Before we knew it, we were boarding the train back to Foshan. We had a wonderful time away but I was not sad to be returning home, throughout the week I missed my students and although I would have loved to continue exploring Guizhou, I was excited to see my kids the following day.