Today officially marks exactly one month since I arrived in China. How the last month has flown! It feels like so much longer with all that's happened. It made me reflect and reminisce on all the thrilling experiences I've had in China so far. From the TEFL classes in Beijing, to sweating my way to the top of the  mighty Great Wall. From tearing up when the time came to farewell my new friends, to driving into Foshan, my new city. From walking through the gates of Nanhai Guicheng Foreign Language School receiving cheerful waves and enthusiastic 'Hello's' from all the students in their bright yellow uniforms to teetering with nerves as I walked into my very first lesson; my grade 2 class gazing up at me expectantly.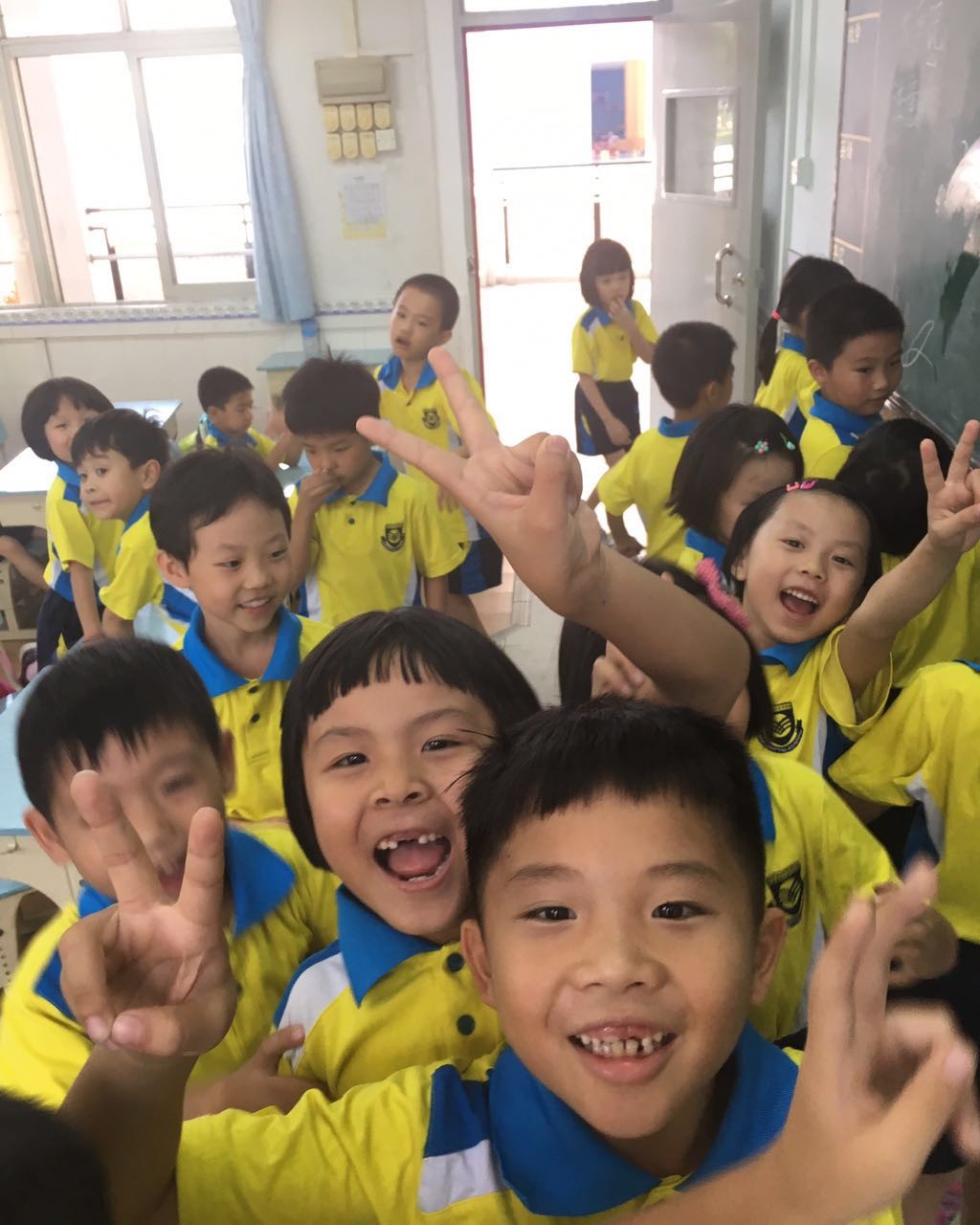 From taking three hours to plan one lesson unsure if it would be engaging enough or long enough, to taking only one hour because I now know exactly what comprises of a good lesson that is fun and captures the attention of the students. From walking down the school corridors as an unknown random foreigner nervously to walking down them being smiling widely being bombarded by my little students shouting my name, their little faces lit up with excitement to see me.
I teach Grade 2 International English, which is extension English for the brighter kids who come from well off families. My Chinese Teaching Assistant who observes my lessons and helps maintain order in the classroom is quite a harsh critic. I delivered my second lesson which I thought went quite well. I went to speak to her at the end and she disagreed, she said, 'Danni, your lessons have to be more wonderful!' I didn't quite know what she meant from that but I endeavored to try my best to plan more 'wonderful' lessons. I racked my brain thinking up more and more ways to teach the content that was more interesting than mundane, cliche games that are fine to play in my regular English classes. I delivered lesson three, which was an improvement.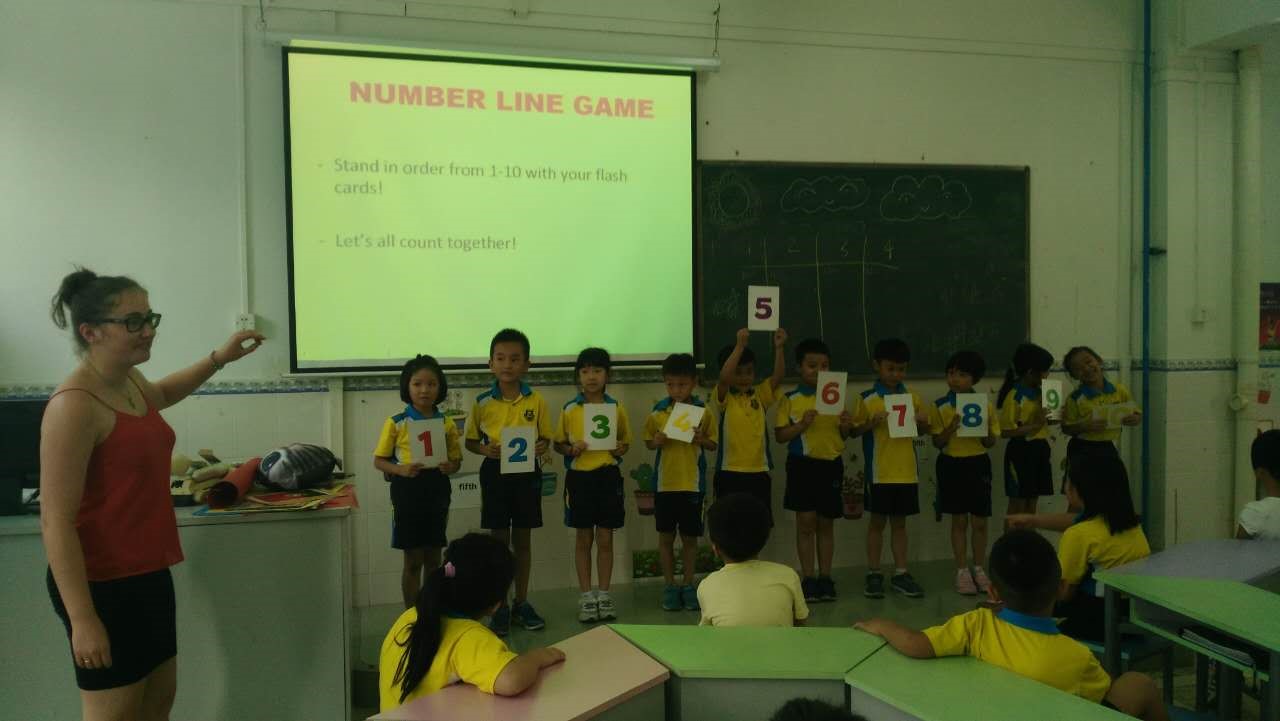 Then I delivered lesson four, after class in which my Teacher Assistant came to me at the end of class, smiling,  and said that this was a good lesson, and to make them all like this in the future. I can't describe how happy her comments made me. I felt a soaring pride for finally receiving her approval, proud of myself for getting it right and thrilled that my students were enjoying my lessons so much more. It's a very strange sensation to be enjoying my job. I am no longer living for the weekend. If I am at school or at home I feel the same level of contentment and joy. If it's Monday or Saturday my feelings towards the day are mirrored. I love my work life and my personal life. Which is so strange because at home I don't think I could highlight anyone who loves their job as much as they loved their weekends. It's astounding, I never thought I could be so happy.
A day in the life of the China internship goes along the lines of something like this:
I wake up, bouncing off my springy mattress to get ready for work. I select from my small range of corporate skirts and tops, and slip on my new leather-look shoes to top off the formality of the outfit that still subtlety pinch at my toes. I walk to the bus stop, grinning about what's in store for the day ahead, admiring the lush greenery and frangipanis on the streets, and being extra cautious as I cross the road at the zebra stripes because the inferred meaning of 'give way to pedestrians on the zebra stripes' isn't given the same meaning here as at home. A bus timetable doesn't seem to have been invented yet here, I just wait and sometimes it takes 30 seconds for my bus to arrive and sometimes it takes 10 minutes, it's a bit of a gamble. I sit on the bus and observe the streets and notice how this city's appearance and spirit is different to my own. Sometimes people take pictures of me on the bus, and children point to me in the sheer amazement at seeing a foreigner. You can't blame them since seeing any foreigners is an extremely rare occasion. At school I spend the morning planning lessons in my office. (I can't believe I have my own desk in an office!) We have been told to deliver lessons using PowerPoint so I fill them with colour, animations, games and songs to give my students a break from drilling which of course gets tiresome and dull.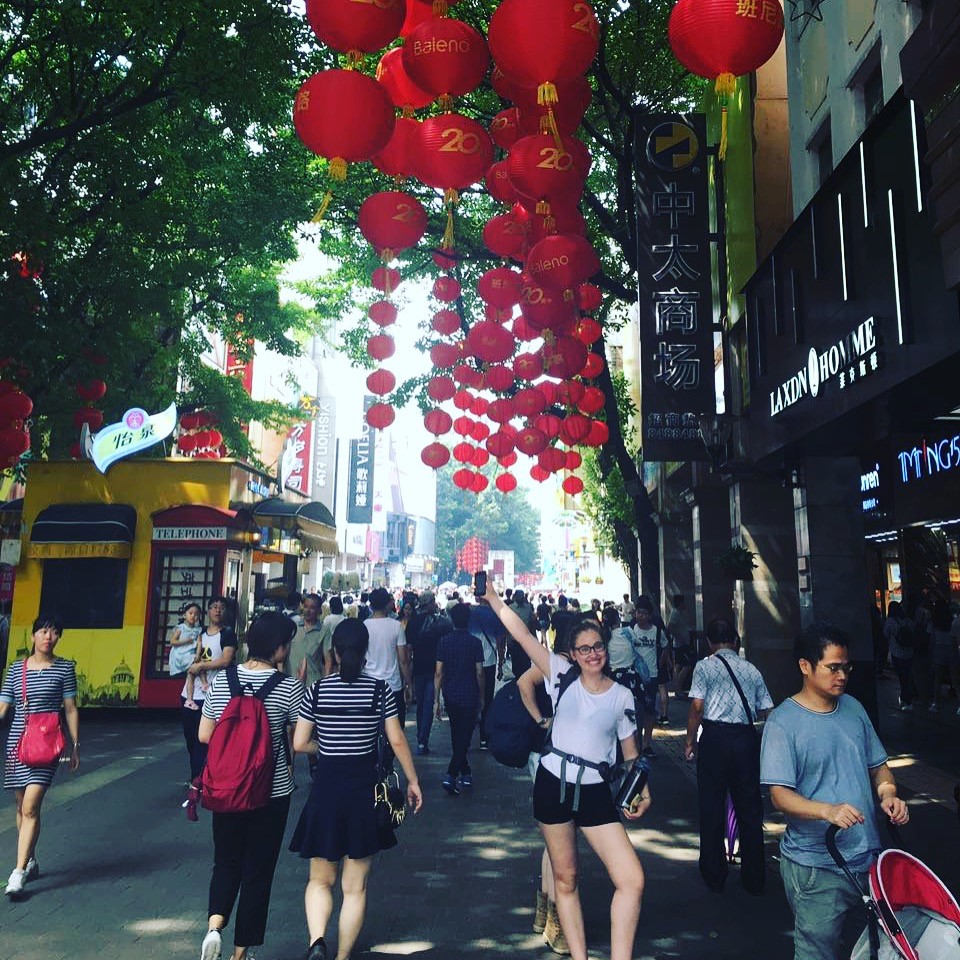 Around 12pm we have lunch in the canteen and sit with the other teachers. I've never seen such a big pot of rice as is in this canteen. It is enormous! My lessons are usually between period 5-8 which are after lunch, and my favourite part of the day. I bring in realia, props, we play all kinds of games, I make sure I have songs relevant to every topic to sing, to get them all up out of the chairs and having a sing and a dance. I walk out the corridor getting flocks of kids waving at me and hugging me, then I pack up and walk back down to the bus stop with Steph. Steph and I discuss all the happenings of the day, what we did in our lessons, which songs were a hit, which games took off and which ones didn't. We have a laugh about funny things the kids said to us during the day and talk about our lessons for the following days. We journey home from the bus and always have our umbrellas handy in case the sky opens on us and decides to have a big storm and get us soaking wet (which has happened on multiple occasions). We have dinner, then we chill out in our apartment relaxing after a long day, speak to our friends at other schools, Skype people from home, go walk around the streets, practise mandarin together, read books, do some domestic chores like washing (which is new to me) or hang out with the other foreign teachers. We make plans for the weekend and upcoming holidays.  And you have it, a whole day in the life of a TEFL teacher in China. It's fantastic.