You might have decided you'd like to teach but you're not sure teaching English is for you. Or you might have already taken a TEFL course, discovered you love teaching, and made the decision to expand your skills outside of the world of teaching English. Where do you start? Well, we can help with that!!
i-to-i now offers some amazing Further Education Courses to help you get to where you want to be with your teaching career – no degree required! Want more info on your other teaching career options? Keep reading!
Teaching Assistant
Would you like to be in a classroom environment and be able to support learning and build your student's confidence? Do you want to be able to do all that without having the responsibilities of a lead teacher? Then working as a Teaching Assistant could be perfect for you!
We have 3 different courses available for prospective Teaching Assistants, and the one you pick will depend on how much training you want to do and what you want to use the qualification for! Let's break it down for you:
Teaching Assistant Award – This is the course for you if you're just starting out, want to be able to complete your course quickly, and you're looking for entry-level Teaching Assistant positions.
Teaching Assistant Certificate – This is perfect if you want to gain some practical experience from an in-school placement and you're looking for more in-depth, specific subject knowledge (such as how to teach maths and English).
Teaching Assistant Diploma – This course is ideal if you're looking for even more practical experience than the Teaching Assistant Certificate, to boost your CV and increase your employability, you want to be able to lead the class at times (under supervision), and you want to learn about how to support students with specific educational needs or disabilities.
Ready to enrol on a Teaching Assistant course? Head to our Teaching Assistant webpage! Want to know more about each course first? No problem! Get your free guide for all the info you need.
Just so you know, all our Teaching Assistant qualifications are awarded by NCFE, an educational charity in the UK. They are also regulated by Ofqual, the UK government department responsible for regulating qualifications, exams, and assessments. So, you know you're getting the best training and that your qualification will be accepted by employers worldwide. Win-win!

Early Years Practitioner
Would you love to be able to work with children up to 5 years old, including babies, toddlers, and preschoolers, and help them with their physical and mental development in those early years? Then you should be aiming for Early Years Practitioner roles!
Our Early Years Practitioner course will equip you with all the knowledge and skills you need to be able to teach young children key life skills. These are critical to their ongoing educational development and overall wellbeing, so it's a very important role! Ready to get started? Head to our Early Years Practitioner webpage. Want to know more first? Find all the info you need in our free course guide.
Want to make sure you're in safe hands? Well, our Early Years Education Award course is accredited by the Quality Licence Scheme (QLS), in recognition of our commitment to high-quality learning. This means you'll receive a QLS-endorsed Certificate of Achievement once you successfully complete the Early Years Practitioner Award, which is highly respected by employers. So, you can be sure you're making a good investment when you take this course with us!

Cover Supervisor
Looking for a flexible but rewarding career? Don't want to be confined by the term-time calendar but want to be able to lead your own classes? Then a Cover Supervisor role could be just what you're looking for! Cover Supervisors take over from lead teachers in cases of unplanned absence, which is more common than ever nowadays due to Covid-19. You won't need to plan your own lessons, as the lead teacher will leave a structure for you to follow, and you'll be getting amazing classroom experience. Ideal!
This is also a great option for TEFL teachers returning from abroad that want to get full-time teaching work back in their English-speaking home country, but don't want to commit to a full school year just yet!
Our Cover Supervisor course will train you to be able to work as a Cover Supervisor in primary, secondary, and specialist schools, so you'll have lots of roles to choose from when you finish! It will also give you key information about classroom management and creating positive learning environments as well as training in how to adapt your teaching style to suit the needs of your learners. Ready to start your course? Head to our Cover Supervisor webpage. Want to learn more about the course first? Get your free course guide!
And, just an FYI, you can rest easy knowing you'll be able to use this qualification with employers around the world, as the course is fully accredited by Ofqual and registered as a Level 3 Certificate on their Regulated Qualifications Framework (RQF). Good news!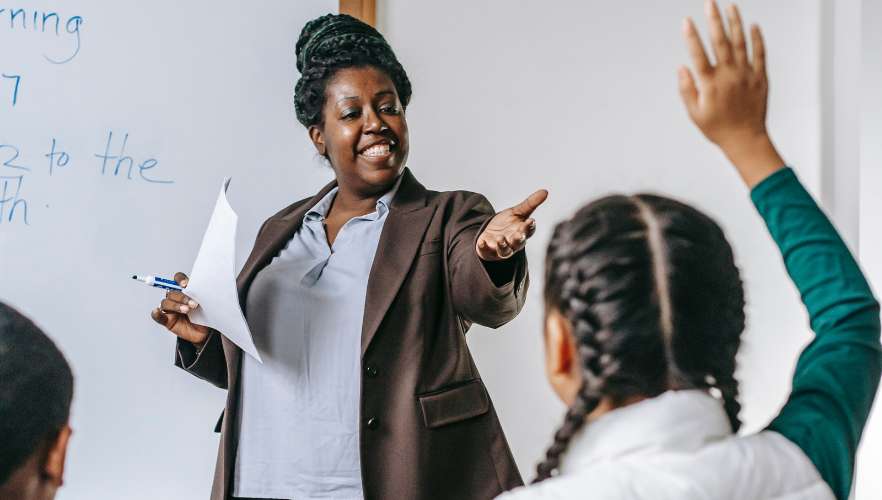 Now that we've run through your other teaching career options, we bet you're ready to get going! Good luck with whichever course you pick, and don't forget to arrange for a free call back with our Teaching Experts if you have any questions, or need any more info! We're always happy to help.