So, we're back to the time of year that students are rushing to get that last assignment finished and starting to think about the future. It can be quite overwhelming thinking about what you want to do for the rest of your life, so why not plan an amazing gap year instead?
Since the recession, there has been a real decrease in graduate jobs. This has resulted in gap years becoming increasingly popular. Lots of students choose to backpack around the globe, but teaching abroad can be just as fun and so much more rewarding. Here are just seven reasons why you should TEFL abroad on your gap year.
1) You'll Get Paid to Travel
Yes, travelling or backpacking round the world might be fun, but your money won't last you very long. That is unless you're lucky enough to have a healthy bank balance after graduating. A lack of funds mean your stay in a certain country can't be as long as you would like. With TEFL, you'll be getting paid for being there so you can explore everything your country has to offer. You can actually earn enough money to save in some countries, such as Japan or South Korea – perfect for paying some of your student loan off (sorry to mention it!).
2) You'll Get Some Brilliant Work Experience
When you're teaching English abroad, you're not going to be just sat on the beach sipping cocktails (that's just in your spare time!), you'll be gaining some important work experience. Even if you don't want to become a teacher, it's still going to look great on your CV, as you'll develop your communication, presentation, leadership and interpersonal skills. It also shows that you're up for a challenge, as what bigger challenge is there than moving to a new, unfamiliar country to do a new challenging job all whilst immersing yourself in a new culture?! Now if that doesn't impress a prospective employer, I don't know what will.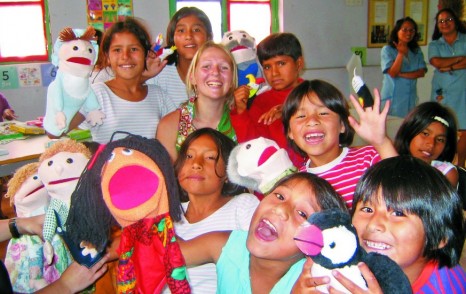 3) You Can See the Places You've Always Wanted To Go
The demand for English teachers is huge, pretty much anywhere English isn't the first language there is a a need for TEFL teachers. So whether you want to get as far away from home as possible to exotic places like Thailand or Ecuador or stay close to home in countries like Italy, Germany or France it's always possible with TEFL. With a degree and a TEFL certificate the world is your oyster. So, it's really the perfect chance for you to see all the places you've always wanted to.
4) You'll Make Loads of New Friends
Ok, so you've probably made tons of friends for life at university, but who wants to turn down the opportunity to meet even more super cool people?! It's a great chance to meet loads of new people from all different walks of life. When you're actually living and working within the local culture, you'll meet loads of people –colleagues, neighbours and fellow expats. Plus, as the new English teacher in town your English skills will be in high demand for the locals to brush up on their English skills and vice versa.
5) You'll Actually Experience Another Culture
When you go backpacking around the world, yes, you'll have fun and go to all the main touristy places that your pocket guide to [Enter country here] tells you to. But you don't get a true feel for what another culture is like. When you live and work in a place you'll be introduced to all the fun places to visit that tourists don't usually have the opportunity to see.
6) You've Already Got the Greatest Skill To Do It
If you can speak English fluently, you already have the greatest skill you need to teach abroad. Yes, you might need a TEFL qualification so you can get your hands on the best TEFL jobs abroad and prepare yourself for life in the classroom but no previous teaching experience is needed and you don't need to be able to speak another language.
7) Now's the Best Time To Do It
We all have good intentions about wanting to see the world, but the truth is that most people don't end up doing it for different reasons. When in your life, are you going have as little commitments as you do now?! My advice is grab the bull by the horns and just do it.
If you have been inspired to see the world and get paid at the same time, simply visit https://www.i-to-i.com/graduates to download your free copy of the Graduate's Guide to Teaching and Travelling Abroad. It'll give you the lowdown on where you could end up and how to get your hands on the best jobs!