If you've been toying with the idea of booking yourself onto a TEFL Course – here's a little insight into what you can expect from our English-government regulated 20 Hour Classroom TEFL Course.
Lights, camera, action!
20 hours may sound like a lot but we cover LOADS!! You'll learn about TEFL principles and lesson structures; you'll discover practical teaching techniques that really work; and you'll have the opportunity to give it a go with some real teaching practice. We'll even treat you with some invaluable tips on finding a TEFL job – lucky you!
Don't be late!
Ok, we know it's the weekend but we've got some serious TEFLing to do! Both days start at 9am and finish at 6pm – so get ready to dive straight in. There are a couple of breaks during the day and you'll get an hour for lunch (of course!). However, we have a pretty action-packed schedule so make sure you have your Weetabix. P.S. you'll be glad to hear, teas and coffees are provided.
What's in day 1?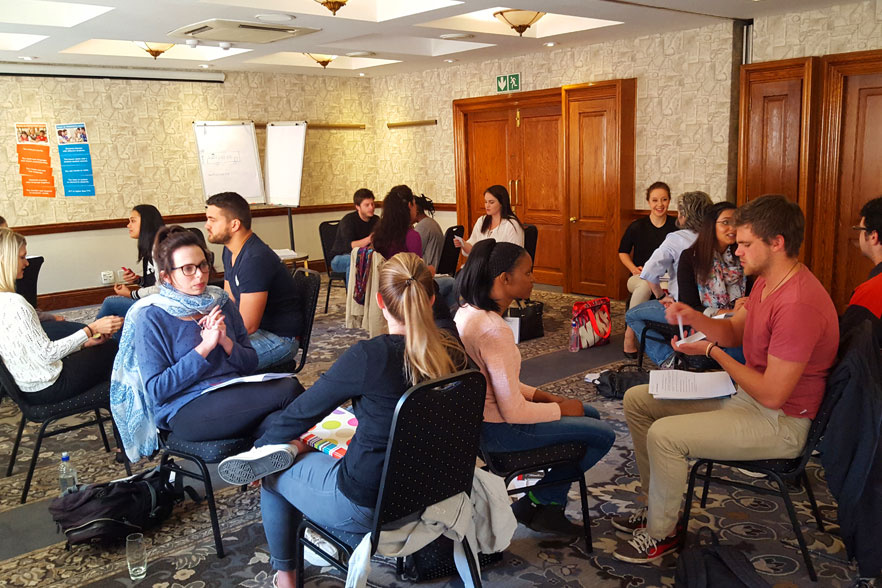 Our experienced tutors get you started with some basic TEFL principles. Then you'll try learning a new language for yourself (this is a great way of putting yourself in your students' shoes). After lunch, it's grammar time before you have your first go at teaching practice but don't be nervous! Remember, everyone's in the same boat and it's actually really fun! Then, before you know it, it's 6pm and time to go.
What's in day 2?
Day 2 is all about developing your teaching skills. During the morning sessions you'll look at pronunciation, reading and listening. After lunch, you'll move on to using and adapting material from course books. Then, once you've honed your brand new teaching skills – it's your second chance to practice teaching. Your tutor wrap up the session with a look at your TEFL future including some useful links and job-hunting tips – hooray!
Get a taste or add it on
If you're looking for a TEFL taster or you want some practical experience to add to your online qualification, our Classroom TEFL Course is perfect. You'll get a great grounding in TEFL, make loads of new TEFL friends and get some invaluable teaching practice for your new career!
It's definitely not school
If the word "classroom" brings you out in a cold sweat, don't worry – this is nothing like school! Our classroom course is packed full of practical activities, small group sessions and engaging interactive tasks. And instead of teachers, you'll find our tutors are friendly and more than happy to answer and of your niggling questions.
We're taking over the world!
Our Classroom TEFL Courses run all over the world, including Australia, Hong Kong, South Africa, the UK and the United States. So get involved- book yourself onto a Classroom TEFL Course today!