Teach English in France

Why teach English in France…
There are a lot of opportunities to teach English in France, which is good news for all those who want to spend time in this beautiful and mercurial country, famed for its culture and cuisine.
The peak hiring time for English teachers in France is June to July, ready for the start of the school year in September, but don't wait too late as in August, everyone's off on holiday.
You can start looking for jobs online: either take a look at our jobs board, or apply directly to Language Schools – some of the most well-known ones are IFG Langues, EF English First and Inlingua.
If you'd prefer to move to France and then find a TEFL job, contact the French Chambre of Commerce in your new area to see about teaching business English; or alternatively, move to a city with a large population and university (Toulouse has five and Grenoble three)!
It's great for TEFL teachers because…
There's a high demand for English teachers in France, because – although the French are very proud of their language – being in the EU, English is the first language of business. There are many opportunities in schools and in universities but there is also a high demand for business English, and teaching to the unemployed, which the government provides free of charge. Many businesses in France hire people to teach English to their employees and the local Town Halls are a great place to start. TEFL teachers also secure work tutoring privately to increase their income, charging between 15 – 25 EUR an hour.
All you need to teach in France is…
To teach English in France you don't need a degree, but you will need a minimum of an i-to-i 120 Hour Online TEFL Course; although the 140 Hour Combined TEFL Course is preferred if you have no experience of teaching. Generally there are quite high levels of competition for English teaching jobs in France, as it's such a popular destination for UK and US expats, so you are advised to get the most comprehensive training you can and if possible get some teaching experience on your CV before applying.
Average Monthly Teaching Salary
1,400 EUR / £1,095 / $1,778
Free Teaching English in France Guide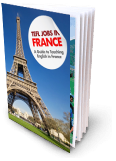 Get your free guide to teaching English in France and find out more.
Get the Guide
Basic Info
Language: French
Currency: Euro (EUR)
Population: 66 million
Capital City: Paris
Cost of Living

Whilst you'll be able to live comfortably and enjoy your time teaching English in France, you're unlikely to save a substantial amount of money. For those who find teaching work in Paris, salaries are higher, but consequently so are living costs. In other words, no one teaches in France (particularly in Paris) to become a millionaire!
Some average costs:

1 bedroom apartment in Paris £900 per month
1 bedroom apartment in Lyon £500/$800 per month
Baguette from a bakery in Paris £1.50/$2.20
Baguette from a bakery in Lyon 70p/$1.30
1kg bag of tomatoes in Paris £2.50/$3.80
1kg bag of tomatoes in Lyon
Cinema ticket in Paris £10/$15
Cinema ticket in Lyon £6/$9
Food and Drink

The French are very proud of their cuisine, with a popular vegetarian dish being ratatouille: it's versatile and can be served as a meal, side dish, or alongside crepes and omelettes; and consists of tomatoes, onions, garlic, carrots, aubergine and an assortment of herbs, giving it a variety of flavour.
For meat-lovers, the traditional dish of Beef Bourguignon is worth a try, and is essentially a stew, with red-wine soaked beef served with onions, mushrooms and boiled potatoes – best enjoyed on a cold winter's day!
The French love cheese, and will eat it at any given opportunity, even as a dessert with crackers – try French makes such as gooey Camembert, or Brie. Another passion of the French is wine, which goes perfectly with cheese – make like the French and enjoy a glass of Bordeaux, or if you're going crazy, some champagne!
If it's a refreshing, non-alcoholic beverage you're after, try French mint tea – simply add lemon, orange juice, sugar and mint to your regular cup of coffee and enjoy!
Weather

Such a vast country, the weather in France varies depending whereabouts in the country you're living and teaching. Northern France (Paris and above) experiences pretty dull weather, with mild summers and cold winters of 3 degrees Celsius. Although it snows occasionally, it doesn't tend to settle, turning to sludge due to all of the rain in the winter months!
In contrast, the South of France has much warmer temperatures, with Marseille enjoying a Mediterranean climate. The summers are hot at around 30 degrees Celsius, and the winters are mild, although it can rain quite a bit. With such a variation in the weather, you could technically find a teaching job in a particular area depending on which type of weather you prefer!
Accommodation

The standard of accommodation across the country – from major cities to tiny towns – are of a high quality, and will be what you're used to back home. You'll probably have to find housing yourself as employer's rarely provide it: just be aware that to rent a place, you'll generally need 3 month's rent as a deposit, positive references, and proof of employment from your language school or the business you're working for.
Where could I teach English in France?

The capital of couture, Paris is home to the most amazing shopping, and world-renowned Paris Fashion Week, showcasing iconic French brands including Chanel and Chloé twice a year. You'll never be short of things to do in Paris, and you can round off the day with a ballet, or a glass of champagne at one of the many classy bars on the Left Bank.
If relaxing by the beach on your days off sounds like heaven to you, then you'd love teaching English around Marseille, with Calanque de Morgiou often cited as one of the best beaches in France due to its crystal-clear waters. Marseille really comes alive at night, with a whole host of bars and clubs. For a night with a difference, visit Le Trolleybus, its underground rooms playing a range of music giving it a distinctly cave-like feel.
If you want to teach English in France, there is no better place than Lyon if you love immersing yourself in culture, as it's home to many galleries (be sure to visit the Musée des Beaux-arts for one of the largest art collections in France), café's and stunning architecture – Lyon's old town is so pretty, it was declared a UNESCO world heritage site! Love food? You're in the right place – considered the culinary capital of France, you can find a range of cuisines in the thousands of restaurants lining the streets, with 15 Michelin-starred restaurants tucked in amongst them!
Transportation

In the city
Buses and trams are popular methods of public transport in French cities, with extensive and frequent systems, enabling you to get around easily and to get to your place of work.
If you're teaching in Paris, the best way of travelling is by the metro – but with 16 lines and 300 stations, it can be rather daunting at first! If you're planning on using the metro to get to work, make sure you do a run through beforehand so you know exactly which train you need to get and when. One way tickets cost £1.30/$2, so if you're using the metro on a daily basis, it's more cost effective to buy a monthly pass for £52/$85 instead.
Further afield
Trains are a convenient way of travelling round France to explore new cities on your weekends when you're not teaching English, with a one-way ticket from Paris to Marseille costing approximately £38/$62, taking just 3 hours.
To travel further afield, take the Eurostar and in 2.5 hours, you could be seeing the sights of London for £64 one way. Alternatively, you could catch a flight with Easy Jet and Ryanair to cities including Brussels for £161 return, or Geneva for only £64 return – with so many neighbouring countries, there's loads to discover when teaching in France!
Insider Tips
If you're looking to find a flat in Paris that won't break the bank, search in the 11th Arrondissement (Oberkampf). Its hip, edgy feel appeals to the younger crowd, and with a range of bars, restaurants and galleries, you'll never get bored!
Located in Normandy, you HAVE to visit Mont Saint Michel at least once during your stay in France. Essentially a towering town in a vast bay, it dates back to 709 and is seeped in history, with the Abbey once serving as a prison. Now, you can easily spend the day there, trawling through the shops and enjoying a chocolat chaud at one of the quaint café's!
If you don't want to commit to a school and would rather be in charge of your own earning potential then why not consider teaching 'cours particuliers', known as one-to-one lessons in English these are in high demand in France!
Get the Guide
If you're keen to find out more about teaching in France then you'll want to check out the i-to-i TEFL free guide. You'll find out loads more useful information on finding your first job, where you can teach and how to negotiate the best salary package.
Get your free guide to teaching English in France now