Overview
The South Africa TEFL Experience is an amazing chance to get acquainted with picture-perfect, multi-cultural Cape Town. Spend your weekends trekking Table Mountain, surfing the waves and exploring the gorgeous winelands, and get rewarding hands-on experience teaching English in a school in Fish Hoek, a peaceful suburb.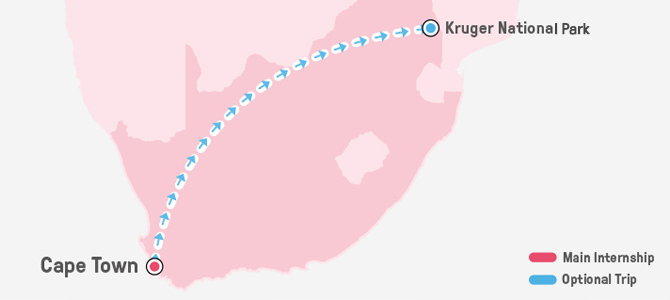 Itinerary, information and insider tips
Get the Guide
TEFL Talk: book a call back

Over the two months I have had an unbelievable time, easily some of the best experiences of my life. But there will be one thing which stands out amongst all of our meals, treks, activities, teaching, and mini adventures; some of the best moments over the last two months were made or made better by the people we spent them with.
Craig, South Africa
I never want to leave and you can't make me! Each day that has past I have fallen more and more in love with South Africa and felt more and more at home. Friendships have grown stronger, the weather has got warmer and teaching has got easier.
Rachel, South Africa
I couldn't have asked for a better end to my adventure in South Africa, and would recommend any South African teachers to take part in the Kruger trip. You will see breath-taking sights and animals which you may not ever get a chance to see again! A once in a lifetime opportunity!
Megan, South Afric
Itinerary
Arrival in South Africa
On arriving at Cape Town airport, you'll be met by a member of our in-country team and transferred to the intern house in seaside Fish Hoek. Take in the views, and get to know the other teachers over a welcome meal!
Welcome to South Africa!

Learn about local life in South Africa in your 2 day orientation, where you'll also take a guided tour around nearby Masiphumelele Township. This will give you an eye-opening glimpse of the realities of life for many of the young students you'll be teaching. Your first weekend will then be yours to enjoy, so get out and explore!
Your teaching experience
Now it's time to get teaching! You'll catch public transport (multi people taxi) from the teacher house to school. During your teaching week, Mondays to Fridays will be spent assisting the teachers in the classroom – the childrens' abilities will vary massively as there are eleven national languages of South Africa! As English is relatively widely spoken, lessons will usually be conducted in English. A lot of work will be on a one-to-one basis helping students, and acting as teaching assistant helping out with a full class. At breaktimes you'll be supervising play, and afternoon lessons will often consist of games, sports etc.

During teaching, your evenings and weekends are yours to enjoy – there are loads of things to do and see in South Africa, with fantastic food and drink wherever you turn and gorgeous landscapes, beaches and outdoor pursuits waiting to be explored.
Kruger safari trip

This optional add-on will take you deep into the heart of South Africa's wildest plains. Spend three days led by expert local guides, camping South African-style in the bush, stuffing yourself with traditional braai cooking and spotting fantastic wildlife like elephants, rhino and lions!
Before you go
What you need:
Be fluent in English
Be aged 18+
Be ready for an adventure teaching English abroad
What you don't need:
Prior teaching experience
A second language
You'll need to be TEFL trained to teach in South Africa – but with our 120 Hour TEFL Course included in the price, we've got you covered.
120 hours online TEFL training – study anywhere, on any device and get the skills you need to teach English confidently.
What will I need to organise?
Before you travel, there are a few things you need to sort. Keep things easy for yourself and don't leave them 'til the last minute!
International flights: You'll require return flights to Cape Town International Airport (CPT).
Internal flights: If you're attending the optional Kruger safari, you'll need to organise flights from Cape Town to Johannesburg (JNB).
Visas: Free visa for 90 days.
Budget: We recommend budgeting approximately £35/$60 a week.
Police check: You must carry a clean police check. For the UK you'll need to pay approximately £25 for a Disclosure Scotland. For all other countries, please consult your local police department (costs may vary).
Travel insurance: this is really important – dont forget to sort yours before you travel! Travel insurance can be complicated – so click here for some great advice from our friends at the FCO.
What's Included?
120 Hour Online TEFL Qualification
Advice & pre-departure preparation
Airport pick-up & in-country transfers
Orientation and tour of Masiphumelele township
Great shared intern house in peaceful Fish Hoek
8 weeks' teaching experience
Optional 3 day Kruger National Park Big 5 safari (additional cost: £250)
Full in-country support throughout
What's not included?
Flights – international & internal
Visas
Police check
Meals & extra spending £35/$60 a week
Travel insurance