Overview
Our Cambodia TEFL Experience offers a great opportunity to hone your English teaching skills in this sought after Southeast Asian travel hotspot. You'll teach enthusiastic students in the colourful local community, explore and socialise with your fellow interns, and even get the chance to soak up the sun in the bustling beach resort of Sihanoukville – all with the support of an expert in-country team throughout.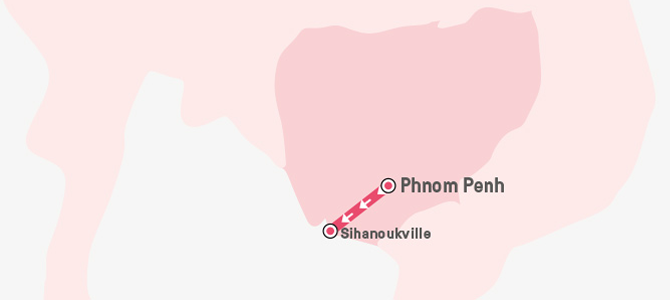 Itinerary, information and insider tips
Get the Guide
TEFL Talk: book a call back

Disregarding the country's beautiful landscapes, incredible people and rich cultural heritage (also all huge deciding factors), I feel that two months is the perfect amount of time to find out if you like something or not and if you're suited to it. Luckily for me, I loved it so much that I decided to stay on for a while longer.
Lucy, Cambodia intern
I really enjoyed immersing myself in the culture and I've learnt such a lot. The kids are incredible, and their attitude towards learning is inspiring. It was definitely the children that made my teaching experience so enjoyable. I
Charlie, Cambodia intern
My 7 weeks' practical experience has now turned into 4 months' experience after I accepted a full time job in Phnom Penh! My qualification means I can teach anywhere in the world, anywhere my feet and heart may take me. It's an overwhelming and exciting thought.
Alli, Cambodia intern
Itinerary
Arrival in Cambodia
Make sure you arrive at Phnom Penh airport between 6am and 8pm, and our team will meet you there to transfer you to your hotel, where you'll meet the other interns and settle in over a welcome meal.
Orientation in Phnom Penh

During your 2 day orientation you'll learn about Khmer culture and history, what your role at your school will be like, and you'll even get some language lessons!
Your teaching experience
For 7 action packed weeks, you'll be teaching at a private school within Phnom Penh, with students aged between 3 and 16. You'll be living on the school campus, sharing a room with at least one other intern, with Wi-Fi available and lunch provided by the school during teaching.

Weekends are yours to enjoy, and interns usually leave their school campus to explore Cambodia's endless fascinating things to do and see. Our in-country staff are on hand with expert suggestions on how to spend your spare time.
Transfer to Sihanoukville
At the end of your teaching placement, you'll be transferred back to central Phnom Penh for a night catching up with the other interns before your trip to the lively resort of Sihanoukville.
Beach stay

Now time for five days' pure relaxation, at 'one of the most beautiful bays in the world'! In lively Sihanoukville there are loads of gorgeous beaches, pumping bars, shops and food outlets and exciting boat trips to take with your fellow interns in-between catching up and reminiscing.
Time to say goodbye!
You'll then be transferred back to Phnom Penh for a final special night eating, drinking and saying goodbye. Help will be on hand from our team to organise onward travel or the journey home.
Before you go
What you need:
Be fluent in English
Be aged 18+
Be ready for an adventure teaching English abroad
What you don't need:
Prior teaching experience
A second language
You'll need to be TEFL trained to teach in Cambodia – but with our 120 Hour TEFL Course included in the price, we've got you covered.
120 hours online TEFL training – study anywhere, on any device and get the skills you need to teach English confidently.
What will I need to organise?
Before you travel, there are a few things you need to sort. Keep things easy for yourself and don't leave them 'til the last minute!
International Flights: You'll require return flights to Phnom Penh International Airport (PNH).
Visas: £45 (£15 – 30 days + £30 for 30-day renewal).
Police check: You must carry a clean police check. For the UK you'll need to pay approximately £25 for a Disclosure Scotland. For all other countries, please consult your local police department (costs may vary).
Budget: We recommend budgeting approximately £20-£40 a week spending money.
Travel insurance: this is really important – don't forget to sort yours before you travel! Travel insurance can be complicated – so click here for some great advice from our friends at the FCO.
What's Included?
120 Hour Online TEFL Qualification
Advice & pre-departure preparation
Airport pick-up & transfers
2 day orientation
Accommodation & some meals
Seven weeks' teaching in Phnom Penh
1 week at the beach in Sihanoukville
Full in-country support throughout
What's not included?
Flights
Visas and visa administration fees
Police check
Budget: Approximately £20 – £40 per week
Travel insurance