Teach English in The Philippines

Why teach English in The Philippines…
Although it isn't the first place many potential TEFL teachers think of, if you decide to teach English in The Philippines you'll be teaching in a country that the BBC described as the 'world's new low cost English teacher'.
When many people think of The Philippines they think of towering volcanoes, paddy fields as far as the eye can see and beautiful coastline ringed by coral reefs, not a centre of education. But that is what it is, which is why more and more people are heading out to teach English in The Philippines.
It's great for TEFL teachers because…
The Philippines used to be a colony of the United States and as such English is widely spoken. In fact many US companies locate their call centres in The Philippines as many people struggle to tell that the person on the phone is not American. As a cheaper alternative to travelling to a native English-speaking country, thousands of people from neighbouring Asian countries such as China and Korea travel to The Philippines to learn English. As a result there is a demand for people to teach English to these eager learners.
So there's definitely demand for people to teach English in The Philippines, but it's not all work and no play… the good news is that there are 7,000 islands to explore that make up The Philippines. For those who want to find a beautiful beach where they can relax, or cycle through acres of paddy fields, there is plenty of choice but there is also easy access to so much adventure; kitesurfing, diving, snorkelling, wakeboarding are all on hand to ensure your time in The Philippines is fun-filled.
All you need to teach in The Philippines is…
Because the native Filipino population's standard of English is so high there is strong competition for teaching positions. As such you will definitely need a Bachelor's degree and a comprehensive TEFL qualification such as the i-to-i Professional Certificate (140 Hours) Any TEFL experience, or even editing experience, would help your chances as well.
Average Monthly Teaching Salary
632 EUR / £502 / $800
Free TEFL Brochure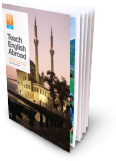 Get your free TEFL brochure and find out everything you need to know about teaching English as a foreign language.
Get the Brochure
Basic Info
Language: Filipino / English
Currency: Philippine Peso (PHP)
Population: 98 million
Capital City: Manila
Cost of Living

On an average TEFL teacher's salary in a private language school, you are going to be able to live comfortably, but you're not going to save a lot along the way. Accommodation will undoubtedly be your biggest monthly outlay when you're out teaching English in The Philippines, but as long as you have reasonable expectations about where you stay, you'll be able to live comfortably – take a look at the accommodation section below for more details.
Utilities are quite pricey, especially in Manila; you can expect to pay around £30 a month on gas, electric and water. If you buy your groceries in local shops and the markets, you're going to find these pretty cheap, but if you'd like to buy some imported goods to get a taste of home expect to pay a premium.
Eating out can be cheap, a McDonalds Big Mac meal will cost around £1.75 and a 3 course meal in a middle-of-the-road restaurant is going to be about £7. Popular with Filipinos though are the "Eat all you can" restaurants you'll find all over the country that serve many of the popular dishes of The Philippines and you'll just pay £4.
Food and Drink

Filipinos like pork, it's a fact and it's a big feature on restaurant menus; as is fish with this being a country of islands. You won't leave your time teaching in The Philippines without eating Adobo – Adobo is pork or chicken cooked in vinegar, salt, garlic, soy sauce, chilli and ginger and is a real staple. If you're a bit more adventurous you can try Sisig, which is a braised and grilled pork dish made of the pig's cheeks, ears, snout, tongue, liver and belly cooked in coconut vinegar, soy sauce, garlic and chilli, which is much more delicious than it sounds!
Weather

Hot and humid; that basically sums up the weather in The Philippines. On average the temperature is pretty high year-round, with temperatures ranging from 25 degrees Celsius to 32 degrees Celsius. June – November is the rainy season and December – April is the dry season. The humidity doesn't really change throughout the year and hovers at around 80% for the majority of the year.
Accommodation

You can rent a room in Manila from as little £60/$96 a month and can secure a comfortable double ensuite room and in some areas, a studio apartment for around £150/$239 a month. Accommodation generally is comfortable and in a western style, although a little more basic than you might expect at home. If you want somewhere to yourself, then a 1 bedroom apartment in the city will cost your around £240/$382.
Where could I teach English in The Philippines?

Manila is where the most opportunities are to teach English in the Philippines; and is everything you'd expect from an Asian super city with glittering skyscrapers and malls rising out of congested streets, where new money and the modern world meet the old Philippines and all that comes with it. Outside of Manila, the cities of Cebu, Makati and Baguio also have a large number of language schools. More sporadic opportunities exist further afield.
Transportation

In the city
If you're in Manila, the easiest way to get from A to B is using the Light Railway System which has 31 stations throughout the city. Local buses and Jeepneys (brightly decorated old WW2 converted jeeps) are another way to get around not only Manila's streets but other cities as well. It can be hard to work out which is the right bus for you though; keep an eye on the Jeepneys' coloured decorations as the destination is often painted on the side – for regular buses there is usually a placard in the front window with the main destinations listed.
Further afield
When you get some time off from teaching and you want to strike out and explore the country, you'll find that ferries are the most abundant way to get around the islands. The best of these are Fastcraft which are modern, air-conditioned craft and a far cry from the old, overcrowded ferries that also ply the same routes whose safety records are not always the best. Island hopping by air is also an option, if where you want to get to is near one of the 31 airports around The Philippines.
Insider Tips
Some schools work 6 day weeks in The Philippines. Don't worry though, there are plenty of national and local holidays and most schools also offer 2 weeks off as part of the contract.
Once you make it past the slightly aggressive taxi drivers at the airport, Filipinos have a reputation for being naturally friendly and hospitable.
Don't go to teach in The Philippines and not visit Banaue, because you haven't seen beauty and rice terraces until you've seen the World Heritage listed rice terraces at Banaue.
Get the Brochure
If you're keen to find out more about teaching English then you'll want to check out the i-to-i free TEFL brochure. You'll find out all about choosing the right TEFL course, finding TEFL jobs abroad and the opportunities available to you.
Get your free brochure now