Teach English in Thailand

Why teach English in Thailand…
There's no better place to teach English than in Thailand, and it's not only one of the most popular holiday destinations for tourists, but for English teachers too.
Thailand hasn't veered away from its traditional roots however, and it's completely normal to encounter elephants and Buddhist monks whilst walking to work! As the Thai are so obsessed with learning English, demand is high for teachers so it's fairly easy to find a job with no previous TEFL experience.
You can either apply for a job teaching in Thailand online via the i-to-i TEFL jobs board, or on arrival in Thailand you can head directly to language schools with your TEFL certificate and eResume. A recent change in immigration rules means that you now need a degree to legally teach English in Thailand.
It's great for TEFL teachers because…
Thailand is one of the most popular destinations for teaching English, due to a mixture of the warm weather, the low cost of living and the fascinating culture! In fact, many of the people that go to teach English in Thailand never leave – with over 60% of the expat population consisting of resident English teachers!
The highest paid jobs teaching English in Thailand are at the international schools, while at the other end of the scale TEFL jobs in private language schools are a great way to get some teaching experience. Most people teaching English in Thailand start off at a language school in one of the major cities, such as Bangkok or Phuket or in the North of Thailand (Chiang Rai, Chiang Mai or Isaan are all popular) if they're looking for a more authentic cultural experience.
All you need to teach in Thailand is…
You'll need a degree to teach here, and a minimum of our 120 Hour Online TEFL Course to get a decent job teaching English in Thailand; although the i-to-i 140 Hour Combined TEFL Course is recommended if you haven't had any experience of teaching previously. As the need for teachers here is so strong, it's easy to get a TEFL job without any prior teaching experience.
Average Monthly Teaching Salary
35,000 THB / £660 / $1,080
Free Teaching English in Thailand Guide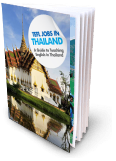 Get your free guide to teaching English in Thailand and find out more.
Get the Guide
Basic Info
Language: Thai
Currency: Thai Baht (THB)
Population: 67 million
Capital City: Bangkok
Cost of Living

The cost of living in Thailand varies more than any other place in South East Asia. You could choose to live like a King (or Queen) and spend your whole teaching salary; or you could choose to live like the Thai and spend only $500 per month. To give you an idea of what both budgets will buy you, here are some costs at opposite ends of the spectrum:

Accommodation:
3 bedroomed luxury beach villa in Ko Chang complete with pool for £565/$900 per month
One room in a modern 2 bed apartment in Chiang Mai for around £95/$150.

Food:
5 course dinner in the Michelin starred 'Namh' in Bangkok for £30/$50 per person
Authentic Thai red curry with a side of spring rolls from a Ko Samui street vendor for £1.25/$2

Leisure:
Spa day in the 5 star Chatrium resort, Bangkok = £30/$50
Traditional Thai massage on the beach = £3.15/$5

In i-to-i's experience, most teachers in Thailand tend to fall somewhere in the middle, treating themselves to the high life one day and living like a local the next.
Food and Drink

Thai food is very popular all over the world, but there's no doubt that the best Thai food is of course, found in Thailand!
The food is full of flavour, with an endless supply of condiments to suit your tasting – most popular are ginger, chilli and peanuts. Pad Thai – a mixture of noodles, tofu, bean sprouts, onions and peanuts – is a classic Thai dish; as is Thai Green curry, with coconut milk and shredded lime adding to the final, tangy taste.
For a true taste of Thai food, shun the touristy restaurants for a night market ('talaat yen'). Found in most cities, these are open air gatherings of street kitchens, where you can enjoy multiple savoury dishes, a dessert and a fruit drink for less than £3/$4.50!
Drinks-wise, freshly squeezed juices are very popular to keep you hydrated throughout the day – steer away from the common orange and apple juice, and try a more exotic lime ('nam manao') or mango juice. Be sure to also try traditional Thai coffee by asking for a 'kaafae thung'; its unique taste is credited through its filtering process through a cloth.
If it's something a little stronger you're after, local beers Singha and Chang are extremely popular; and with a prominent drinking culture, there's nothing wrong with a few beers after a hard day at work!
Weather

If you're planning to teach English in Thailand, we hope you like the heat! The weather all year round is very hot and humid – with Bangkok actually having the highest average temperature of any city in the world, at 30 degrees Celsius! May – September is known as the rainy season, and although showers are heavy they are also usually very brief. Even in the winter, Thailand rarely sees temperatures dip below 25 degrees Celsius.
Accommodation

The majority of TEFL jobs in Thailand will provide your accommodation for free, or provide you with a housing allowance. Although accepting the free accommodation is a stress-free way to start your new life in Thailand i-to-i would recommend taking the allowance and finding your own place as you'll tend to get 'more for your money' this way.
Where could I teach English in Thailand?

The cities of Bangkok and Chiang Mai, and the smaller town of Petchabun offer the most opportunities for teaching English in Thailand, due to the large number of schools (both state and private), and the prestigious universities located there.
When it comes to big, brash Asian cities – Bangkok is certainly up there. With a population of 8.5 million and the famous Khao San Road you'll have no struggle to find a teaching job in Bangkok, but if you do choose to teach here be prepared for a fast-paced life!
If you'd prefer a more traditional Thai experience, then Chiang Mai – based in Northern Thailand – is the best option. Culture is considered very important here, with many historical temples scattered around the city; and surrounded by a ring of mountains means you're never far from nature.
The small town of Petchabun, 350km north of Bangkok, home to just 24,000 is surrounded by mountains and rivers; and is the perfect place to teach if you like the laid-back lifestyle. There are three national parks here, one of which (Khao Kho National Park) is frequently referred to as 'Little Switzerland' due to its breath-taking lakes.
Transportation

In the city
Bangkok is notorious for its gridlocked traffic, but the comprehensive transport system of the underground and sky train means that getting round the city and getting to your TEFL job is quick, easy and very cheap, with a one way ticket costing just 40p/$0.70.
Further afield
Many people teaching English in Thailand will only be contracted to work 15- 25 hours a week, which leaves plenty of time to take on private tuition or to explore the Land of Smiles. For trips in mainland Thailand, the train system is cheap and comfortable, and it's a great way to see the Thai countryside. An overnight train in a first class sleeping berth from Bangkok to Chang Mai will cost just £24/$40.
Insider Tips
Male teachers dominate when it comes to teaching English in Thailand but this is not necessarily bad news for the ladies! Thai employers generally prefer to hire females to teach young children; and as they have a smaller pot of teachers to choose from women will be at an advantage in securing lucrative private kindergarten positions.
To make friends with the Thai's, the one phrase you need to know is 'chon keaw', which means 'cheers'. Essentially, it can be used to start a conversation if you're stuck for something else to say, and you can impress the locals with your willingness to blend in!
You don't need to speak any Thai to teach English in Thailand, and in fact, you'll be hired not to do so! Your native language skills mean that your students will pick up the language completely naturally from you.
Get the Guide
If you're keen to find out more about teaching in Thailand then you'll want to check out the i-to-i TEFL free guide. You'll find out loads more useful information on finding your first job, where you can teach and how to negotiate the best salary package.
Get your free guide to teaching English in Thailand now