Teach English in Switzerland

Why teach English in Switzerland…
Switzerland draws in English teachers for many reasons: the high quality of life and stunning scenery being just some of them.
Teaching English in Switzerland allows you to take advantage of all cultures; Switzerland has far more to offer than the cuckoo clock. Many travellers believe the famous Swiss neutrality is exactly what they'll feel if they travel here; but those that come are delighted by the combination of French, Italian and German cultures with a uniqueness of its own. The museums and mountains, castles and forests, tidy towns and raging waterfalls make this a refreshing country to visit.
When compared with other European countries, there aren't as many vacancies here; but the majority of English teachers find jobs by visiting institutions' websites and applying online. If you get through to the next round, you'll need to fly over for an interview face-to-face, with your airfare unlikely to be reimbursed; but if you secure a teaching job in Switzerland, you're in for some of the best times of your life!
It's great for TEFL teachers because…
Demand isn't that big in Switzerland compared with other European countries, simply because the Swiss' English is excellent. However, there is a need for teaching English to young children, both in international and private language schools; but given the high quality of life, beautiful scenery and safety of Switzerland, competition is fierce amongst English teachers. There is also a huge demand for teachers in Hotel Schools, where students study to work in the hospitality and tourism sector; and all classes are taught in English here. Some TEFL teachers will also advertise private lessons once they have started working, but it can be difficult finding students unless you are signed up with the English Teachers' Association Switzerland (ETAS).
All you need to teach in Switzerland is…
Alongside your minimum of our 120 hour Professional TEFL course (many employers prefer the 140 hour Professional TEFL course instead), you will need to have a degree. Whilst some schools may take on new teachers, it will only help you to secure a position if you do have teaching experience, with exclusive schools like the Lausanne Hotel School requiring teachers have 3 years of experience.
Average Monthly Teaching Salary
3,330 CHF / £2,175 / $3,000
Free TEFL Brochure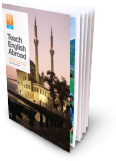 Get your free TEFL brochure and find out everything you need to know about teaching English as a foreign language.
Get the Brochure
Basic Info
Language: French, German
Currency: Swiss Franc (CHF)
Population: 8 million
Capital City: Bern
Cost of Living

As the second most expensive country in Europe (second only to Norway), the cost of living in Switzerland is high. The good news? That although accommodation is very expensive in Switzerland, you won't need to pay for it as TEFL employers provide it free of charge to their teachers.
You'd also be forgiven if you thought that food in Switzerland was expensive, but comparatively it really isn't: a standard meal in a restaurant is just £13/$21 per person, with the Swiss regularly enjoying meals out with their family as a form of unwinding from the stress of work. One thing the Swiss will happily pay extra for though is their delicious chocolate – you can pick up a Lindt selection box from the supermarket (with a range of bars of chocolate and truffles) for £26/$42.
For sophisticated partying, head to Lucerne, which the Swiss believe has the best bars and restaurants in the country. The most exclusive bars are found in the hotels, such as Schweizerhof in Hotel Schweizerhof, or Blue in the Astoria; where you can enjoy a Cosmopolitan (or 2) for £10.50.
Food and Drink

Although the Swiss may not be well-known for any particular dish, they most certainly are famed for two types of food: chocolate and cheese. Swiss chocolate is known as the most luxurious in the world, with the invention of fondant chocolate, and anyone who has tried the Swiss chocolate brand Lindt will know it is one of the nicest brands in the world (tip: try the white chocolate and strawberry Lindt chocolate – quite literally amazing)!
Typical Swiss cheese is ones with holes in – such as Emmental. It's quite mild and slightly nutty in taste, and goes great for breakfast or as an evening snack with bread and butter. Another dish the Swiss have brought us is cheese fondue, which is essentially slices of bread dipped in melted cheese… you're sure to enjoy a few of these during your time in Switzerland!
When it comes to alcohol, the number one beverage of choice for most of the Swiss population is beer; and they start drinking it young here, with an age limit of 16!
Weather

Summers are generally warm in Switzerland, with average temperatures of 24 degrees; but in the winter, it can reach -5 degrees Celsius in Zurich. Temperatures shoot down further in the Alps which makes it perfect for skiing: but one thing you can be sure of in Switzerland wherever you teach is lots of snow. Although the cold can be frustrating if you aren't used to it, the snow makes Christmas really magical and you'll find yourself falling in love with Switzerland over and over again!
Accommodation

As your TEFL employer will provide you with free accommodation, you will be sharing the house with a few other English teachers (most likely the ones that work at the school with you); so unfortunately, you won't be getting your own free luxury apartment!
Where could I teach English in Switzerland?

Most of the TEFL jobs in Switzerland are located in Zurich and Geneva, although the alpine city of Lucerne also has a number of teaching vacancies in its 'Academia Language School'.
As the largest city in Switzerland, Zurich has regularly been voted the best city in the world to live in, so we can't blame you if you want to start teaching English there! Wander round the quaint cobblestones of Altstadt (Old Town), with chocolatiers, boutiques and little restaurants lining the streets; before relaxing by beautiful Lake Zurich. A lot of private language schools are found here, and if you're a new teacher starting out, you will most likely get a position at one of these institutions as pay is slightly lower. However, this is Switzerland so you're still likely to be earning more than what you would at home!
The small city of Lausanne may seem unassuming at first, but it's actually home to the prestigious Lausanne Hotel School, where in addition to a degree, they dictate that students have 3 years of teaching experience. Realistically, unless you're an experienced teacher, you're unlikely to find work in Lausanne, so you're better off looking for jobs in either Zurich or Geneva.
As the Swiss' English is so excellent, all schools have extremely high standards for all teachers, and no matter how reputable your TEFL training, you'll receive in-house training too on how they want you to conduct their lessons. Despite how much experience you may have, this is something you'll have to undertake, so don't take it as an insult that they don't trust your TEFL skills: you should be proud that the Swiss consider you worthy of teaching their students!
Transportation

In the city
As you'd probably expect, the Swiss' public transport is very punctual, so you could choose to live in the cheaper suburbs of Zurich and still get to your teaching job on time. Buses and trams are found in most cities; costing around £2.30/$3.70 return for a return ticket in Zurich, Lucerne and Geneva.
In Zurich, you can travel in style by ferry, serving the train stops on opposite sides of Lake Zurich. Geneva runs a 'Noctambus', with services on until 4am, so if you want to get home cheaply after a night out, it's a great alternative to a taxi.
Taxis are very expensive in Switzerland so if you're teaching English here it may be worth buying a cheap car and reselling it at the end of your TEFL contract.
Further afield
You'll have lots of time to explore the beautiful sights of Switzerland, as an average teacher only works 25 hours a week, regardless of whether they're teaching in an international or private language school. As it's such a small country, travelling between cities is relatively quick by train – travel between Zurich and Geneva takes just over 2.5 hours; and although prices are high at £55/$88 one way, it's reasonable considering the high salary you'll be on.
Bordering 3 countries, it's easy to travel through Europe from Switzerland, and is something a lot of English teachers do during the summer holidays. Visit the German student city of Freiburg from Zurich, with return trains costing £38/$60 or fly to Rome for less than £50/$75.
Insider Tips
Classroom culture is very professional: shake students' hands as they enter and leave the class, and expect your students to call you 'Sir/Madam'. Punctuality is also very important to the Swiss – your students will turn up on time and so should you.
No matter whether you're an advanced skier or you've never done it before, experience a couple of days on the slopes at the Swiss Alps. One of the most popular resorts is Davos; with a reputation for having an amazing après ski nightlife! Visit Ex-Bar for a couple of cosy drinks, before kicking off the party in Casa Antica.
When teaching in Switzerland, you must be aware that the system is very hierarchical: what you might take for granted in the workplace at home such as negotiating salary could lead to your hours being reduced or even your contracts cancelled! Once you've secured a job, it's best to grin and bear it until your contract ends.
Get the Brochure
If you're keen to find out more about teaching English then you'll want to check out the i-to-i free TEFL brochure. You'll find out all about choosing the right TEFL course, finding TEFL jobs abroad and the opportunities available to you.
Get your free brochure now