Teach English in Mexico

Why teach English in Mexico…
Considered by many seasoned travellers as the jewel in the crown of Central America, it is little wonder that increasing numbers of people are looking to teach English in Mexico.
It is home to countless ancient Mayan sites, mile after mile of palm fringed beaches, a handful of bustling super cities and more stunning colonial architecture than any other country in the region. Oh… and the food in Mexico is amazing too! Business is conducted face-to-face in Mexico, so most people going out to TEFL in Mexico make the move before contacting schools directly, although we do advertise all of our Mexican vacancies on our TEFL jobs board, which you can apply for whilst in your home country.
It's great for TEFL teachers because…
Mexico's close proximity and economic ties to the US means that the demand for native speakers to teach English in Mexico is huge, with newly qualified TEFL teachers finding a job even without prior experience. The majority of TEFL teachers work in private and international schools; although there is a demand for business English also in Mexico, as many Mexicans rely on American companies for employment. A lot of teachers teach private lessons on the side, often through word of mouth, but there is no fixed rate for this and salary is negotiated between the tutor and student.
All you need to teach in Mexico is…
If you fancy heading off to teach English in Mexico, you won't need a University degree, just a course like our 120 Hour Online TEFL Course. If you haven't taught English overseas before, you might want to consider a course with some practical teaching elements, such as the i-to-i 140 Hour Combined TEFL Course.
Average Monthly Teaching Salary
8,150 MXN / £375 / US$600
Free TEFL Brochure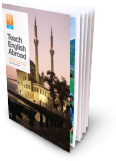 Get your free TEFL brochure and find out everything you need to know about teaching English as a foreign language.
Get the Brochure
Basic Info
Language: Spanish
Currency: Mexican Peso (MXN)
Population: 122.3 million
Capital City: Mexico City
Cost of Living

Compared to Europe, the US or Australia, the cost of living in Mexico is very low. As with all countries, just how cheaply you can live will be down to where you choose to spend your time. As a rule, big cities like Mexico City and Guadalajara, and the developed resort towns will be more expensive than smaller provincial towns. In the cities you can expect to pay around £115/$185 for a shared two or three bed apartment, while if you're lucky enough to find work in a small beach town you may be lucky enough to find a similar place to lay your head for as little as £70/$110! Your average utility bill, excluding internet, will be around £20/$30. That being said, many employers in Mexico will cover your accommodation and utilities for you.
The cost of food also varies from town to town, but as a rule it is very cheap. A meal at an average local restaurant will set you back something like £2.80/$4.50, a quesadilla from a street vendor could be as little as 70p/$1.10 and cold local beer will be around £1.20/$1.85. Most rental properties also have a well-equipped kitchen, so buying cheap fresh food from local markets and cooking at home helps to stretch your budget.
Food and Drink

Mexican food is known through the world for its flavourful spiciness, but the food you encounter once you arrive in the country is a world away from what you find in the burritos and cheese nachos you find in those ubiquitous Tex-Mex cantinas and Mexican chain restaurants. True Mexican food is fresh, simple and best found in small locally run restaurants. Antojitos are a big part of Mexican cuisine – they're light bites made with corn masa (corn dough) as a central element. These can be found at street food stalls and restaurants pretty much anywhere in the country and include favourites such as tacos, quesadillas, enchiladas, tostadas, sopes, gorditas, chilaquiles and tamales. Eating this kind of food while you're living and teaching in Mexico will help your salary go a long way, and you'll educate your palette too.
There is no better drink to wash this down with than Tequila: El Jimador is the top-selling brand in Mexico, and you can pick up a litre bottle for about £10/$16 – no heavy drinking on a school night though, Tequila hangovers are the worst!
Weather

Mexico is warm and sunny pretty much all year round. Low-lying and coastal regions (especially in the South) get very hot and humid from May through until September. These months also see the highest rainfall across the country. In the higher altitude areas, and in the far north of the country, it can be quite chilly from November through till February, so don't forget to pack your coat!
Accommodation

Unfortunately, employers of TEFL teachers in Mexico don't tend to offer accommodation free of charge, so you'll need to find it yourself. However, you can rest assured you won't be living in a shanty town! Flats in the major cities are of a high standard and on par with the rest of the Western world, so you don't need to worry about slumming it without running water or heating!
Where could I teach English in Mexico?

Mexico City is the main market for people looking to teach English in Mexico. It is the country's main cultural, political and economic centre and as such is home to most of the large-scale language schools and institutes. The British Council has offices in Mexico City and they're a good starting point. They can be found on 316 Lope de Vega and will be able to provide you with addresses of all the language centres attached to state universities. A good place to meet other ex-pats and teachers is the Quaker-run Casa de los Amigos on Ignacio Mariscal 132.
The majority of vacancies are advertised in August, ready for the start of the semester in September, so apply then for the best chance of securing a job!
Regional capitals like La Paz, Guadalajara and Monterey, and popular tourist and resort towns such as Puerto Vallarta, Cancun, Acapulco and Mazatlan, are excellent places to find work teaching English. They draw people in from surrounding areas in the hope of feeling the benefit of international trade and English language tourism, so they usually have a number of language schools.
Transportation

In the city
The larger Mexican cities, such as Mexico City and Guadalajara have fully integrated metro systems including rail and buses. While smaller towns don't have such complete systems, the majority of towns where language schools can be found will still have reasonable public transport systems. One thing does remain constant on all cities: public transport is cheap. In fact, the Mexico City metro costs just 23p/$0.37 a trip. So on a teacher's budget, public transport is your best in and around the city.
While taxis are more expensive they are a good option if there are a few of you travelling together or if you've been for a night out and you want to get back to where you're staying. Just make sure that you've got the address written down in Spanish – not all Mexican cab drivers understand English.
Further afield
Expect to be teaching around 25-30 hours a week: teaching in state and international schools will mean you'll have the afternoons, from 1pm, off, so plenty of exploring can be done! In private language institutions on the other hand, you'll be working around your students' work schedules, so will typically work between 7-8am, and 5-9pm.
Travelling around Mexico is a relatively easy affair. Low-cost airlines are plentiful and long distance buses are easily affordable… although not exactly enjoyable. Intercity buses usually all arrive at a central bus station – usually called La Central. Baggage is safe if put in the baggage hold, but make sure you get a receipt when you get it stowed. As with any long distance travel, make sure you keep your passport, credit cards, valuables and cash in the cabin with you and keep an eye on it all.
If you don't fancy 15-hour bus journeys, bumpy roads and aching limbs, then air travel may be a better plan. Most major cities and regional capitals have airports and low cost carriers like Interjet, VivaAerobus, Volaris will get you where you need to go, with a return flight from Mexico City to Guadalajara for just £68/$110!
Insider Tips
While there is a lot of coverage of the violence and crime associated with the Mexican drugs trade in the media, it very rarely affects tourists and ex-pats. So don't let it put you off – just be careful if you're out and about in Tijuana, Juarez, Mexico City or Laredo after dark. And be really careful with taxis in Mexico City – always go with a registered cab company.
Relationships in schools and businesses are very professional: Mexican women pat each other on the shoulder as a greeting, whereas men shake hands. As a teacher, you will also be expected to dress well in business attire – follow these rules and you will be well respected!
While the coastline of Mexico is rightly famed for its pristine beaches and quaint beach towns, the rip tides and currents can literally be a killer. If you're off the beaten track and swimming on beaches without lifeguards, then check with the locals. And don't leave your gear on the beach, grab and run thefts happen infrequently, but when they do they are a real pain.
Get the Brochure
If you're keen to find out more about teaching English then you'll want to check out the i-to-i free TEFL brochure. You'll find out all about choosing the right TEFL course, finding TEFL jobs abroad and the opportunities available to you.
Get your free brochure now