Teach English in Canada

Why teach English in Canada…
According to the UN, Canada has one of the highest qualities of life in the world: and on top of that, it's safe and has incredible natural beauties like the Rockies and Niagara Falls so why wouldn't you want to teach English in Canada?!
Understandably, it's easier for Canadians to find teaching jobs, but don't let that deter you! Most English teachers will move to Canada on a working holiday visa, as interviews are required to be face-to-face. Unlike some other TEFL countries, you can expect the interview process in Canada to be as stringent as in your own country.
It's great for TEFL teachers because…
Although French is one of the national languages, demand isn't high for English teachers in Canada, as English is also spoken. However, there are opportunities for TEFL; it's just that it's very competitive to get one of the few jobs on offer. The majority of TEFL teachers teach in international language schools, but to be considered for the job, you'll need to be accredited by the Ministry of Education for whichever province you're teaching in, e.g. British Columbia. There's also the option of tutoring the French-speaking majority; and with Canadians having a lot of disposable income, you'll find there are plenty of parents willing to pay for their children to learn English.
All you need to teach in Canada is…
You'll need a degree to teach English in Canada, and in addition to a minimum of our 120 hour Professional TEFL course, you'll also need to have some practical teaching experience, as standards of teachers are high, and competition is fierce (especially as native-English Canadian speakers are fit for the job).
Average Monthly Teaching Salary
1,094 CAD / £1,980 / $3,000
Free TEFL Brochure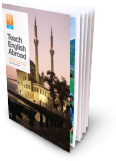 Get your free TEFL brochure and find out everything you need to know about teaching English as a foreign language.
Get the Brochure
Basic Info
Language: English/French
Currency: Canadian Dollar (CAD)
Population: 35 million
Capital City: Ottawa
Cost of Living

As you'd expect in a developed western country such as Canada, the cost of living is high; but as the average teaching salary is also high it does level out.
If you're looking to rent in the capital Ontario, you can expect to spend around £700/$1300 per month before your bills come out. If you are planning to teach English along the West Coast of Canada then it is definitely worth considering where you'll be renting. Vancouver property is particularly expensive with a 1 bedroomed apartment in the trendy Kitsilano area costing over £1000/$1700 per month.
With over 8,600 maple syrup businesses in Canada, producing 80% of the world's maple syrup, naturally you can find it everywhere, from corner shops to supermarkets and in restaurants. You can pick up a 250ml bottle from a supermarket for around £6/$10 – it may sound pricey, but as the Canadians will tell you: it sure is worth it!
Make like the Canadians and go watch an ice hockey game whilst you're out there (trust us: they LOVE ice hockey). Tickets to a match with a popular team- the Montreal Canadiens – start at £26.50/$42/50. Suggest this to your new Canadian TEFL colleagues and they'll love you for it.
Food and Drink

Canadian cuisine is certainly interesting – just consider the fact that a classic Canadian dish is Poutine (essentially French fries slathered in gravy and cheese curds)! As the founder of Maple Syrup, naturally, the Canadians incorporate it in many dishes – whether it's as a topping on pancakes and waffles, to bacon. In fact, the Canadians' love of bacon is so strong, that the overwhelming majority of the population said they would choose it over sex!
When it comes to drinks, treat yourselves to a glass of Moose Milk: rum and Kahlua blended with ice cream for a delicious boozy milkshake. You can drink it as it is, or add in flavours such as raspberries or chocolate for an extra kick.
Once you've finished devouring your maple-topped pancakes or bacon, enjoy a glass of ice wine, which is specifically set aside for after dessert. Called ice wine as the grapes used are frozen whilst on the vine, it's particularly sweet-tasting and is refreshing on a warm summer's day.
Weather

The mildest winters are enjoyed by Vancouver in the west, with an average temperature of 1 degree Celsius and low snow fall. However, move along to the more populated east of the country in cities like Ottawa and Quebec, and whilst summers are lovely in the mid-twenties, winters are typically Canadian: a freezing -10 degrees Celsius – so decide how cold you like your weather before you pick a city!
Accommodation

As a western country, accommodation in Canada is of an extremely high standard. When you arrive in Canada you'll need to arrange accommodation for yourself, so most teachers suggest booking into a hotel for a few days whilst they do so. EasyRoommate and Craigslist are both good places to start if you're looking in a major Canadian city.
Where could I teach English in Canada?

Whilst there are jobs available in French-speaking cities such as Quebec and Montreal; a lot of native French speakers are in the other countries, and so want to improve their English skills, which means that there is fairly consistent demand in all Canadian cities. Because of this, naturally there are more schools in the larger populated cities of Ottawa, Toronto and Quebec, so if you're searching for a job, these cities would be the best places to start.
As the country's capital, there is a lot of Canadian history going on here: the Canadian War Museum and Peace Tower being just a couple of attractions. The Rideau Canal is also worth a visit, at over 200km long with 47 locks; making it a UNESCO World Heritages Site. The best thing about it during winter though, is it becomes a skating rink when it freezes over, so go grab a few friends and enjoy your winter in Ottawa!
Although Ottawa may be the capital of Canada, Toronto is the largest city and is a favourite amongst English teachers. For £10, you can go on a 90 minute walking tour of Toronto's most haunted sites – well, it's entertaining if anything. All Canadians know that Toronto has the best shopping in the country: check out Coal Miner's Daughter on Markham Street for the best of selection of Canadian jewellery and clothing.
As the only city in Canada where French is the official first language, Quebec provides you with a unique experience like no other. The architecture is stunning – just visit Sainte-Anne-de-Beaupré Shrine for proof! Take a gander through the Petit-Champlain district to see some of the cute little boutiques and art galleries, before enjoying the views of the St Laurence river – extra gorgeous when the sun sets!
Transportation

In the city
Canada offers some of the best transportation in the world and you'll find routes covering even the furthest of suburbs to the city centre. Buses are the major modes of transports in all cities, and in Ottawa, the O-Train (overground train) runs from the centre to the airport – great if you live and work that way. You can also partake in 'rack and roll' here, which encourages commuters to ride their bike partway to work, and are able to stack it on the front of the bus whilst riding to get to work.
Further afield
It can be quite expensive travelling through Canada, simply because distances are so long. The train from Ottawa to Toronto isn't bad, as it takes 4.5 hours and costs £30.50/$49 one way.
If you're planning to fly around Canada then get prepared to spend some of that hard earned teaching salary. Internal flights are expensive, at £400/$645 return from Ottawa to Vancouver.
Insider Tips
When teaching in a class, it's important to dress professionally, so steer clear of revealing garments. Furthermore, whilst holding discussions is a great way of getting students to practice their English, avoid the topic of regional politics, as the division of Quebec and the rest of Canada is a rather sensitive subject.
There are so many beautiful landmarks to be discovered, but if you only have time to do one during your stay in Canada, make it Niagara Falls. You can see the sites by foot, or (if you're feeling particularly rich) by helicopter – and if you consider yourself a daredevil, take a Whirlpool Jet Boat Tour, riding the rapids for £34/$55.
It's worth checking out the situation with work visas whilst applying for jobs, as there are different regulations for different citizens. Whilst employers will help you to obtain these, it's always good to know the facts yourself – take a look at the Canadian Government website for more information.
Get the Brochure
If you're keen to find out more about teaching English then you'll want to check out the i-to-i free TEFL brochure. You'll find out all about choosing the right TEFL course, finding TEFL jobs abroad and the opportunities available to you.
Get your free brochure now