Teach English in Brazil

Why teach English in Brazil…
With the stunning beaches, vibrant culture and friendly locals, Brazil is a country like no other, and is an amazing place to live and teach English. The heady combination of tropical rain forests, idyllic beaches, thronging cities and the sounds of Samba are enough to leave anyone with the travel bug.
Brazil has one of the fastest growing economies in the world and the level of international trade is increasing every year, so the demand for English teachers is growing. For those looking to find a job teaching English in Brazil, there are more and more opportunities advertised online through TEFL jobs boards with the school conducting an interview via Skype.
It's great for TEFL teachers because…
Since the 2014 World Cup, the demand for English teachers in Brazil has rapidly increased, resulting in plenty of job opportunities. The majority of TEFL teachers teach in private language schools to children aged between 5-15, but many businesses also have in-house programs to help their employees become more confident in speaking English. Most of the opportunities to teach English in Brazil are centred around the larger cities of São Paulo, Brasilia and Rio de Janeiro, due to the high numbers of international companies situated there.
All you need to teach in Brazil is…
You don't have to have a degree to teach English in Brazil, you'll just need a minimum of our Professional TEFL certificate (120 hours) 120 Hour Online TEFL Course to get access to the better paying jobs; although the i-to-i 140 Hour Combined TEFL Course is recommended if you have no experience of teaching.
Average Monthly Teaching Salary
2,775 BRL / £705 / $1,150
Free Teaching English in Brazil Guide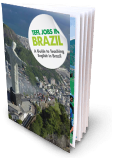 Get your free guide to teaching English in Brazil and find out more.
Get the Guide
Basic Info
Language: Portuguese
Currency: Brazilian Real (BRL)
Population: 200.4 million
Capital City: Brasilia
Cost of Living

The cost of living in Brazil is higher than that in much of South of America; however you will find that average monthly teaching salaries do fall in-line with the cost of living. If you share accommodation you'll be able to live comfortably; although unless you're consciously careful with money, you're unlikely to save much.
Accommodation is expensive in Brazil and to rent a one bed flat in the centre of Rio or Sao Paolo will cost you around £550/$920 per month. Many TEFL teachers share accommodation together to keep the cost down, and some of the larger Brazilian employers may offer housing near their school for a reduced rate.
Food is fairly moderately priced in Brazil, especially if you shop locally. Expect to pay around £2/$3.50 for a bag of black beans and £3/$5 for a small chicken.
Food and Drink

Brazil draws inspiration from the Portuguese when it comes to cuisine, and its dishes are packed with tons of flavour. Whilst in Brazil, be sure to throw your own Churrasco: essentially a BBQ, make like Brazilians and skewer large chunks of meats and enjoy an afternoon with your new friends. Alternatively, visit one of the many 'Churrasqueira' – an all-you-can-eat BBQ restaurant, where the meat is served on swords.
Although they're huge lovers of meat, Brazilians also know how to bake a great dessert, and the national dish Brigadeiro is testament to this. Similar to chocolate truffles, condensed milk, butter and chocolate powder are rolled into balls, cooked, and coated in chocolate sprinkles. A perfect way to end a meal, many Brazilians would agree!
Drinks-wise, there's absolutely no way you can visit Brazil and not try a Caipirinha – considered to be the national cocktail. Composed of cachaça (white rum), sugar and lime juice, the strong taste is quite distinct, but drink a few and you might just get used to them!
If you don't enjoy alcohol, keep hydrated in the day with Agua de coco – or coconut water. If you buy this in a restaurant or from a street vendor, it's often served in the actual coconut. Don't be alarmed if the seller brandishes a small machete – they cut the coconut open with these to show how fresh the water is.
Weather

Much of Brazil enjoys a tropical climate all year round with beautiful sunshine and little rain – perfect weather for building up a tan! The cities of Rio, Brasilia and São Paulo all enjoy temperatures of 30 degrees in the summer and 25 degrees Celsius in the winter, so you may just find yourself living in your swimwear on your days off! But be aware that there are areas of Brazil with much cooler, more changeable weather: it's not all sun, sun, sun so be sure to check out what the weather's like before you accept a contract teaching English in that area.
Accommodation

Brazil enjoys the highest standard of living accommodation in all of South America and favelas aside; housing is modern – especially in the city centres. In the major cities, most TEFL teachers flat share, with a typical flat costing around £350 a month fully furnished.
Where could I teach English in Brazil?

The top three destinations to teach English in Brazil are São Paulo, Rio de Janeiro and Brasilia although there are increasingly options to teach in more rural areas. This is due in part to the government placing an emphasis on the availability of English education, but is also a result of the 2014 Brazil world cup.
Enjoy the vibrant buzz of a big city? With 11.3 million inhabitants, Brazil's largest city of São Paulo is a good choice. The nightlife is varied, with mainstream clubs in the Jardins area, and intimate bars and live music in O do Borogodó. Love shopping? You're in the right place: alongside the international chains, you'll find a selection of Brazilian brands including Iodice and Rosa Cha swimwear, all housed in São Paulo's many shopping malls.
If you like the idea of living in a city where every day is like one big party, you should definitely move to Rio. Cosmopolitan and spontaneous, enjoy your weekends relaxing at one of the many white-sand beaches, and spend the evenings learning samba. The people of Rio are considered amongst the friendliest in the world, so if you prepare to open up you can be sure to make some new friends!
Designed as an 'ideal city' in the 1950s, despite being the country's capital, Brasilia can often be overlooked by visitors, but has plenty to offer. It has a very structured feel to it, which some criticise as they argue it lacks a 'city feel'; but if you like the idea of living in a professional environment, then Brasilia is a good choice. One of the more vibrant areas is Asa Sul, home to many restaurants and bars – go here, and you'll be guaranteed a good night out!
Transportation

In the city
Brazil's cities are so large, that there are multiple public transportation services on offer: each major city has its own bus and metro system, stretching from the outskirts to the centre. With one way tickets costing just 70p/$1.20 if you opt to rent in the suburbs to save money, you can easily reach the city centre and language school where you're teaching quickly and cheaply.
Further afield
The Brazilians are famous for their party spirit and work-life balance so if you're teaching English in Brazil get ready for a lot of leisure time. In fact, most teachers only work 20 hours a week, so there's lots of time for you to explore this amazing country.
The majority of people – both locals and tourists – prefer flying to different cities with the national airlines of TAM and GOL. They both offer frequent flights to various cities: a trip from Rio to São Paulo takes just one hour and costs £65 one way; perfect for a weekend away and a break from teaching.
Brazil borders every South American country bar Ecuador and Chile, so exploring is very convenient. Unfortunately, flight prices are expensive, and it's likely you'll need to save for a couple of months before you can jet off to a different country. Flights are slightly cheaper if booked in advance – a return trip from São Paulo to Buenos costs about £200/$350 if booked four months in advance, as opposed to £260/$400 if booked just one month before travelling.
Insider Tips
Brazilian employers prefer to hire teachers with some practical teaching experience on their CV/resume. This means that you have two options:

1) Take a Professional 140 Hour TEFL course where you'll spend 20 hours in the classroom.

2) Take a Professional 120 Hour TEFL course and find a local school to obtain your 20 hours of classroom practice.
Brazil's large towns are notorious for their favelas (or slums), where the poorest people in the country live. Whilst the police are working hard to change the favelas for the better, crime is still rife, so avoid going anywhere near them.
Customer service is practically non-existent in Brazil; so don't be offended when you aren't offered a smile and a 'how are you' when out shopping – it just simply isn't done here.
Get the Guide
If you're keen to find out more about teaching in Brazil then you'll want to check out the i-to-i TEFL free guide. You'll find out loads more useful information on finding your first job, where you can teach and how to negotiate the best salary package.
Get your free guide to teaching English in Brazil now