Teach English in Australia

Why teach English in Australia…
A lot of people would like to be teaching English in Australia and why not? It's an amazing country, and with an English-speaking majority, you'll experience less of a culture shock!
Many aspiring teachers move to one of the bigger cities in Australia to teach English as a foreign language (usually Sydney or Melbourne) and find work from there.
It's great for TEFL teachers because…
Australia is a popular choice for TEFL teachers as it's less of a culture shock; and the laid-back lifestyles and BBQs on the beach are definitely a bonus! Because of the competition for teaching jobs in Australia, you'll find it easier to find work if you have previous TEFL experience; but if you're willing to teach English in a private language academy, rather than a government-run school, then it's possible to find your first TEFL job in Australia too.
To give yourself the best chance of securing a position, apply for jobs in September: Australian schools start back in January, so they'll need new teachers in place by then – wait until December, and it'll be too late! The majority of opportunities to teach English as a foreign language in Australia are either in public schools, where you'll be teaching immigrant children; or at private language schools such as International House and Lexis English, where foreign children (mainly Korean, Japanese and Thai) study English intensively for a short period of time before going back home. Before you can start work teaching English in Australia, you'll need to obtain a working holiday visa – for more information, contact the Australian embassy, which is located in most capital cities.
All you need to teach in Australia is…
To teach English in Australia, you will need a degree, and a minimum of our Professional TEFL certificate (120 hours); most positions will require you to have a TEFL qualification with a practical element to it, like i-to-i's 140 Hour Combined TEFL Course and may require you to have some experience as well.
Average Monthly Teaching Salary
3,000 AUD / £1,665 / $2,700
Free TEFL Brochure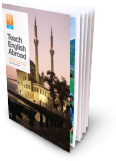 Get your free TEFL brochure and find out everything you need to know about teaching English as a foreign language.
Get the Brochure
Basic Info
Language: English
Currency: Australian Dollar (AUD)
Population: 23.13 million
Capital City: Canberra
Cost of Living

With higher wages comes a relatively high cost of living, although some aspects such as food and drink are actually quite cheap. On an average TEFL teacher's salary, in addition to day-to-day living, you'll be able to fund your travels across Australia, although it's highly unlikely you'll have any extra money to take home at the end of your TEFL contract.
When it comes to privately renting, an apartment in Australia is expensive, with costs comparative to London or New York. Expect to pay around £800/$1200 per month for a one bedroomed city centre apartment in the Manly Beach area of Sydney. This means that many people teaching English in Australia choose to live with a friend, or live in a private room of a hostel, to lower their rent.
Food and Drink

No summer would be complete in Australia without a BBQ on the beach, so be sure to round up all your new friends and enjoy the summer evenings. Any meat goes, but with the average Australian consuming 18 cows in their lifetime, a beef burger is a safe bet! Another classic Australian foodstuff is of course, Vegemite. Made from yeast extract, be sure to slather it shamelessly on bread – breakfast and lunch sorted!
Drinks-wise, you can't go wrong with a Victoria Bitter; but if you're looking for something that's good value for money (and very typically Australian), get yourself a goon! For about £5.50/$9, you can enjoy four litres of boxed wine (a goon) – great for pre-drinks and according to many-an-Aussie, the empty carton makes a perfect pillow!
Weather

Australia is the second driest continent on Earth (just behind Antarctica), with 70% of the land described as arid or desert (of which there are ten in total!).
Most people heading out to teach English in Australia imagine it's sunny all the time, and for the most part it is; although there are slight variances in the different cities as being the sixth largest country in the world, it's nearly 3 million square miles! Perth is warmest of all the major cities in both summer and winter, whereas Melbourne's weather constantly changes; so even if it's glorious sunshine and 30 degrees Celsius in the morning, you should always pack an umbrella so you don't get drenched on your way back from work!
Accommodation

Typically, you will need to arrange accommodation yourself if you move to Australia to teach; but the standard of accommodation is very high. You shouldn't have a problem finding accommodation, as you can go through letting agents or search through adverts online. If you are teaching English in an Australian language school then you may find that you're close to a major university. If so, then make sure to check out the university noticeboard and the student centre for house shares.
Where could I teach English in Australia?

The larger cities of Melbourne, Sydney and Perth offer the most opportunities to teach English in Australia, due to the large immigrant population, and the majority of private language schools situated there. Choosing which city to live in is then down to personal preferences, with Sydney the perfect choice if you're into the high life, culture and the arts.
Whilst Sydney oozes class, Melbourne is like the younger, grittier sister. Foodies will love Melbourne – a truly multicultural city, with large groups of immigrants from Lebanon, Vietnam and Greece, has resulted in a range of diverse restaurants, offering every type of cuisine you could possibly think of. The shopping in Melbourne is considered the best in all of Australia: here you can buy everything from luxury labels, high street brands and vintage finds. The nightlife here is pretty crazy too, especially in beach-side St Kilda, with hangouts ranging from the sophisticated to downright seedy!
For those of you that prefer a relaxed way of life, and arguably the 'typical' Aussie lifestyle, then Perth is perfect. Don't let the fact that it's known as the most isolated city in the world put you off (the closest city of Adelaide is 2,500km away!) – Perth has lots going for it, as its 1.8 million population (otherwise known as 'sand-gropers') would confirm. Laid-back is definitely the term to describe Perth: a favourite pastime here is a 'Sunday Session' – basically a Sunday lunch. The nightlife is condensed into the area of Northbridge; but Fremantle, just outside of Perth, is a popular place for living, with a busy marina, University and 'cappuccino strip' (as café-lined South Terrace is otherwise known).
Transportation

In the city
Transportation systems in all of Australia's main cities are comprehensive and frequent, with a one-way bus ticket costing £2.20/$3.50. Most bus providers operate almost 24 hours a day around the cities and suburbs, so not only can you get to work quickly, but you've also got a cheap means of getting home from a night out!
Taxis in Australia in general are expensive, with a 15 minute journey on average costing you £22/$35. Taxis are safe and reliable, but with such extensive public transport systems, if you're looking to save money, there's no need to use them.
Further afield
With the average working week for an English teacher in Australia being 25 hours, you'll have plenty of free time to explore! Such a huge country, it can take a long time travelling to different destinations; and whilst coach companies offer routes between the major cities, it's often worth spending extra and catching a train or plane to your ideal destination. For instance, a coach from Melbourne to Sydney costs £50/$80 for a 12 hour journey, compared to £60/$90 for a 1.5 hour plane ride.
Insider Tips
The visa process for teaching English in Australia is very time-consuming, so be sure to start this plenty of time in advance, and prepare to photocopy everything from your passport to your A Level results!
Australia is as famous for its laid-back lifestyle as it is for its deadly creatures: sharks, stingrays, spiders, box jellyfishes… Stinger season (when the jellyfish are out) is from November-May, so take extra precaution when swimming.
If you want to live in a young and vibrant neighbourhood with an expat community; Brunswick and Richmond are ideal in Melbourne, Fremantle in Perth and Randwick and Redfern in Sydney. All of these areas are close to their city's centres, where your teaching job will likely be, but also offer a selection of cafés and restaurants.
Get the Brochure
If you're keen to find out more about teaching English then you'll want to check out the i-to-i free TEFL brochure. You'll find out all about choosing the right TEFL course, finding TEFL jobs abroad and the opportunities available to you.
Get your free brochure now