Overview
Embrace the sunny Thai culture with this incredible 2 month Thailand TEFL experience. Two months is the perfect time to live, teach in Thailand within the local community and get under the skin of one of the world's hottest travel destinations! You'll also gain a TEFL qualification for life!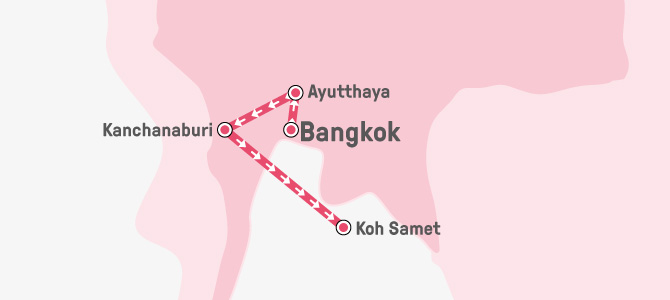 Itinerary, information and insider tips
Get the Guide
TEFL Talk: book a call back

We have sat and played with the children every lunch time, I have looked out the window every single bus journey and we spent last night in our little modest house on the school grounds chatting away, colouring and laughing. Moments I will treasure because the experience has forced me to truly live in the moment and I have never been happier!
Jasmine-Leann, Thailand intern
This is just what I needed, and probably the most worthwhile thing I've ever done. The real world teaching experience was invaluable and hugely enjoyable and Thailand was amazing to us; I fell in love with the country completely.
Matt, Thailand intern
This communal togetherness that we are being included in is central to Thai culture. Everyone here knows each other, shares what they can and looks out for one another like a big, happy family. We don't have that in London.
Pashka, Thailand intern
The Thai culture I think is amazing to discover, observe and learn. I loved learning the language, new food tastes, how to cook it, Thai mannerisms. I loved playing Thai games with the kids and generally just absorbing the culture. This is one of the best things I loved about the TEFL experience.
Toluwa, Thailand intern
My experience in Thailand has been one in a million. It really was a trip of a lifetime! I met the most amazing people, learnt so much about myself and the world as well as taught in a fantastic school, and made some golden memories.
Heidi, Thailand intern
Itinerary
Arrival in Thailand
You'll arrive into Bangkok airport, where a member of our team on the ground will meet you and arrange transport onwards to start your orientation in Ayutthaya.
Orientation
Your orientation will start in the ancient capital of Thailand, Ayutthaya. Take this chance to meet the other interns, discover Thai culture and history, and explore your beautiful historic surroundings with some expert guidance.
Your teaching experience

Now it's time to travel over to Kanchanaburi, a rural area surrounded by lovely landscapes with a real beating traveller heart.

All our Thai schools are in secluded small towns and villages, and your students will have a really basic knowledge of English, so there's opportunity for some really rewarding teaching here. Accommodation and some meals are included, and you'll have plenty of spare time to explore your amazing surroundings in between teaching hours. Our in-country staff will be on hand throughout to give you support or just suggest a fun excursion for the weekend!
Beach trip to Koh Samet

Now it's time for the teachers to take a trip to the exotic island of Koh Samet. This stunning location boasts some of the world's most beautiful beaches and is the perfect way to kick back, relax and reflect on the experience of a lifetime.
Time to say goodbye!
There will be a celebratory group meal arranged before you are transferred back to Bangkok for a final night's stay in a city centre hotel before jetting off back home or onto onward travel.
Before you go
What you need:
Be fluent in English
Be aged 18+
Be ready for an adventure teaching English abroad
What you don't need:
Prior teaching experience
A second language
You'll need to be TEFL trained to teach in Thailand – but with our 120 Hour TEFL Course included in the price, we've got you covered.
120 hours online TEFL training – study anywhere, on any device and get the skills you need to teach English confidently.
What will I need to organise?
Before you travel, there are a few things you need to sort. Keep things easy for yourself and don't leave them 'til the last minute!
International Flights: You'll require return flights to Bangkok International Airport (BKK).
Visas: Approximately £25/$35 – details on booking, will need organising before you fly.
Budget: We recommend budgeting approximately £30/$50 a week for meals that aren't included.
Police check: You must carry a clean police check. For the UK you'll need to pay approximately £25 for a Disclosure Scotland. For all other countries, please consult your local police department (costs may vary).
Travel insurance: this is really important – don't forget to sort yours before you travel! Travel insurance can be complicated – so click here for some great advice from our friends at the FCO.
What's Included?
120 Hour Online TEFL Qualification
Advice & pre-departure preparation
Airport pick-up & in-country transfers
Orientation in Ayutthaya
Accommodation & some meals
7 weeks' teaching experience
5 night beach trip to Koh Samet
What's not included?
International flights
Visas
Police check
Travel insurance