Living in Ecuador was a great experience and I'd definitely recommend going there to any teachers looking for a destination to add to their TEFL list. Here are the things I loved about living in Ecuador.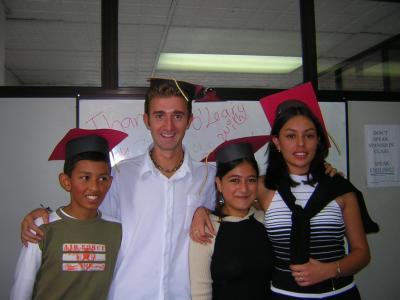 The Fiestas of Quito – one of my favourite moments was the Fiestas of Quito. The mental week-long festival involved lots of dancing in the streets, drinking canelazo (a lethal mix of aguardiente, sugar, and cinnamon), and flying about the city while on the top of a chiva (a mini-bus with a musical band).
Fellow teachers and students invited me on their chiva. At the start I was worried about falling off as we sped through the Centro Historical, but once the canelazo kicked in I danced about with my students. The crazy party goes on from the end of November until the 6th of December, when Quito was founded in 1534, so try to plan your trip around this amazing festival.
Learning Spanish – when I first arrived in Ecuador I knew how to order a couple of beers, say I was English, and ask if anyone was looking for a teacher. Once I'd found a job I bought a couple of Spanish grammar books and began to study.
The most difficult part was building up my confidence to speak. My accent was terrible but I stuck at it and after a while I felt more comfortable chatting to locals in shops, restaurants, and in hostels when I travelled.
Learning another language was a buzz and it gave me an insight into how my students felt learning a language. Once I got to know some of the Ecuadorian teachers I started speaking Spanish with them too. The one who I got on best with was The Lord.
The Lord – from the moment I met The Lord he made me feel welcome in the academy. The Lord, or Alex, always wore dark sun glasses (even while teaching) and his pale complexion suggested he'd never left his classroom. The Lord was obsessed with learning English swear words and always translated them for me to boost my essential Spanish vocabulary. He suggested learning all the naughty phrases to gain more control over the class. This definitely worked and the initial problems I had with troublesome students disappeared.
Outside work I hung around with the Lord a few times. He loved karaoke and sang in English better than most of my British friends. His English was excellent considering he'd never lived in an English speaking country. He was a good laugh and made my time in Ecuador fun.
Being a Lonesome Foreigner – Travelling alone was difficult at times, but I did enjoy being a lonesome foreigner. Most of my family and mates back home thought I was mad going on my own, especially with no job prospects, but taking the risk paid off and made me a stronger person. As mentioned in other blogs, I was almost mugged twice while in Quito, but it made me stronger.
I enjoyed being the foreigner when I was walking about the city and travelling, and also in the class. It was exciting getting to know another culture and learning about a different way of life. When it got to Christmas and New Year's I missed everyone back home, but my dream of witnessing the festive period in another country became a reality.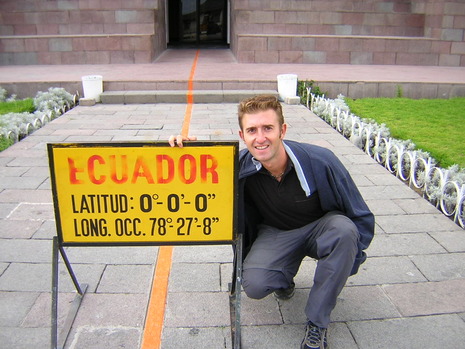 Weekend Trips – The main reason I left England was to travel the world, so weekend breaks to new towns and cities was a great part of living in Ecuador. My favourite places were Otavalo and Baños.
Despite seeing a horrific act of cruelty when a crazy man slammed his dog's ear into his car door while he drove it round a plaza, I enjoyed Otavalo. The indigenous markets were great; full of traditional clothes and excellent hand-made paintings, which were great for presents for family back home. Walking round the town was interesting and a short bus ride away was the amazing San Pablo Lake with impressive views.
The reason I visited Baños was to sample cuy (guinea pig). My students had told me that Baños was the best place to try it. They didn't tell me you actually saw the guinea pigs frying on the barbeques though. I couldn't go through with eating one in the end, but my weekend in the pretty town surrounded by mountains was a perfect break from the hectic capital. The main attractions were the waterfalls, the hot baths, and a small zoo built on the side of a mountain.
So those are my reasons why I loved Ecuador. It's a great country and an excellent place to teach English while getting an insight into South American culture. If you have any questions about life in Ecuador then just drop me a comment.
Baz is currently TEFLing out in sunny Seville in Spain, the lucky dude, but has previously taught English in Ecuador, Brazil, Australia and Thailand, so he's definitely what we would call a TEFL expert!