This weekend in China is the famous Dragon Boat Festival (端午节) pinyin: Duanwu.  The history behind this festival is particularly interesting, as it remembers the death of an ancient Chinese poet Qu Yuan, of the ancient state of Chu.  He was banished for opposing the powerful state of Qin and during his exile, he wrote a great deal of poetry.  28 years later, Qin captured the capital of the state which Qu Yuan was minister of and in despair; Qu Yuan committed suicide by drowning himself in the Miluo River.  All of the locals who admired him, raced out on boats to try and save him (well, to retrieve his body), and this is how the tradition started. When they couldn't find his body, they dropped balls of sticky rice into the river so that the fish wouldn't eat him; and because of this, people eat zongzi during the festival – the thing that's in the photo!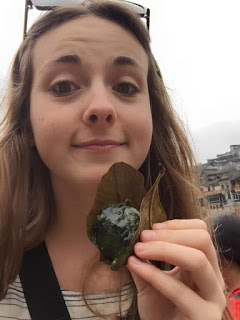 Of course, with it being such a special occasion here in China, my flat-mate Frederikke and I thought it would be a great idea to go and witness the racing on Miluo river as it's pretty close to where we live (although I say close; China is so big, everything is far away when compared to the compactness of Europe!)  We contacted some teachers at the school to help us arrange our trip (one of my teaching assistants actually comes from there), but they then told us that there were some political people going to the festival, so all of the tickets had already sold out… we were pretty gutted.  I really wanted to be able to witness the festival!  So on Saturday, we headed to Orange Island (Juzizhou) for some dragon boat racing but when we got there, there were no boats to be seen – we were either too late, or China had just one upped us again with the whole uncertainty thing.  I'm going with the latter.  We enjoyed a nice afternoon though, had Chinese ice-cream, and relaxed on the grass until we were unbearably sticky from the humidity.
As our plans hadn't really gone to plan, we decided to just take a random trip to Pinjiang… well, it turned out the place we wanted to go was another 3 hours' drive on top of that, but I'll come to that.  We left our apartment at 7am on Sunday morning and arrived at our destination at 4pm.  Let me explain to you what happened during those 9 hours: we were nearly at the bus stop when I realised I hadn't picked my purse up, so we had to go back (15 minutes' walk).  That was fine and we finally got on the bus to go to the East bus station, boatze's in hand.  We arrived at the station after nearly missing our stop because we were dozing off.  We got our tickets (piao) and with 8 minutes to spare, we raced to find our bus, and after a few partly understood conversations, found it and were on our way to Pinjiang 平江县.  The journey took around 2 hours and we arrived at Pinjiang bus station.  One guy on our bus was really helpful and pointed us in the direction of another bus which would take us to Shiniuzhai 石牛寨风景区.  We were about to get onto the bus when we noticed that the driver was asleep in his seat, but there was one other passenger on the bus, so we decided to get on and sit down.  However, after 30 minutes we still hadn't left, so I went to find a bathroom, walked in and heard a small voice saying "yi kuai"!  I apologised and yi kuai (one yuan) to an elderly lady selling tissue paper outside of the toilets.  She was really sweet and by Chinese public toilet standards, I was happy to pay for the kind of cleanliness.  I then decided to find a snack, and one lady asked me where I was going and when I told her, she of course said she had a friend who would take us in a private car for a very good price.  As we were having a conversation, an intrigued crowd gathered around us listening to a foreigner speak Chinese (very amusing apparently), and I eventually went back to the bus where Frederikke was, but still, no one else had gotten on it, and then driver was still asleep! I asked the girl who was on the bus what time it was going to leave, and she had no idea either, but I guess she was more used to this scenario than we were.
We decided to find out how much a taxi would cost instead, which was a bad idea – we were swarmed by guys asking us where we were going.  We were then told a very expensive price which we declined, and we attempted to bargain, but he wasn't budging.  I then made a phone call to Saeed, who's fluent in Chinese to help us as the conversation was too complicated.  Turns out we woke him up JUST so he could speak to a Chinese person about money… oops, sorryyyy!  After an hour or so, we decided to go back and see what the situation with the bus was, and more people had gotten on.  Again, we asked what time it was due to leave, but we had to clarify a few times (a word of advice when in China: ALWAYS clarify more than once!).  At 12.30pm, we still had an hour until the bus left, so we went to chifan (eat). We found a charming/filthy place at the station and ordered.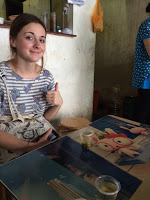 I was still worried that the bus would leave sooner than it said, so I ran in the pouring rain to check it was still there!  In the end, we decided to take our food with us, just in case.  As we were eating, we attracted the usual foreigner attention, and then a young student asked us where we were from in English.  If a Chinese person can speak English then they will always try.  Imagine learning a language for most of your life but never being able to practice… that's how they must feel, so when they see a foreigner, they're like "yeah here's my chance" but it's not fair cause I want to practice my Chinese!  She was sweet and when she got off at her school an hour and a half afterwards, we thought we were also really close to our destination but apparently not… it was ANOTHER hour and a half.  We really didn't think it was so far.  We weren't going to give up though, there had been too many hurdles!  We had waited more than two and a half hours for the bus to move so we had to persevere.  When we finally arrived at 4pm, we were forced into trying some spicy tofu on the way to the ticket office, and then we bought rain ponchos even though I was already soaked and ended up taking it off anyway, because of the humidity.
When we finally got to the ticket office, we were greeted by three young women.  We asked for two tickets, and what time they closed.  We had two hours to explore and they insisted that we didn't have enough time and instead, should come back tomorrow.  We explained that we didn't have anywhere to stay (or the time to come back!), so we'd try and see as much as possible in the time we had.  We knew that we would have enough time because we're not Chinese (you would understand what I meant by this straight away if you were here).  Most women here wear high heels and pretty dresses to climb mountains… logical? I think not.  Me and Frederikke had appropriate footwear and were not going to back down after it taking us 9 hours to get there.  Finally, we got our tickets and we set off looking very attractive in our blue and yellow ponchos.  The rain was so heavy, dancing on the lake, but it was so beautiful.  We chose a great day to take the trip as we could see the mist twisting in and around the mountain peaks.  We took a cable car to the top of the mountain and the views were insane – we went through the clouds of mist and couldn't see anything!  It brought back memories of my skydive, the last time I was so high up and immersed in clouds – I did record the journey alongside my great narration if you'd like to see!
When we reached the top, we saw the glass bridge!  It's a 180m high suspension bridge that connects one peak to another, made of glass… it was so slippy, which made it slightly more scary but it was ace – I loved it.  As I looked over the edge, my stomach sank a few times but then the clouds of mist began to move over the bridge so once again we were immersed.  Imagine if we had fallen over the edge?  Nobody would have seen us fall.  Trust me to think about that but it's so true, the world has its ways of covering things up, doesn't it?  Off the radar.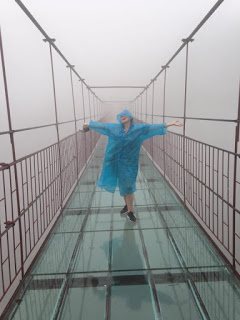 We then began to explore the rest of the National Park, and we were stunned – it was so worth the journey!  We walked around for two and a half hours… late coming out, oops!  Among the other attractions were Drunk Immortal (yes, haha!)  It was a 50m high pillar formed by various geological processes, with the resulting pillar resembling a drunken man on his side apparently.  As we walked further and further into the depths of the mountains, I was getting pretty hot and sweaty so I took of my poncho and tied it around my bag to keep the contents dry.  In the meantime, I got incredibly soaked but I surprisingly enjoyed it.  Strolling up and around the mountains along narrow bridges, I came across a Chinese straw had that had been abandoned by its owner and hung onto a tree.  I took this opportunity to make myself look like a Chinese farmer for a few minutes and tried it on for size.  I will definitely be investing in such a flattering piece!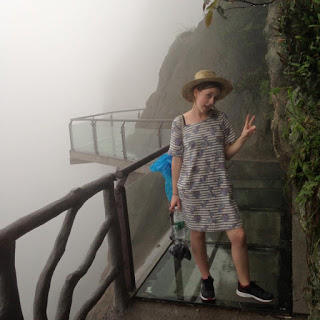 I had a near death experience as we began to descend: I stood and turned for a photograph and as I did so, my foot slipped slightly backwards. Fortunately, I caught my balance and the only damage done was my stomach sinking (this is the photo that I nearly died for).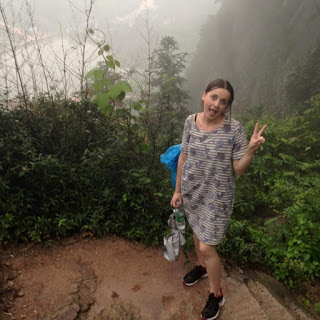 We paused a few times to enjoy the beautiful view over the surrounding area.  We took the hard way down and found ourselves slipping and sliding… the next part of this journey is worth reading, so apologies by the length of this article, but it's worth it!
We found out that there were no more buses passing here going back to Pinjiang, so we decided we would start walking the way that the bus had gone.  There was a thunderstorm happening, but we didn't have any other choice, and anyway, we liked the idea of a crazy adventure.  The odd motorbike or car would pass by, and slow down to look at us for a minute before carrying on driving.  We bought a packet of very dry biscuits on our way as our rations and ate half a packet straight away (wo men er le!).  We were walking through random roads heading to nowhere, but we knew we had to keep moving.  We passed random houses, and the few people we did saw just stared at us, which I found pretty funny – thanks to us, something happened in their lives that will spark a conversation between them!
An hour or so of walking, we continued saying "let's just walk until it gets dark, and then we'll think about what we should do next".  A small van passed us and came to a stop.  Inside was a man of around 40-50 years old; he asked us where we were going and we tried to explain that there were no buses and we needed to get to a station.  He was very kind and allowed us to get in his van; so we jumped in the back seat and continued to chat some more.  Yes, we were very trusting, but here in China, it's not such a huge problem, and it's not like we had another option.  I said "ni shi henhao ren" (you are a very good person), the most appreciative thing I could think of saying.  He seemed to be satisfied with the compliment and we carried on driving.  He came to a stop at some kind of car rental place and explained our options by drawing and writing a diagram.  He went to so much effort to help us and even took us to a place to eat and paid… we were going to insist, but then the whole losing face thing would be even more severe.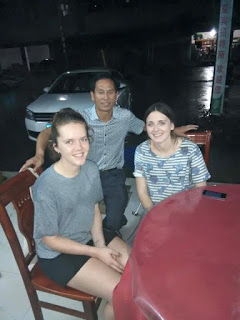 The guy told us that there was somewhere we could stay for the night, and that we could catch a bus at 6.30am the next morning.  We admitted defeat of getting home to Changsha in the evening and agreed.  We had only the clothes we were wearing, which were drenched!  The room was surprisingly nice, but then when I was on the phone to Saeed explaining what had happened, I spilled water all over the bed… just a wet day overall!  We hit the hay around 11.30pm and then woke up at 5.45am ready to catch the bus.  Although we got downstairs for around 6.10am, we didn't actually get on a bus until about half seven… typical!
It took us 3 buses to get home – we arrived back at 2.30pm.  It was a good job I had some wonderful scenery to keep me occupied alongside my current read about the Rwandan genocide of 1994.  Well I think that "sums up" our wild trip… hopefully it proved an interesting read!