Our teacher Ellen has touched down to teach in Phnom Penh!
So the adventure finally began on the 16th of June, after lots of preparation, getting nervous and excited it was finally time to make the beginning step of the journey, starting the long flight over to Cambodia. The i-to-i team had sent our intern group an email to say how we would be picked up at the airport so that bit of worry was eliminated, no matter how the journey went we had a friendly face to meet us.We had also been guided by Kimlay who runs the team in Cambodia on the facebook group, he made us aware that our visa's were fine to get in the airport when we arrived so another possible worry taken away. With the first weekend being organised for us with our intern group I felt quite safe for what I was going into, you don't just get instantly thrown into the schools and new accommodation, you get a nice middle ground in a hotel that'll feel luxurious.
After what felt like the longest journey ever, I arrived in Cambodia, after sorting out my visa (which as expected was very simple and easy, just on your way out of the airport) I walked out of the airport doors. I was greeted by Linda, part of the Nutty's Adventures team in-country and a couple of interns that had already arrived. We were sat for a while chatting and getting to know each other before our lift arrived, we left Linda to continue welcoming other interns due to arrive and were in a minibus to the High Sky Hotel with Hong, another member of the support team. There were 6 of us that arrived together, we enjoyed chatting on our journey to the hotel despite most of us being absolutely exhausted from travelling. The city looked very busy, I'm not sure what I expected but it was quite overwhelming and amazing all in one. Lots of buildings and the roads are quite manic (something you'll adjust to!). There aren't really proper pavements and there don't seem to be rules of the road but all the same its no too difficult to cross a street, locals are used to having to randomly slow down so you will feel safe here.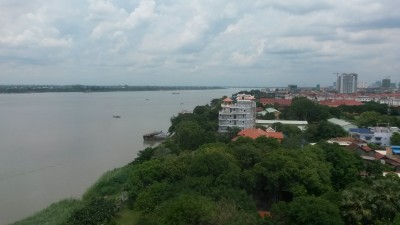 We arrived at a very nice hotel that would be the perfect welcome for the weekend, with a pool, absolutely beautiful view and food provided we couldn't complain, it was just what we needed to get started. We had a welcome meal together where we all ate and slowly gravitated around the group to introduce ourselves once we got a bit more comfortable, my group had 21 interns and first impressions were all good, a nice mixture of ages and people from different countries.
For the weekend in the daytime we had orientation where Kimlay, Hong, Linda and previous interns Duncan, Hebe and Kinda provided us with extra guidance. We were informed about the history of Cambodia, aspects of the Cambodian culture, the schools we would be going to and anything else they considered necessary. It was all very useful, making you less panicked and more at ease about going to your schools and beginning teaching. In the evenings we went for meals out together, the Saturday night we were taken to a restaurant that was in a tin shed, definitely a new experience but it was exciting to be having some true Khmer food. What we were given was like a folded over pancake, inside there was pork mince and beansprouts, we were told to rip bits of the pancake off and wrap lettuce around it, I have to say it was a meal I thoroughly enjoyed and have craved since despite it being incredibly messy! It's important to watch what you eat and make sure that where the food is cooked is clean, apart from that definitely embrace trying Khmer food, make the most of the different exciting culture.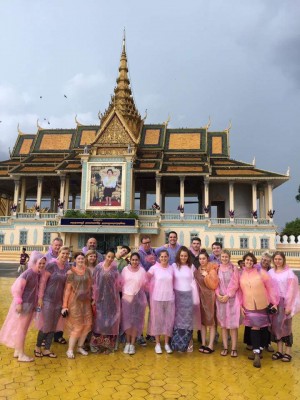 The Sunday involved more orientation in the morning, then in the afternoon we were taken to see the royal palace together. We were taken in tuk tuks, the local transport here which is basically a cart attached to a motorbike and not at all difficult to find whilst you're out and about. On our way there we started to experience our first monsoon, luckily the tuk tuks have waterproof sheeting to shelter you from the rain, we arrived at the palace and all stayed in our tuk tuks. Kimlay went and got us all rain ponchos so that we could still make the most of the experience. All of us appearing out of tuk tuks wearing rain ponchos was absolutely hilarious, it was surreal but great fun, I'm glad we experienced our first monsoon together in such a funny situation. Also, very useful to know what to expect of a monsoon so early on, if you're out in one you will definitely get soaked but when it finishes the sun comes out. Normally a monsoon happens when the temperature keeps peaking and the rain cools it down again and makes it more bearable outside.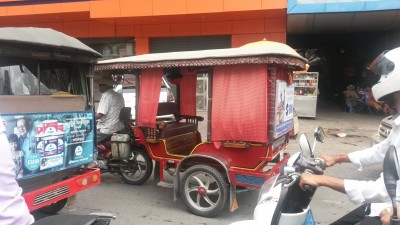 On the Monday morning the intern group got split up and taken to their individual schools, I was lucky to be in a bigger group, including me there were two other girls and three boys going to my school. We were to be part of the CamFirst schools with the two other girls teaching in the school we stayed in and the three boys and I going on a school bus to the Norodom campus. We were welcomed to our new home by Sophea who runs the Baktouk campus, she was very friendly and showed us around our accommodation. The girls were put on the top floor where we had a big room with 3 camp style beds, a wardrobe to share and a desk. On our floor we also had our bathroom, a simple box room with a toilet sink and shower head, very basic but enough for what we need. We also had a balcony with some lines on to hang clothes and a washing machine, also leading off here was the kitchen with a sink, cabinet with bowls etc, a fridge, microwave and gas hob. The basic facilities could come as a culture shock but they really are all you need and make you realise how much you take for granted at home, I actually quite enjoyed the change and learning to live with less.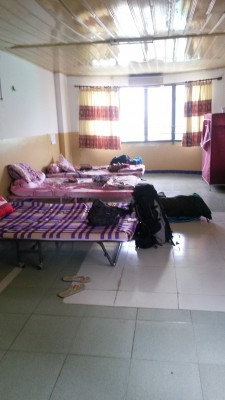 We were given a tour around our local area by Sophea and then left to our own devices before our orientation at our schools the next day. We visited the central market which was local to our school to get some extra teaching clothes. It can be a very daunting first experience, stalls everywhere and the locals tend to stare at foreigners. It's nothing to be alarmed about though, the Khmer people are very friendly so simply smile at them and embrace their way of life. At the markets, bartering is a must, the locals expect you to do it so no need to feel guilty, they also will try and charge foreigners more thinking they will get away with it. Always barter and if they won't budge on your final price then go to walk away and they quite often change their mind. Getting used to this takes some time but it is their way of life and you can buy things very cheaply out here. That is unless they are western items which you may be better off making sure you pack to bring with you instead.
The Monday evening we were all a little nervous and excited to begin our teaching experience the next day even though we would only be observing the first week. We had a nice relaxed evening together adjusting to our new surroundings, just the beginning of what would be an amazing two months.