Think you might need a snake, a coconut plate, some spices or a cure for insomnia? Or perhaps you are simply on the look out for some fresh fish and vegetables for dinner. If it's bargains you are after – of any variety – then sampling Thailand's markets is a must.
Even if you don't fancy buying, markets in Thailand are worth a visit. The bustle, noise, colours and smells of a busy Thai market will either energise or exhaust you (or possibly both) – but either way, it will give you an experience to remember.
If you are in a purchasing mood, remember that bartering <link to How to Barter in Thailand> is an essential (and fun) part of the process. However, don't worry too much about always "winning" a haggle. If you end up with a price you are happy paying then you have got yourself a bargain.
You don't have to look far to find a market in Thailand. Here are a few of our favourites to get you started.
Chiang Mai's Sunday Walking Street (Chiang Mai)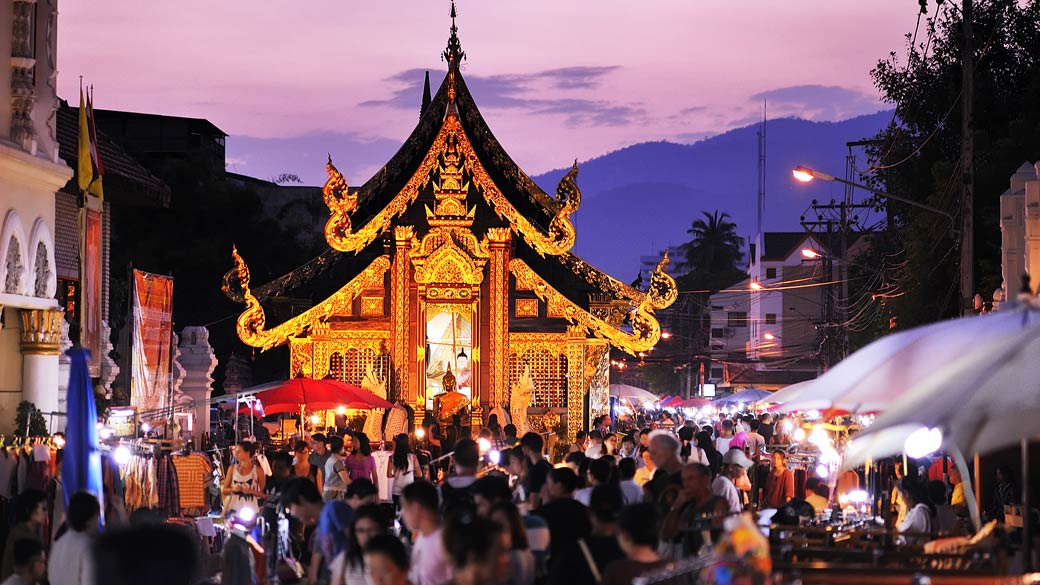 You might think you would be able to walk down Chiang Mai's Walking Street. It's a bit tricky though. Mainly because the huge array of handmade arts and crafts, coupled with delicious food and fantastic music, means that nobody moves very fast during this Sunday market.
In our opinion Chiang Mai's Sunday Walking Street beats even the town's Night Bizarre (Chang Lang Road, Chiang Mai) – although admittedly the Night Bizarre's amazing variety of high quality silks, clothing and rugs do mean that the dusk to midnight bizarre is definitely worth a visit too.
However, we reckon Chiang Mai's Sunday market is even better. The market showcases craftsmanship from northern Thailand – often made by the person standing by the stall – and really comes to life after dark. This is when the musicians, dancers and street entertainers make their entrance, giving the market a festival atmosphere.
Lasting from 4pm until midnight every Sunday, the market runs for about a kilometre from Tha Pae Gate to Ratchadamnoen Road.
Linger to buy a fresh fruit juice from a street-side temple food stall, have a break with a relaxing foot massage, or simply wander amongst the stalls as the music floats on the breeze – this will be a Sunday evening to remember.
Chatuchak Weekend Market (Bangkok)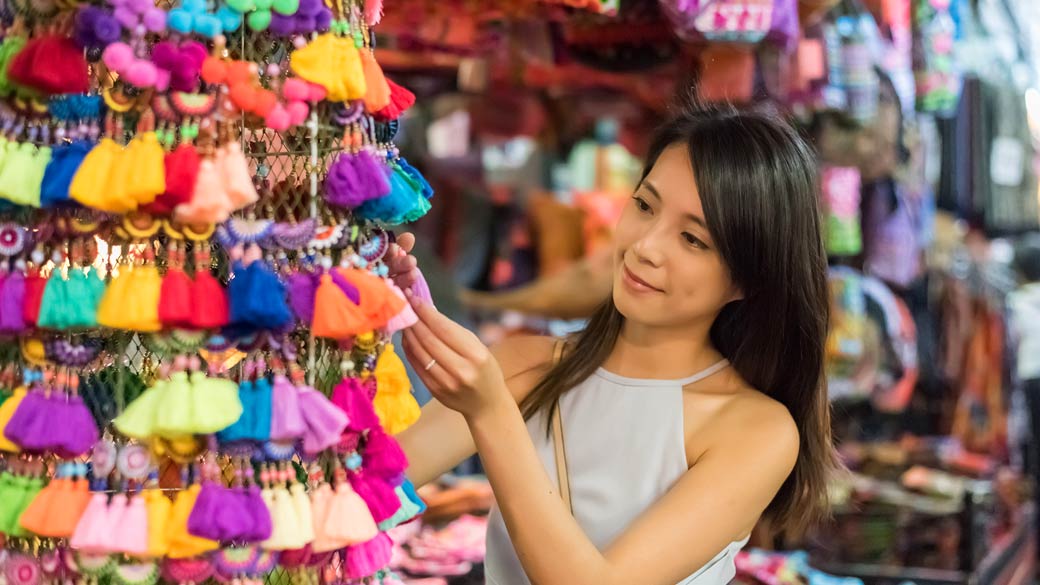 Whether it is a potted plant or a temple bell that you are looking for, head for the Chatuchak Weekend Market on (yes, you've guessed it) a Saturday or Sunday and shop to your heart's content.
Covering an area of 35 acres and with around 8,000 stalls, the Chatuchak Weekend Market sells pretty much everything you can imagine – plus quite a bit more that it never occurred to you to buy. On top of that, you can watch artists and craft makers at work and enjoy scrumptious treats at the numerous food and drink stalls.
Whilst it can be disorientating when you are in the heart of it, Chatuchak Market is actually organised into 27 sections, based roughly on types of products. Maps are available from the information centre and throughout the market to help you find your way through the maze of stalls.
Try to come early, to beat both the crowds and the heat. And make the most of the food and drink stalls, to pace yourself throughout the day.
Khlong Toey Fresh Market (Bangkok)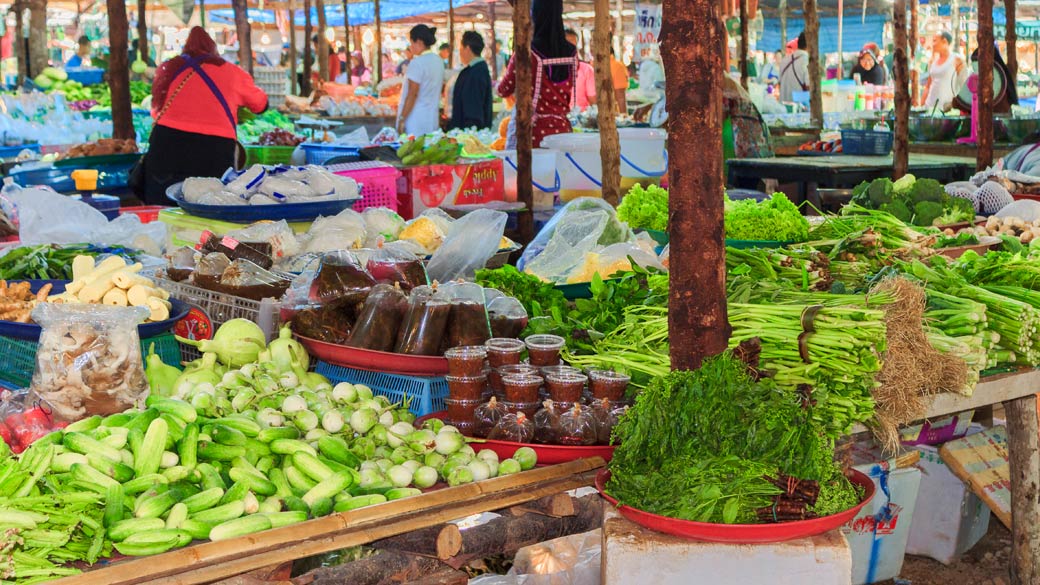 Khlong Toey Fresh Market sells fresh products (I bet you would never have worked that out from its name!). A lot of fresh products.
In fact, it is said that if you have ever eaten a meal in Bangkok, at least one of the ingredients will have come through this market.
Khlong Toey Market is where chefs from five star restaurants mix with street vendors, all on the hunt for the freshest goods on offer in Bangkok.
This makes it a great place to pick up fruit and vegetables. Or crab, chicken, lobster, herbs – in fact pretty much any kind of seafood, poultry, fruit or vegetable that you might come across in Thailand is likely to be sold in Khlong Toey Market.
Arrive early (around 6am) to get the best on offer – or simply to watch and photograph, if that's more your thing.
Just remember, most of it arrives at Khlong Toey Market alive. So if you are squeamish, make sure you look away before the chicken or crab you picked out for your lunch is "prepared" for you to take home.
Lard Yai / Sunday Market (Phuket)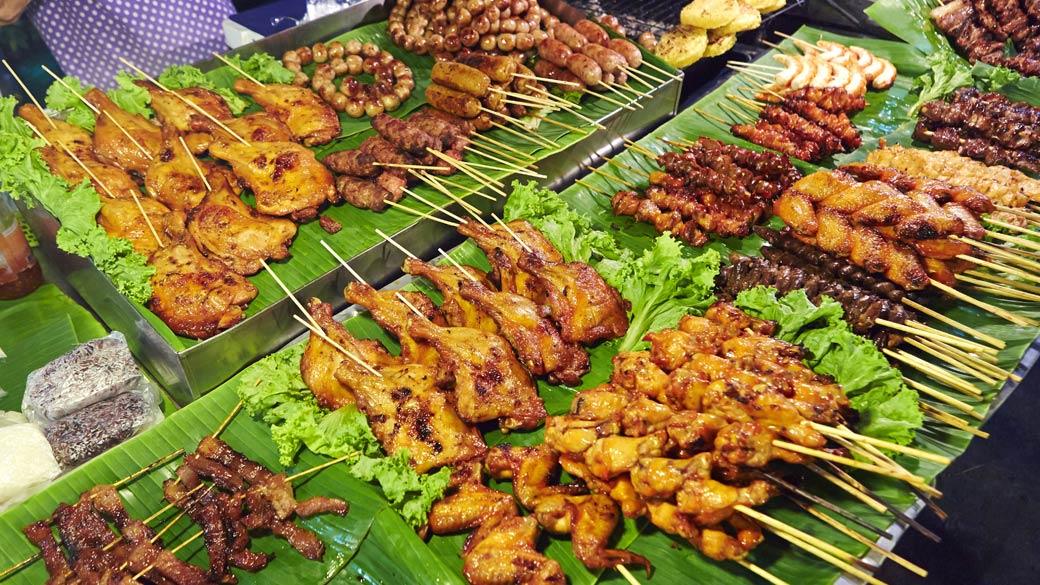 The Sunday evening Lard Yai market in Phuket is a great antidote to that end-of-weekend feeling. Combine a bit of souvenir hunting with sampling of southern Thai cuisine and make your weekend end on a high.
Lard Yai is a relative newcomer to the "walking street" market industry across the country (it made its first appearance in 2013). However its beautiful location in the heart of the Old Town district of Phuket definitely makes it one to visit.
The heart of Lard Yai can be found between 4pm-10pm on Sundays along Thalang Road, where the lovely old Sino-Portuguese houses are lit up with an ever-changing display of colour. Meanwhile, on the busy street you will find an array of mainly local arts, crafts and souvenirs sitting fighting for space with open air performances and stalls serving up freshly made edible delights.
Arrive ready to eat – as you will definitely want to be tempted by the huge variety of food on offer.
Pak Klong Talat Flower Market (Bangkok)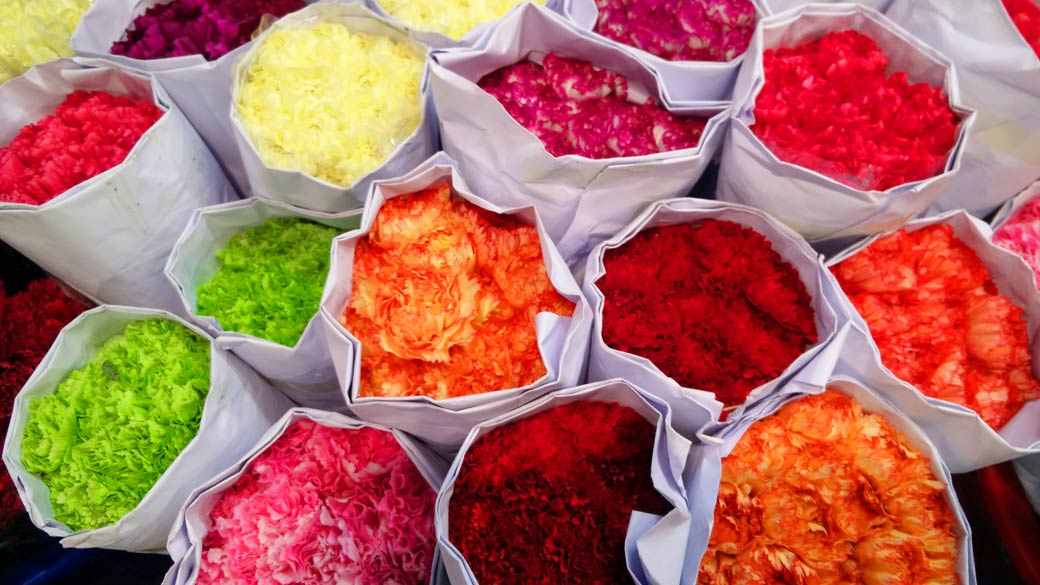 Pak Klong Talat (literally, "market at the mouth of the canal") has been around in one form or another for over 200 years. Originally a floating market during the reign of Rama I, it has been a fish market, a produce market and is now one of the largest flower markets in the world – with fruit and vegetables also on offer.
The market is based on Chakphet Road and is open 24 hours a day. However, if you really want the genuine flower market experience, try visiting before dawn. This is the time that the boats and trucks arrive loaded with flowers from all across the country – and the local florists and traders visit to choose their day's stock.
You are best simply watching, yawning and keeping out of the way of the professionals during an early morning visit. However, smaller purchases are welcome during the rest of the day. So if you fancy some fresh blooms to brighten up your room, this is the place to come.
Amulet Market (Bangkok)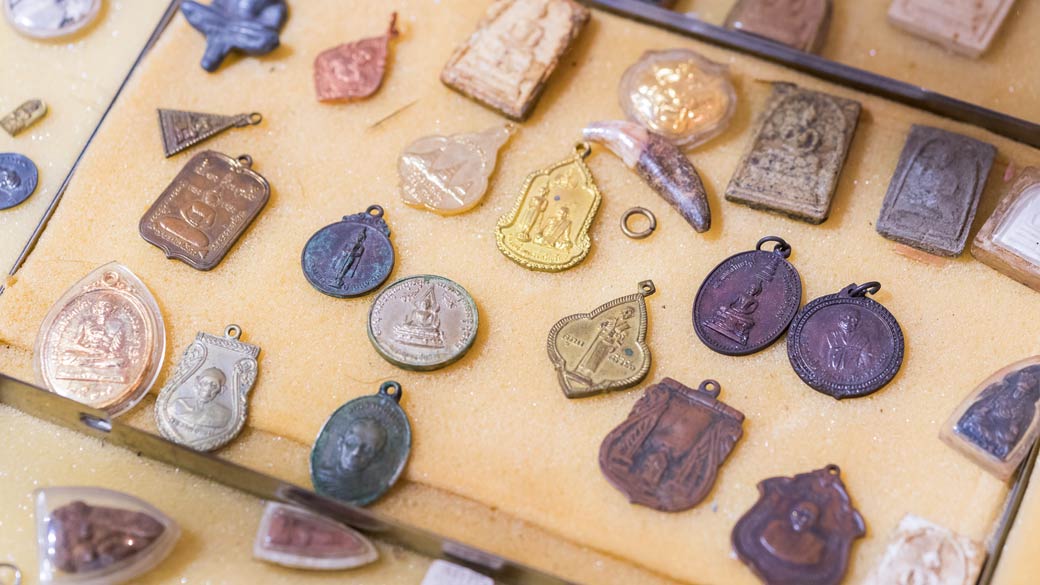 If you think you need a bit of luck to spot the bargains in all these markets, why not head for Bangkok's Amulet Market.
Running south from the Phra Chan pier, the capital's largest amulet market is a dense network of covered market stalls.
Here you can mix with monks, men working in "dangerous professions", taxi drivers and tourists to search amongst the thousands of talisman for that perfect token that will ward off evil spirits or transform your fortunes.
The amulets tend to be quite small (generally holding-in-the-hand size) but otherwise take numerous different shapes and forms. You can find Buddha images, pendants allegedly with particles from sacred temples, or even body parts such as pieces of bone or hair.
It is up the individual buyer to discern whether their potential purchase has any real value (whether spiritual or otherwise) – which can make this a fascinating place for people watching.
Oh, and when you have finished bartering your way through these land-based markets – remember there is whole set of floating markets to move onto next.