Meet Heather, former member on the Thailand internship – she enjoyed her time so much, that she wanted to tell you all what's so amazing about teaching in Thailand!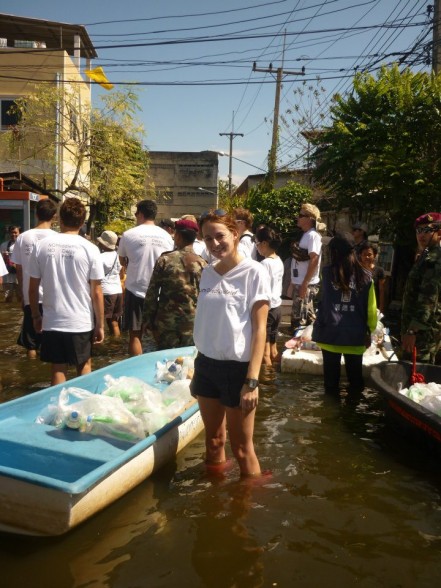 Did you do a TEFL course before you started teaching?
I did the 120 hour Professional TEFL Certificate as part of the internship before I went out there; but before I left I also took a Grammar course, some specialist modules, and I attended the weekend course.
Where are you originally from?
I always get asked this question as my accent is slightly varied.  I was born in the North of England near Newcastle, but I grew up in the Midlands until I was 10 years old. I then moved back up North for High School, went to University in Manchester, worked in America for a while and then moved away again to Thailand.  So a little bit mixed!
What attracted you to TEFL?
I loved the idea of being able to live in another country, meet people from different cultures and to find out about the world.  I love to explore and being placed in Bangkok I was able to explore to the max.  I was also able to expand my knowledge of teaching, its practices and to improve my grammar.
What attracted you to the Thailand internship in particular?
Thailand has always appealed to me: I love the hot weather, spicy food and wanted to go somewhere where everything would be completely alien to me.  I thought it would be a great fit for me and I wasn't disappointed!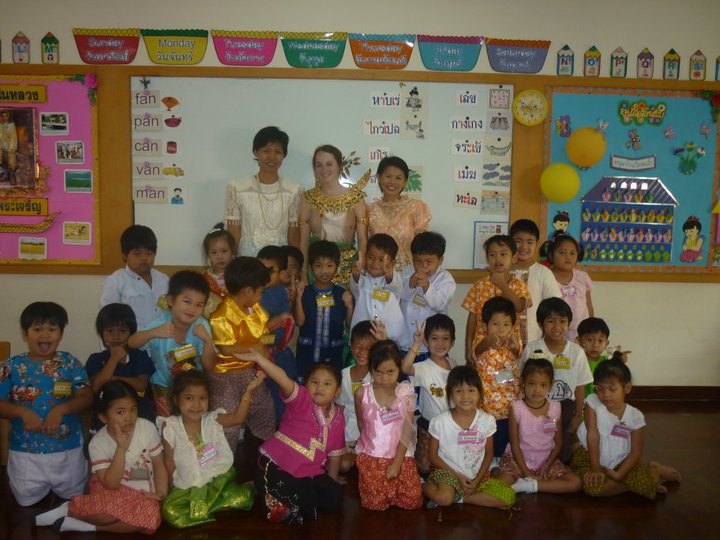 What age kids/adults are you teaching?
I taught kindergarten for a year. They were 4-5 years old and were absolutely amazing.  I also taught IP1 which are a year older and I taught English, Maths, Science and Health.
What were they like?
They were very active, talkative and loved having a native English teacher.  They were always asking questions, wanting to run around and were constantly smiling and laughing, which was great in my classes.
How did you find the experience of teaching?
It was an absolutely amazing experience and one which I miss every day. I loved going into the classes in the morning and when you walked into the room they all gave you the biggest grin and shouted 'Good morning teacher Heather'. They were so loving and it was great at the end of the year to see how much they had changed and how much you had taught them. It was extremely satisfying.
How would you rate the experience out of 10?
I would grade the experience as a 9.5/10. It was absolutely fascinating, I loved it!  The students were brilliant, the school was fantastic, the weather absolutely perfect for me, the food delicious, the people so friendly and helpful and the culture amazing. There was a lot of work however – a lot more than I thought it would entail.  Whenever I talked to people at home they were like 'Why aren't you tanned?' and I was like 'I'm working!'.  The hours are quite long and I found myself exhausted but satisfied at the end of every day.
What would be your advice for someone thinking of TEFL?
Just do it. If you want to try it just try it; otherwise you'll be thinking in a few years time 'I should have done that'.  It was a brilliant experience, and one which I will never, ever forget.
Are you the same person as 5 years ago?
5 years ago I was 19 and just preparing to teach my second year in America and I have changed so much since then.  Travelling, teaching abroad and having completed University have all given me much more confidence, a wider awareness of the world and have driven me to want to travel even more.
Do you have any tattoos or piercings?
I only have my ears pierced. I wanted them done when I was 14 but my parents said 'Wait until you're 16', but then when I was 16 I was too scared!  Eventually, I got them pierced in Texas when I was 20 and I have never regretted it.  With regards to tattoos I would love to get a tiny tattoo: my options were a teeny tiny volume switch, a globe or a little shelf of books as I always have my head in a book.
If you were alone on an island and you only could bring 3 things, what would it be?
3 things?  That's tricky!  The first thing would have to be a book of some sort as I cannot live without reading.  The second thing would then have to be my ipod as music is my life; and the third thing? Maybe a supply of Haribo – what can I say, I'm addicted!
I want to go back!
If you're longing for a Thai adventure where you'll be teaching in Thailand, there's still spaces on our next departure date; or you can book a place on our China and Vietnam internships – all offering 24/7 in-country support, a network of interns and plenty of amazing experiences to be had!