"An expert is a man (or woman) who has made all the mistakes which can be made, in a narrow field." – Niels Henrik David Bohr.
If we accept the above quote as true, then I am an expert in teaching English in Taiwan.  I taught in Taichung City, Taiwan a few years back and I made pretty much all of the mistakes that a new teacher could make.  It was my first time living abroad as well and it was not without its pitfalls and slip-ups.
However, for every mistake I made, I learned some important lessons.  Lucky for you, I'm willing to share these with you and (hopefully) keep you from making them, or at the very least, you can be aware of them as you make them; because what fun is travel and living abroad if you can't totally goof it up?  At least half the fun lies in your mistakes!  If you are planning on travelling to Taiwan to teach English abroad, here are my top 3 tips to help you:
1.  Learn Mandarin
Okay, this one is pretty obvious, and I think this applies to pretty much anywhere that you teach, as learning the native tongue is incredibly important.
I learned a little Mandarin while I was still at home and it helped me greatly when I arrived.  However, I slacked on my studies towards the end and didn't take advantage of all the resources to learn.  Don't be like me.
Sure, you can get by on just using broken English and body language but you'll save yourself a lot of frustration if you even take the time to learn a few key phrases.  The locals will appreciate your effort and you'll find yourself making relationships (a VERY important thing in Taiwanese culture) that will come in handy in the future.  Also, if you're forward-thinking at all, Mandarin is an extremely useful language to be studying right now, so take advantage of your immersion environment in Taiwan.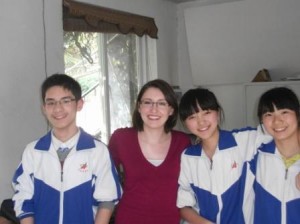 Another point is that learning a language at the same time that you're teaching a language is highly beneficial.  You'll begin to understand WHY your students are making certain mistakes and your success and failure in Chinese can help you better understand what may help your students.
2.  Live in the moment
This is pretty general travel advice, nut sometimes it's hard to do in Taiwan.  First of all, many people are in Taiwan to save money, and don't get me wrong: there's nothing wrong with this pursuit.  I was able to save enough money to backpack in Australia and I'm really grateful for that experience.  However, I did get too caught up in saving and missed out some experiences that I wish I could have back.
Remember that Taiwan has a lot to offer.  Go to the night markets often, make some Taiwanese friends (they are awesome and really friendly), check out some cultural events, and visit temples.  You'll be surprised to find that Taiwan has rich culture that is definitely worth exploring.  Also, it's easy to stick to your city or town that you're teaching in and forget that there is a whole island to see.  I'm also guilty of spending too much time in Taichung City – while it's great, Taiwan has beautiful beaches, mountains, and forests that are more than worth checking out.
Remember that most people don't stay in Taiwan forever. Live in the moment and enjoy the experience before it's gone.
3.  Appreciate your students
Alright, so I didn't totally make this mistake; I did appreciate my students!  However, I really, really wish that I had more pictures with them, that I spent more time after class with them, and, with the older ones, that I had their e-mails or contact information.
When you think back on a teaching experience abroad, the actual teaching is going to be the most rewarding part.  For many, it is the part that they end up missing the most.  Even if you had never taught a day in your life before going abroad or if you never plan on teaching again, teaching will definitely leave its mark in your life.  Even though it is your job and it may end up turning into a chore, I encourage you to make more connections with your students, slow down and listen to them more, and put in that little bit of extra effort. It will mean the world to them and to you.
So, that's it. Learn the language, live in the moment, and appreciate your students.
Hopefully these tips will help you in making the most of your experience teaching abroad. Whether you're going to Taiwan or anywhere else, I hope that you can keep these things in mind and enjoy your experience that much more.