Sugar, Spice & Everything Nice
While out teaching English in Thailand our Teacher Becca is coming across many different experiences. Today she's focusing on food and like every culture people in Thailand have their own unique relationship with food:
A great mystery that I believe will never be solved is this:
All Thai people seem to do is eat, yet they remain so slender!
Let me walk you through the evidence.
The first afternoon we visited the school, we needed to go to immigration to check in and let them know where we would be staying for the next 5 weeks.
After this relatively painless experience, and of course after posing for a few photos with immigration officers, we were taken to lunch.
As with many of our future meals, the restaurant was actually an outdoor kitchen of someone's house.
Since Pad Thai was the only thing I knew for sure I would like, I happily ordered some. It was delicious, we were all full and happy, and headed back to school. Mai Chai. Nope.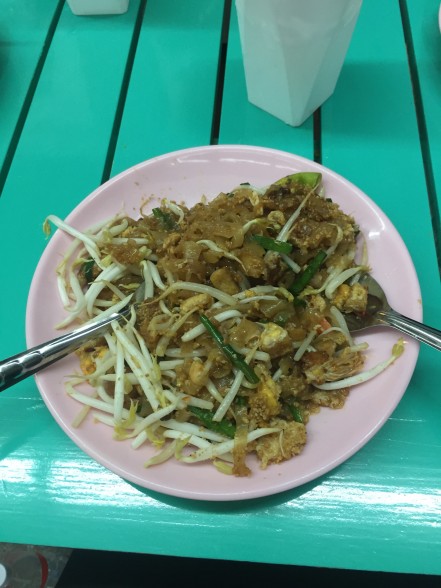 The Journey continues with…more food, yes please
Moments after pulling away from our lunch spot, we pulled over and bought fried plantains with coconut milk.
Ok, yum!…
I didn't really save room for dessert but they had juuuuuuust the right amount of sweetness for my tastebuds.
Then, just a few minutes away from school, we dropped off one of the teachers. Mai Chai again.
We circled around and picked her, and several bags of pineapple skewers, back up. Whew, more food!
Tough life, I know.
It was also in this moment that I learned the pink sugar with speckles included with the fruit was in fact spicy. Noted for future reference.
Upon returning to the school, we were directed to the canteen for school lunch. I'm not even kidding.
*loosens belt*
On another occasion which further adds to the mystery of the Thai figure, was a wedding we attended.
In addition to being a gorgeous feast for the eyes, the food was incredible, and aplenty.
In total, we were served 10 courses.
Although I stopped counting after the third saucy dish of whole prawns came out.
Thankfully when the spicy noodle dish arrived we were also given two important condiments: raw sugar and lemon juice. Trust me on this, it helps with the heat.
This past weekend, my roommate and I decided a spontaneous trip to Bangkok was in order.
We were ready for some Western-style food. And western-style food did we have! Pasta, parfaits, and even burgers!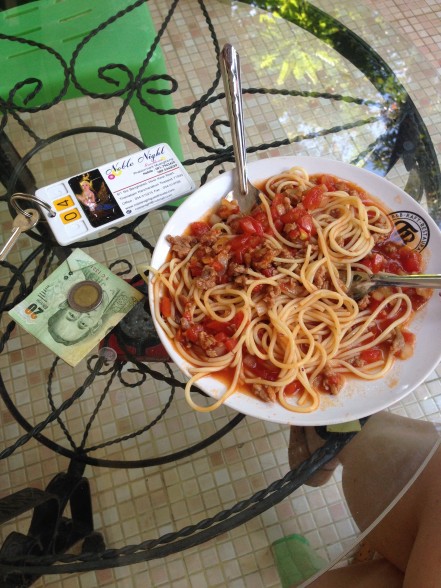 But yet again, the Thai people were determined to serve us their delicious culinary creations.
Exploring the Grand Palace…and there's food!
Upon entering the Grand Palace, we were reminded a bit of Buckingham Palace due to the plethora of guards everywhere.
One notable difference, almost everyone seemed to be drinking some sort of green creamy smoothie with gummies inside.
Coming towards the intersection with the pink elephants, we were gleefully ushered over to a booth and handed free (!!!) spicy noodles and crab, fried pork crackers, and that green liquid.
After being served by the guards, a lady from the Department of Sanitation presented us with two complimentary bottles of chilled water!
It's a good thing I am sweating so much here, or else those calories would never burn away!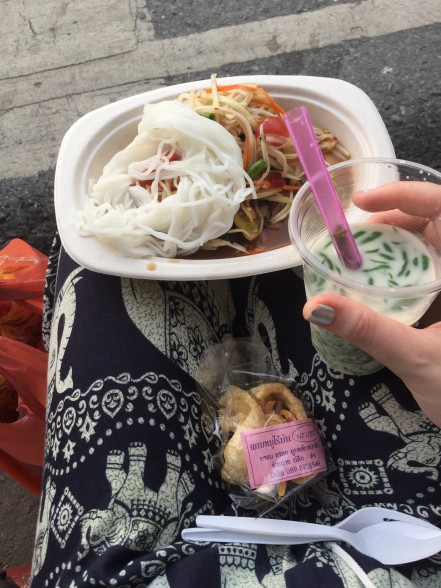 Teacher Becca Pro Tips:
• Eat your veggies. Your doctor is right on this one. It can be hard to find foods that we are used to, so it's important to make every meal as balanced as possible.
• Some people choose the adventurous route and eat street food, some people are able to cook at school, and others opt for the delicacies of 7-Eleven. Whatever your choice, eat meals that will leave you feeling satisfied.
• Say Yes! Thailand is of course the land of smiles, but you will find that a lot of time behind the smile is an invitation to try some food. Go for it. Thai people love to see your reaction, good or bad. My students and colleagues are always asking my opinion of Thai food. "Too spicy?" Um, yes, but delicious as well!
Until next time,
Teacher Becca
If you've enjoyed reading Teacher Becca's adventures teaching English in Thailand, why not take a closer look at some of our Thailand Travel options: