After TEFLer Holly was made redundant in 2009, she went as far as the other side of the world to get her life back on track. The travel bug bit Holly good and hard whilst in Oz. Which led to Holly's tales of TEFLing in Thailand below. Here's Holly! Everyone say Hi Holly!
Why Did You Decide to Start Teaching English?
I graduated with a degree in Media Production in 2008 and hadn't managed to bag a decent or relevant job, which left me a bit disheartened. I was made redundant from the only good job I had and went travelling to Australia in 2009. That's when I got bitten by the travel bug and a lot of my friends taught English abroad so it seemed like a good way to work and travel.
Did You Do a TEFL Course Before You Started Teaching?
Yes I did the i-to-i professional online TEFL course.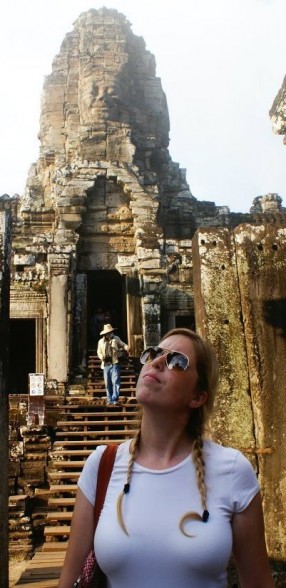 What Attracted You to the Thailand Internship?
I had initially looked into the China Internship but I then became more attracted to Thailand because it seemed more travel-friendly and exotic! Plus Thai food is the bomb!
What Were They Like?
At first they were sugar-crazed maniacs climbing the walls and running around their desks. They still were at the end but I gained their respect and they became absolute sweethearts who loved to just hang out with Teacher Holly.
How Are You Finding/Did You Find the Experience of Teaching in Thailand?
It was an amazing experience in which I made some great friends for life and it's where I decided that I would follow teaching as a career. Living in a fairly rural area of Thailand was a once in a lifetime experience and although occasionally stressful, I wouldn't change it for the world. I find myself really missing my fellow interns and my students.
What Are Your Plans Now That the Internship is Over?
The internship ended in Oct 2011 and I am still travelling, I backpacked through the South of Thailand, Malaysia, Singapore and Cambodia. I'm currently in Vietnam and will be heading to Hong Kong before I fly home for Christmas. Then I'm off to teach English in South Korea as part of the EPIK programme.
How Would You Rate the Experience Out of 10?
I'd rate it 9/10. I would love to give it 10/10 as I made great friends and gained so much experience but better pay and less stress would've made it perfect.
What Would Be Your Advice for Someone Thinking of Joining the Thailand Internship?
I'd say just go for it. If you have no commitments at home or are not sure about teaching, it's a great stepping stone. It's also a good way to travel Thailand during your weekends and Public Holidays. You have nothing to lose by going for it and you'll gain so much.
What Did You Do for Your Last Birthday?
My birthday was the same day as the Royal Wedding and 2 days before I left for the Thai Internship, so it involved a ridiculous amount of champagne, vodka, a surprise visit from a good friend, an embarrassing tube journey home and a hangover day spent eating my body weight in cheese as I knew I wouldn't see many dairy products in Thailand.
Is the Glass Half Full or Half Empty?
If we're talking positivity, then of course it's half full. If we're talking boozing, then it's half empty – fill 'er up!
What Was the Last Thing You Ate With Four Legs?
I just nearly wrote chicken, what a fool. I guess it was beef or pork. But I'm in Vietnam and you know what four-legged creatures they like to eat here…
You've Won £2million On the Lottery, What Do You Buy First?
A trip to the Antarctic because I really want to go but it's so expensive. That and a Lamborghini Murcielago because they are awesome and Batman drives one in 'The Dark Knight'.
Want to follow in Holly's footsteps? You can find out more about the next Thailand Internship here!