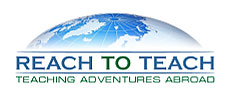 i-to-i and Reach To Teach have teamed up.
Fast, Flexible TEFL/TESOL Certification Gets You Overseas In Only Two Weeks!
Reach To Teach is excited to recommend i-to-i's excellent TEFL courses and support team. This is a special agreement and is made possible by our two leading companies joining forces, bringing the costs down and meanwhile raising everyone's job prospects UP! Get started below with i-to-i's internationally recognised TEFL Courses.
The motto at At Reach To Teach is 'Matching great teachers with great schools', so we asked Reach To Teach how someone sets out to be a great teacher. Find out what Reach To Teach has to say about getting TEFL certified below.
" The key step is getting a good TEFL qualification. Not only does it provide an excellent foundation in teaching, awareness and setting professional goals, but it assures schools you will hit the ground running when you start – and you need to be able to offer that in this competitive market. Having a TEFL qualification also sends a strong message to potential employers. It says you are serious about being an effective teacher and that you have invested your own time and money into a qualification that will benefit you, your school and your students. This speaks volumes and it clearly separates you from the unqualified crowd. This is exactly why the schools we work with are always interested in and enquiring about our TEFL qualified teachers. It also doesn't take an Einstein to work out why TEFL qualified teachers often get the pick of the best jobs, locations and salaries :-) "