Teach English in The Netherlands

Why teach English in The Netherlands…
The land of clogs and tulips has a charm that makes a lot of people like the idea of teaching English in The Netherlands although it can be difficult finding a job!
Opportunities to teach English in The Netherlands do exist, but competition is strong. The opportunities you'll find will most likely be in one of the many language schools across the country, or teaching business English on in-company programs. Most English teachers move to the Netherlands before searching for a job but that's not the only option. Larger international schools like the 'British School' based in The Hague, and the Amsterdam International Community School hold recruitment events in Amsterdam, London and New York in May and June. You can speak to recruiters and show them the lesson plans you created as part of your Professional TEFL course – securing a teaching job couldn't be easier!
It's great for TEFL teachers because…
There isn't a big demand for English teachers in The Netherlands – the Dutch have excellent English, and are ranked second on the World's English Proficiency Test survey conducted by Education First, losing out only to the Swedes. Having said that, English lessons are compulsory in all Dutch schools, and with over 1,500 University degrees in The Netherlands taught in English, if you're flexible you can still find a teaching job alongside the native population!
All you need to teach in The Netherlands is…
To teach English in The Netherlands, you won't need a degree unless you want to teach in a public school, but you will need a minimum of i-to-i's 120 Hour Online TEFL Course; although our 140 Hour Combined TEFL Course is preferred if you have no experience of teaching.
Average Monthly Teaching Salary
2,200 EUR / £1,750 / $2,800
Free TEFL Brochure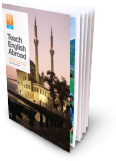 Get your free TEFL brochure and find out everything you need to know about teaching English as a foreign language.
Get the Brochure
Basic Info
Language: Dutch
Currency: Euro (EUR)
Population: 16.5 million
Capital City: Amsterdam
Cost of Living

Whilst the cost of living in The Netherlands is quite high, as an English teacher you'll also be earning a good wage. To give you an idea of where you'll fit on the spectrum, the average TEFL teacher in Amsterdam earns the same as a junior mechanical engineer or sales team leader.
The average cost of a downtown apartment in Amsterdam is between £600/$1000 and £800/$1200. If you're keen to teach in the capital but you're not so keen on paying the expensive rent then the De Pijp area in Amsterdam could be good for you. Rental prices remain low, but are set to increase with the neighbourhood considered very up-and-coming.
When it comes to food The Netherlands is pretty similar to most of Western Europe with a meal out costing around £15/$22 per person. Cheese is expensive – a 200g block of Edam cheese is £4.60/$7.60, but the Dutch would argue that it's definitely worth it!
Food and Drink

There's often a misconception that Dutch food is bland and boring, but that simply isn't the case, and they're known for having some of the best waffles in the world – don't believe us? Then you haven't tried a stroopwafel: the waffle batter is baked, and a thin layer of syrup (the 'stroop') sandwiches two waffles together. They're the perfect size to place over a hot mug of tea or coffee, letting the syrup melt before eating.
The Dutch are also famous for their cheese, which is mild in flavour. Try Edam and Gouda, both of which are popular at breakfast time, topped on a slice of buttered bread.
For a full-on Dutch meal, try Haring Hollandse Niewe (Dutch New Herring), although it can't actually be called 'Hollandse Niewe' unless the herring is caught in May and July, when the fat content of the fish is highest (around 16%). The herring is eaten raw, and served with onions and gherkins… not for the faint-hearted!
To wash down that herring, try a glass of Jenever – a Dutch gin made from juniper berries (well, you might need some Dutch courage before you attempt eating it!). The origins of this drink are firmly rooted in Holland, as it was invented in the 1700s, and is now made in Schiedam and Amsterdam. There are lots of different brands, but the most popular is House of Bols, and you can pick up a half litre bottle in Dutch supermarkets for £12/$19.
Weather

The Netherlands' weather isn't exactly the best: summers are mild and winters are cold and wet. Coastal cities like Amsterdam and The Hague have lower temperatures due to the winds coming from the North Sea, so even though it might be sunny in the summer, there will always be a bit of a chill! In the winter, temperatures are around an average of 3 degrees, and whilst it snows, it hardly ever settles, so don't be expecting the perfect winter wonderland!
Accommodation

Employers won't typically provide English teachers in The Netherlands with accommodation; although they will often help you find a place. Housing is of a very good standard in the Netherlands whether you're renting in the centre of Amsterdam or the tiny town of Hoogeveen! As is expected, flats in the city centres are more expensive, so splitting the cost with another English teacher is ideal; and if you move 15 minutes out into the suburbs you'll be able to get a lot more for your money.
Where could I teach English in The Netherlands?

Demand isn't as big in The Netherlands compared to other European countries like the Czech Republic or Russia; your best opportunity of finding a teaching job will be in public and international schools in Amsterdam, Rotterdam or The Hague.
Schools in The Netherlands prefer to hire EU nationals as they can work without a permit. However, this isn't always the case if someone is especially good, and work will arrange a work permit so all you'll have to do is sort out a residency permit; in other words, don't let this deter you if it's your dream to teach English in The Netherlands!
An old Dutch saying is "Amsterdam to party, The Hague to live, Rotterdam to work", but this is very outdated, with all three cities thriving and able to offer their own little quirks. If you love the bright lights of a big city, then Amsterdam is definitely the best choice for you – with so many sights to see, you'll be busy trying to cram everything in on your days off! Shop 'til you drop on Negen Straaties for vintage finds, or Kalverstraat for mainstream brands, visit Anne Frank's house for a humbling experience, and take a trip down the world-famous red light district!
If you love to party, then ignore the (old) Dutch phrase and head to Rotterdam, boasting a range of bars, pubs and clubs – try the local's favourite De Après Skihut on Stadhuisplein, where you can pretend you're partying on the Alps whilst knocking back Apfelkorn shots! In the day, Rotterdam looks very quirky and is famous for its architecture, one of the most popular projects being the Cube Houses, which are supposed to represent a wood, with each house a tree.
If you teach English in The Hague, your students are likely to be quite rich, coming from middle class families, as it's considered the best place in the country to live – well, it's good enough for the Dutch royalty, who live in the suburbs in the Eikenhorst and Binnenhof palaces! Set by the beautiful seaside resort of Scheveningen, you can spend your evenings off from teaching with a walk round there, before enjoying a meal at one of the many restaurants in Grote Markt square.
Transportation

In the city
Cities in The Netherlands are all served by buses and trams, stretching from the centre out into the suburbs. However, they're expensive to use, with a one-way ticket costing £2.40/$3.90, so make like the Dutch and start cycling to school instead – you can pick up a used bike for £50/$80 in most bicycle shops, or on Marktplats, the Dutch version of eBay… saving yourself money and keeping fit?! Well, that can only be a good thing!
Taxis are safe in the Netherlands, with the drivers honest, and they're a great way of getting home after a night out once public transport has closed. Fares are surprisingly cheap, with a 15 minute journey costing no more than £8.50/$13.70; and the government has been working on making sure taxi rides are even more enjoyable, encouraging users to contact Taxiklacht if they have any problems, and taking this feedback into account to make journeys even better.
Further afield
The average teacher's contract in The Netherlands is 25 hours a week of teaching, and with nearly all vacancies in public and international language schools, you'll have the evenings and weekends to explore your new home.
Being a small country certainly has its benefits – it doesn't take long to travel anywhere in The Netherlands, so you can get a lot of exploring done! The most efficient way is to travel by train, and you can get between the two biggest cities of Amsterdam and Rotterdam in just 35 minutes for £16.50/$26.60 return!
With your time off in summer (you'll get July and August off if you're teaching English in a public or international school), you can travel further into Europe – a return flight from Amsterdam to London is just £54/£86, or you can travel to beautiful Copenhagen in Demark for just £74/$118 return taking 1.5 hours.
Insider Tips
If you only learn one word of Dutch while you're in the Netherlands, make sure it's 'gezelligheid'. It's not directly translatable to English (although it's similar to the Danish word 'hygge'), it loosely means a cross between cosy and fun. Try and use it in a sentence when you're out there: "she's so gezellig", "this party is so gezellig" etc – good luck with trying to pronounce it!
Punctuality is EXTREMELY important to the Dutch: your students will not be late (neither to class, nor with their homework) and they will expect exactly the same of you. It's also considered very rude to cancel at short notice, so unless you're really ill, you don't want to be cancelling any of your classes!
An extremely popular area amongst expats in Amsterdam is up-and-coming De Baarsjes. Rents are cheap and it's not far from the city centre – find a place to live now though before everyone else gets wind of it and the rents start increasing! The crime rate is very low, and it's home to the picturesque Rembrandtpark, where you can spend your evenings after teaching walking around.
Get the Brochure
If you're keen to find out more about teaching English then you'll want to check out the i-to-i free TEFL brochure. You'll find out all about choosing the right TEFL course, finding TEFL jobs abroad and the opportunities available to you.
Get your free brochure now