Teach English in South Africa

Why teach English in South Africa…
Known as the 'Rainbow Nation', with a diverse culture, breath-taking views and sandy beaches, it's easy to see why many people like the idea of teaching English in South Africa.
It's much easier finding a job once you've moved to South Africa, like the majority of English teachers do, handing in their CVs in the language schools of Johannesburg and Pretoria personally before attending an interview.
It's great for TEFL teachers because…
Who wouldn't want to teach English in South Africa?! It's one of the only countries in the world where you can see African wildlife, explore stunning national parks and experience the scars of over 100 years of apartheid.
As there are 11 official languages in South Africa, the demand for English teachers isn't very high – especially as the majority of the population speak English as either a first or second language. International language schools offer the most opportunities for English teachers, such as the International House Johannesburg, although these require that you have some form of practical teaching experience. Whilst there are vacancies at public schools, these are generally for teachers who can teach two different subjects such as maths and science – this is due to a shortage of teachers in South Africa, with approximately 10,000 leaving every year, and only 6,000 teachers graduating. Some English teachers do offer private lessons in addition for extra income, and they do this by placing ads on classified websites once they're living in South Africa.
All you need to teach in South Africa is…
If you're planning to teach English in South Africa it's worth noting that with a whole country full of native English-speakers to compete with, you will need comprehensive training, such as the i-to-i 140 Hour Combined TEFL Course.
Average Monthly Teaching Salary
16,750 ZAR / £930 / $1,500
Free Teaching English in South Africa Guide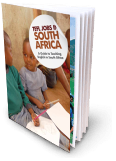 Get your free guide to teaching English in South Africa and find out more.
Get the Guide
Basic Info
Language: Afrikaans/English
Currency: South African Rand (ZAR)
Population: 53 million
Capital City: Pretoria
Cost of Living

You'll be able to live comfortably and enjoy your days off in South Africa, and a lot of English teachers find that they've managed to save around 20-25% of their salary once their teaching contract has ended, so they can either put it towards travelling or take it back home with them.
Expect to spend around 40% of your wages on accommodation, with a one bed city centre flat (bills included) costing around £400/$644. If you're looking to save money, then rent an equivalent one in the suburbs for just £300/$483.
The cost of food is fairly in-line with the average teaching salary, with a litre of milk setting you back by 60p/$1, and 12 eggs costing just £1.20/$1.90; and if you plan your meals in advance, you'll be able to save even more money.
With what little money you'll have spent from your teaching salary so far, you'll easily be able to enjoy your evenings and weekends in South Africa. Start off with a nice meal in a restaurant, at an average cost of £4.15/$6.70; before washing it down with a beer for just £1/$1.60, or a cocktail at a mere £2.30/$3.70 – you'll be able to go out lots with them prices!
Food and Drink

South Africa's complex history of different rulers and colonists have had a major influence on traditional cuisine, with diverse dishes. One thing you must do when you teach English in South Africa is either go to or host a Braai with your new TEFL friends! The Afrikaans word for barbeque, any kind of meat goes, but be sure to try the boerwors – a local, spicy sausage that is also sold by street vendors – with a side order of pap, which is porridge mixed with tomatoes and onions!
A traditional South African dessert is Melktert (or milk tart), which is of a light and milky texture, with a sprinkle of cinnamon on top. It can be served either hot or cold, but it shouldn't be eaten all the time because it's very fattening!
Drinks-wise, South Africans love beer, especially their local brews, with Castle Lager being the most popular one; and Carling Black Label and Grolsch close behind. For a true South African experience, try a traditional beer such as Joburg, which is thick, creamy and has low alcohol content. Impress your new South African TEFL colleagues by asking them if they'd like a 'dop', which refers to any kind of alcoholic beverage – although it's best not to ask them this whilst at work!
Weather

As South Africa is in the Southern hemisphere, summer falls in December and January, whereas it's winter in July and August. The summers are very hot and dry, and winters are mild at around 18 degrees Celsius.
Accommodation

TEFL employers in South Africa don't typically provide accommodation, so you'll have to find it yourself. The majority of expats (including English teachers) find rented accommodation inside one of the gated communities in the major cities, as the guards provides extra security. Whilst the costs are slightly higher than other flats, they are still easily affordable on a teacher's salary, with a 2 bed flat costing £470/$750 a month in a gated community near the centre of Johannesburg. Housing in gated communities are of an excellent standard, and come with extra amenities like swimming pools and gyms.
Where could I teach English in South Africa?

Whilst there is a demand for English teachers in South Africa, the need is not as high in many other countries, so you'll need a high level of TEFL certification to get a job. To further your chances of being hired, apply for jobs around November.
The larger cities of Johannesburg, Cape Town and Durban offer the majority of opportunities for English teachers and the British Council's South African office is located in Johannesburg, with many employment opportunities there.
Whilst South Africa has a reputation for being crime-ridden, 81.5% of cases were involved between people who knew each other, and these statistics have been declining over the past 5 years. If you're concerned about this, Cape Town is one of the safer cities to teach in, with plenty to do. On your afternoons off from teaching, take a cable car up Table Mountain, or relax on the secluded shores of Beta Beach. The nightlife is best described as sophisticated in Cape Town, so round up your new TEFL friends and enjoy a few drinks on the famous Long Street.
If you prefer to take a more laid-back approach to life, then the Eastern city of Durban is perfect for you; where you can spend your weekends on the beautiful Sapphire Coast, boasting 40km of golden beaches and green forests. You are more likely to be teaching locals, as over 77.8% speak Zulu as a first language, compared to 13.2% English. Students here are likely to be poorer; a complete contrast to Johannesburg, which is home to the most number of millionaires in Africa.
Transportation

In the city
Public transport isn't the best in South Africa, and as the cities are quite sprawling, they can be hard to get round unless you have a car. Buses in the major towns of Cape Town and Johannesburg are extensive, but they don't stick to schedule, so if you're planning to get to your teaching job by bus, make sure you give yourself plenty of time because you WILL be waiting! The buses are cheap though, with a one-way ticket costing a mere 55p/$0.90.
South African cities also have minibus taxis, although they aren't actually taxis at all: they don't have designated stops, the buses are old and there are often issues with the brakes, and the drivers drive dangerously, so these are best to avoid. If you're teaching English in South Africa, it's best to live within walking distance of work so you can be sure to be on time!
Further afield
If you work in a school (either public or international), expect to teach around 30 hours a week. The South African school day starts earlier than that in the west and with timetables running from 7.30am-2.30pm, you'll have afternoons off to enjoy exploring the sights of South Africa. Travelling from one city to another can be a bit difficult if you don't have a car: trains are safe to travel on in the day, but they're best avoided at night. However, you can get a fast service from Johannesburg to the capital of Pretoria, taking just 30 minutes and costing £2.55/$4.10. If you're willing to spend a bit extra, the easiest way to get around is by plane, with a return flight from Cape Town to Johannesburg costing £98/$157.
As the new school year starts in February, contracts end in December and January, so you'll get a couple of months to explore further afield! For a relaxing trip after a hard working year of teaching English, catch a plane from Johannesburg to the tropical island of Mauritius, taking 4 hours and costing £390 return… it's the perfect summer getaway!
Insider Tips
If you're out on Long Street in Cape Town, pay a visit to Julep, one of the city's best-kept secrets. The atmosphere is intimate and unpretentious, with bare-brick walls, and an amazing selection of cocktails – be sure to try the Mint Julep, which did after all, give this bar its name!
Students and teachers in South African schools enjoy close relationships, and it will be down to you to facilitate the students' rights. Following the abolishment of the Apartheid education system in the 1970s, it's expected of teachers to talk about student achievements more positively – so make sure to give feedback on what your students did well at the end of each lesson!
Whilst unfortunate, it's true that South Africa is dangerous at night, and there are lots of places that you shouldn't walk around by yourself – ask your new South African friends, who'll be able to tell you; or get a taxi.
Get the Guide
If you're keen to find out more about teaching in South Africa then you'll want to check out the i-to-i TEFL free guide. You'll find out loads more useful information on finding your first job, where you can teach and how to negotiate the best salary package.
Get your free guide to teaching English in South Africa now