Teach English in New Zealand

Why teach English in New Zealand…
Often described as the land where time stood still, New Zealand draws English teachers in with its breath-taking scenery, friendly locals and willing students.
Small in size but big on variety, its North Island is home to Volcanoes, sandy beaches and farmland, while the South Island boasts glaciers, fjords and snow-capped peaks so you're sure to have plenty to do (and see) when teaching English in New Zealand.
It's great for TEFL teachers because…
New Zealand is ranked as having the 12th best education system in the world, and students are very respectful. The majority of vacancies are in Auckland and Christchurch summer camps, where rich children from South East Asia spend their summers learning English in a native speaking country. There isn't much of an opportunity to teach private lessons, although some English teachers will offer additional lessons to current students, charging approximately £20/$32 an hour. If you're planning to do this, make sure to check with your employer first!
All you need to teach in New Zealand is…
You don't need a degree to teach English in New Zealand, but you will need a 120 hours 140 Hour Combined TEFL Course. If you have previous teaching experience, you'll stand a much better chance of getting a job, but don't despair if it's your first time: take our 140 Hour Combined TEFL Course instead to ensure you're confident teaching, having had 20 hours of classroom experience.
Average Monthly Teaching Salary
3,350 NZD / £1,665 / $2,670
Free TEFL Brochure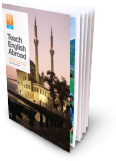 Get your free TEFL brochure and find out everything you need to know about teaching English as a foreign language.
Get the Brochure
Basic Info
Language: English
Currency: New Zealand Dollar (NZD)
Population: 4.4 million
Capital City: Wellington
Cost of Living

The cost of accommodation in New Zealand is fairly low considering it's a Western country and your teaching salary should cover a modest apartment in Christchurch, Auckland or Wellington. As the TEFL contracts are fairly short in New Zealand, make sure when signing a rental agreement that it is either for the same length as you contract or on a monthly rolling basis.
New Zealand cuisine is cooked with lots of fresh ingredients, and is renowned for its good quality lamb, which you can pick up in a butchers' for approximately £5.80/$9.30 per kg.
For a night out with a twist, join the New Zealanders and watch a game of rugby: their country is one of the best in the rugby union – you can get tickets to the Rugby World Cup for £50/$80, and watch the Maori's traditional Haka dance: if you haven't seen it before, you'll certainly be in for a surprise!
Food and Drink

New Zealand cuisine is heavily influenced by British food, as the majority of the population hail from there; although there are also touches of Maori cuisine too. Perhaps unsurprisingly, roast lamb is a favourite (well, there are over 70 million sheep living in New Zealand!). In fact, New Zealand's lamb is considered as some of the best quality in the world: and it's served as a simple dish with roast potatoes and seasonal vegetables.
For dessert, Hokey Pokey ice cream is well-loved: essentially vanilla ice cream with sprinkles of honeycomb thrown into the mix. It's a good thing the weather's not too bad in the winter, as it means this sweat treat can be enjoyed all year round!
Alcohol-wise, the New Zealanders love a glass of wine, and make some of the best quality wines in the world. Try sumptuous Pinot Noir, or a Sauvignon Blanc, which you can pick up a bottle of both for £8.70/$14 in supermarkets.
Weather

As New Zealand is in the Southern hemisphere, summers occur in December – January, whereas winter is at its worst in July and August. Auckland experiences much more pleasant water as it's located on the north island and so closer to the equator: summer temperatures are around 23 degrees, whereas it rarely falls below 15 degrees Celsius in the winter. Cities in the south island like Christchurch are about 5 degrees colder; and whilst New Zealand enjoys many hours of sunshine all year round, it also rains a lot, so you'll need to take an umbrella with you!
Accommodation

As an English-speaking country, it will be very easy to find suitable accommodation in New Zealand! The easiest way to find a flat (or even a room) is on Trade Me, which is essentially the GumTree/Craigslist of New Zealand, with adverts placed multiple times a day.
Where could I teach English in New Zealand?

As the seasons are different in the Southern hemisphere, the school year runs from February to December, meaning that the peak times for hiring are in November and December. The majority of jobs are found in Auckland, Wellington and Christchurch, where private language schools and summer schools are typically located, although there will always be the odd position available in smaller towns.
The majority of jobs are in summer camps, such as the Waikato Institute of Education and IPSA, where rich children from South Asia travel over for the summer to learn English. However, there is also the opportunity to work year round in private language schools like Dominion in Auckland, and Imperial College of New Zealand, where you will be teaching immigrants who have permanently moved to New Zealand.
Over 25% of New Zealand's population live in Auckland, and whilst it's not the capital, it's certainly the most bustling of cities and will suit those who always love to be on the go! The nightlife is the best here too: Viaduct Harbour offers nice eateries and picturesque views, Ponsonby houses classy bars (make sure you dress well!), and Britomart offers a cheap and cheerful night on the town. In addition to this, Auckland has 48 volcanoes which you can go hiking around – the highest one is Mount Eden (196m) and was formed approximately 30,000 years ago – has great views of the surrounding lush green countryside.
Named as the "coolest little capital in the world" by Lonely Planet, Wellington is not one to be overshadowed! Go to the inner-city beach of Oriental Bay for when you just want to relax; or go all cultured and visit one of the many museums – pay a visit to Te Papa Tongarewa Museum: translating to the 'container of treasures', it's New Zealand's National History Museum.
If you like nature, you'll love Christchurch: a small, laid-back city in New Zealand's south island. Spend your weekends strolling through the tranquil New Forest National Park; or you could even cycle or start horse riding; and at 200square miles, you've got a lot of ground to cover! There's also a range of beaches just waiting to be discovered – try out Mudeford Sandbank, which can only be reached by foot and is pretty isolated, for some relaxing time alone.
Transportation

In the city
All of New Zealand's towns and cities have a comprehensive bus system, and in Auckland, night buses run on the weekend until 3.40am for £2.25/$3.60, so you can get home cheaply! In the day, buses are even cheaper at £1.70/$2.70, and are renowned for sticking to a strict schedule, so you can guarantee you'll get to work on time (provided you don't leave late of course!). In Auckland, you can also catch the ferry to the nearby islands of Hauraki Gulf for a day at sea after a hard week of teaching!
Taxis are very safe in New Zealand, and you won't need to worry about drivers trying to rip you off! Ordering a taxi via an app is the most cost-effective way, with companies such as Zoomy and Cabchooze popular amongst locals. A 15km journey costs approximately £20/$32.
Further afield
The easiest way to travel between the two islands is by plane, and as you won't be crossing any international borders, you can catch a return flight from Auckland to Christchurch for just £62/$100.
You're in the prime position to travel to Australia too, with flights from Auckland to Sydney costing just £144/$230, taking just over 3 hours. For a relaxing couple of weeks, travel to the nearby tropical islands of Tonga and Fiji – pure relaxation after a hard term of teaching English!
Insider Tips
The New Zealanders have a saying that they are "handy with a number 8 wire", which refers to their can-do attitude, which is reflected in the classroom. Teachers and students enjoy a close relationship, where individual improvement is monitored regularly and closely rather than through exams. This relaxation is also reflected in the fact that students will often refer to teachers by their first names.
If you're teaching English in Wellington and want to live in an area popular amongst expats, take a look at Mount Victoria – it's only 10 minutes from the city centre and has beautiful views of not just Wellington, but the nearby harbour and the ocean too!
Make sure you indulge in some traditional culture of the Maori, who make up 14% of New Zealand's population. Learn some of the language (Haere Mai is hello and Haere Ra is goodbye); and visit one of the tribal meeting grounds Canterbury, Rotorua and Auckland, to hear some of the stories told (one of the most popular is Kupe and Te Wheke).
Get the Brochure
If you're keen to find out more about teaching English then you'll want to check out the i-to-i free TEFL brochure. You'll find out all about choosing the right TEFL course, finding TEFL jobs abroad and the opportunities available to you.
Get your free brochure now