Teach English in Malaysia

Why teach English in Malaysia…
The beautiful climate of Malaysia is just one draw to teach English here; the friendliness of the locals another.
You are unlikely to find a teaching job in Malaysia unless you're already over there, as employers like to interview candidates face-to-face. Vacancies aren't usually advertised online, so most English teachers compile a list of schools that they'd like to work for, before calling them up and sending their CV/resume across. Most English teachers find a job within a month of their initial search and students are likely to be children between 7-15, and are a joy to teach, as they're very eager to learn!
It's great for TEFL teachers because…
A good salary and low-cost of living is what draws English teachers to this tropical country, but whilst demand is high for people to teach English here, there aren't as many jobs as more traditional TEFL destinations like Japan and China. A lot of Malaysians are fluent in English, so some of the English teaching jobs are taken up by the native population. However in 2013, the Malaysian government ran a scheme where English teachers would teach maths and science in English and this has raised the profile of (and demand for) TEFL teachers once again.
All you need to teach in Malaysia is…
To teach English in Malaysia you will need a degree, a minimum of 120 hours Professional TEFL certificate, and at least two years' teaching experience. Malaysian TEFL employers are sometimes picky and are unlikely to accept applications from anyone who isn't between 20-50.
Average Monthly Teaching Salary
5,850 MYR / £1,115 / $1,800
Free TEFL Brochure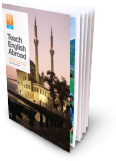 Get your free TEFL brochure and find out everything you need to know about teaching English as a foreign language.
Get the Brochure
Basic Info
Language: Malaysian
Currency: Malaysian Ringgit (MYR)
Population: 29.7 million
Capital City: Kuala Lumpur
Cost of Living

The cost of living is very low in Malaysia, especially when taking the average teaching salary into account, which is what draws in so many English teachers! Accommodation is nearly always provided free for employees, saving around £330/$510 per month for the average teacher.
Traditional Malaysian food is very cheap in Malaysia too, with basics such as a loaf of bread costing just 60p/$1. In addition to the supermarket fare, takeaway food is also reasonable- visit the street food vendors in China Town for a quick fix of stir-fried beef with rice and a beer for £3 /$5, when you don't want to cook dinner after a hard day of teaching!
Food and Drink

A mixture of Indian, Arab, Thai and Chinese ancestry has resulted in huge influences on Malaysian food, and with such a range of flavours, you're sure to find a dish that you love! A traditional Malaysian dish is Laksa, of which there are two types: soup and curry. Curry Laksa is much richer as coconut is added to the lemongrass, ginger, turmeric and chilli sauce; which is poured over noodles and topped with shrimp, tofu, fish balls and eggs.
A favoured dessert amongst the Malaysians is Kuih Ketayap, which is essentially a spring-roll shaped crepe, with a coconut centre – the general consensus being the more filling the better! Green in colour, these can bought from nearly all stalls and shops at 60p/$1 for 3.
Although a predominantly Muslim country, alcohol is only banned in two states (Kelantan and Terengganu), and the Malaysians are actually the tenth-largest consumer of alcohol (found from a World Health Organisation survey), spending £300 million/$500 million on alcohol every year! Beer is the tipple of choice here: but with Guinness and Carlsberg the two brands of choice, don't be expecting anything traditional!
Weather

It always seems to be hot and humid in Malaysia (not the best weather for your hair!), with two seasons: the dry season in summer and the wet season in winter; and it rains an average of 200 days a year, so that's a lot of rain! The temperatures are always pleasant though, at around 28 degrees Celsius.
Accommodation

A major perk of teaching English in Malaysia is that free accommodation is nearly always provided, or at the very least, it's heavily subsidised. Housing will be close to your place of work with other English teachers. Standards are very high in the larger cities, and you can get a lot for your money: if you're prepared to pay a bit extra you'll have the luxury of many mod-cons and even a swimming pool! However, if you're living in tiny towns like Sungai Lembing, housing will be a lot more basic, and probably a lot smaller too!
Where could I teach English in Malaysia?

Demand for English teachers is moderate in Malaysia, with the majority of jobs concentrated in the larger cities of Kuala Lumpur, Sabah and Penang, where the larger populations means there are more schools searching for teachers.
English lessons are compulsory in primary and secondary schools, so by the time Malaysians become teenagers, their understanding of English is very good; and the need to teach business English isn't there as most adults have near-fluency!
International high schools offer the best pay, and these are found mainly in Kuala Lumpur, where Malaysian elite live. Plus, if you love the buzz of a big city, then the capital is definitely the right place for you!
If you prefer a more relaxed vibe whilst still in city surroundings, then the second largest city of Penang could be perfect for you. Spend your weekends relaxing on the sandy white shores of Batu Ferringhi, before indulging in some late-night shopping at the night market, with hundreds of stalls opening at 7pm. Alternatively, you could wander round the charming George Town – so pretty, it's gained a UNESCO heritage status – with a maze of streets hosting Chinese and Indian temples, creating an atmosphere like no other!
If you're into nature, then without a doubt, you should teach English in Sabah, in Malaysian Borneo. Here, you can visit the orang-utans in the rainforest, in their natural habit; or even visit Batu Tulug – a 39metre high limestone cliff over 20 million years old! You can step inside and see the carved wooden coffins, that are said to belong to ancient Chinese settlers.
Transportation

In the city
In theory, public transport in Malaysia should be amazing: and it is modern and comprehensive, but in Kuala Lumpur there's just one issue – it's poorly integrated. There's a network of monorails, trains and buses which are really cheap, at 30p/$0.50 for a one-way ticket, but they all cover different areas of the city, and you have to buy different tickets to ride each mode of transport.
In the other cities like Penang, there is a bus service connecting the island to the mainland; but they don't stick to the timetable and if you're relying on the bus for work, you could be waiting a long time! If you're teaching English in Malaysia, it's just a lot easier if you live close to where you work so you don't need to rely on public transport.
Taxis are safe in Malaysia, and are a great way of getting home at night once you've had a few too many to drink! Drivers in general are honest – just check that they turn their meter's on before you set off, otherwise they'll charge you at least twice the price. You can easily spot taxis in the cities, as they have the word 'bermeter' sprawled across the roof. Prices are cheap, with an 8km journey costing a mere £1/$1.60.
Further afield
You'll be expected to work more hours in Malaysia than in many other TEFL countries, with the average English teacher teaching over 30 hours a week. If you're working in a public or international school, you won't be working any later than 6pm each day, and you'll have weekends off; whereas if you're working in a private school you'll be teaching outside the normal working week, generally in the evenings.
This means that if you're planning on seeing more of Malaysia during your TEFL adventure, it's important to check that your contract has a good amount of paid vacation time.
As Malaysia is based on a series of islands, it's much easier to get a plane to travel to different cities, and you can get a return flight from Kuala Lumpur to Sabah for £52/$84, taking 2 hours in total. Even though you can reach Penang from the capital, flights are so cheap with Malaysian low-cost carrier Air Asia, you may as well travel by plane, with return flights just £20/$34!
If you're hoping to visit somewhere further away during your holidays, then you're in luck, with cheap flights serving the whole of South Asia (and with 18 days of paid holiday a year, in addition to 17 public holidays, you'll have a lot of free time!). Choose between major cities such as Bangkok, Thailand for £70/$113 return, or Hanoi in Vietnam for £105/$170, taking 2 and 3 hours respectively.
Insider Tips
There are lots of public holidays in Malaysia (17 in total), but depending on which region you're teaching in determines whether you take these holidays off, and on which days. The conservative Muslim states of Kelantin, Kedah, Perlis and Terengganu for instance, have different days off to the rest of the country.
The Gunung Mulu National Park by the border of Brunei is a must-see when staying in Malaysia. Head straight for the Sarawak Chamber: the largest underground chamber in the world, 10 jumbo jets could fit inside, and if you're planning on trekking through it, set aside a whole day.
Although you may think you're being endearing or encouraging by patting your student on the head, you're really not: the head is considered spiritually important in Malaysia, and it's very rude to touch another person's head. You should also avoid pointing at anyone, as that's considered rude too!
Get the Brochure
If you're keen to find out more about teaching English then you'll want to check out the i-to-i free TEFL brochure. You'll find out all about choosing the right TEFL course, finding TEFL jobs abroad and the opportunities available to you.
Get your free brochure now