Teach English in India

Why teach English in India…
The low cost of living lures people to teach English in India, with the warm weather and rich history a draw too! Nowhere else in the world is the variety of life more apparent.
The clamour of the cities is balanced by the beauty of the countryside and India's spiritual heart; and the overload of smells, sights and tastes will have you reeling in shock but thirsty for more. It can be difficult to find paid jobs teaching English in India though, as a lot of schools can't afford to pay teachers: but it is possible; and these are popular amongst TEFL teachers as the job is so rewarding, with students respectful and eager to learn.
It's great for TEFL teachers because…
The close ties between India and the United Kingdom (India was once part of the British Commonwealth) means that English is already widely spoken in India, and is the second language there. This means that demand is lower than in any other Asian country. If you're in possession of a Professional TEFL qualification, you can still find opportunities, mainly in the larger cities of New Delhi and Bangalore, where schools have more money and can pay a teacher's salary.
All you need to teach in India is…
You don't need a degree to teach English in India, but you will need a minimum of our 120 Hour Online TEFL Course, although the i-to-i 140 Hour Combined TEFL Course is preferred if you have no experience of teaching.
Average Monthly Teaching Salary
36,500 INR / £370 / $600
Free TEFL Brochure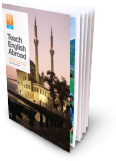 Get your free TEFL brochure and find out everything you need to know about teaching English as a foreign language.
Get the Brochure
Basic Info
Language: Hindi
Currency: Indian Rupee (INR)
Population: 1.25 billion
Capital City: New Delhi
Cost of Living

You're never going to live a lavish lifestyle off what you'll be paid teaching English in India, but you can comfortably live. Accommodation in India ranges from the very basic to the very luxurious. This reflects the demographic of India's population, where 80% of the wealth is held by 1.3% of the population. A standard two bedroomed apartment in New Delhi will cost you £110/$180 and accommodation generally is affordable on a teacher's salary.
The cost of food is cheap in India too; and although there's a huge emphasis placed on fresh food in India, you can pick up plenty of ingredients at very low prices to make your own traditional Indian dishes! Staples are cheap too – you can pick up a pack of gram flour (used to make many Indian snacks) for only 30p/$0.45. Eating meals together as friends and family is very important in India, which means eating out is cheap as it's such a popular pastime – for just £1/$1.60, you can order a nice meal in an authentic Indian restaurant.
One popular (and affordable) pastime in India is yoga! Lessons with a private teacher start from only £1/$2 and you'll be getting fit for the money you're spending too.
Food and Drink

Indian food is full of flavour, with multiple spices added into a single dish. Traditional cuisine consists of a large number of small dishes, so rather than eating one main meal, you can try a range of dishes.
As India is so huge, naturally dishes vary depending whereabouts in the country you eat. Kashmiri food for instance, consists of meat and cream-based sauces, such as Kashmiri butter chicken with a ginger, cinnamon, lemon and cream sauce.
In contrast, Gujarati food is extremely healthy, with mainly vegetables used in dishes – be sure to try the popular snack of Khandvi: a mixture of flour and chickpeas rolled up, it can be served either sweet (with coconut) or savoury (with mustard). It doesn't take long to make it yourself, but as it can be bought at nearly every corner shop in Gujarati, people just tend to buy them instead!
The laws on alcohol are fairly relaxed in India: only the remote island of Lakshadweep has banned the buying and consumption of alcohol. In other areas where alcohol is prohibited, foreigners can still purchase it, providing they have a license (all they need is a proof of address). A popular alcoholic beverage amongst the Indians is Feni – originated in Goa, this liqueur is made from cashew apples, and can be drunk straight or mixed to create a cocktail. Perhaps just as popular for its taste is its price – you can pick up a litre bottle for just 70p/$1.15 in Indian supermarkets!
Weather

As you'd expect, Indian summers are hot and humid in the North, with it regularly reaching 40 degrees Celsius. In the autumn, the monsoons come, so prepare to get soaked if you move to India to teach English! The weather in the South of the country is more consistent, with temperatures around 20 degrees Celsius all year round, although it's much rainier in winter, so make sure you pack an umbrella!
Accommodation

Employers won't provide their employees with accommodation, so you'll have to find it yourself. Standards vary dramatically throughout the country: housing in major cities will be what you're used to at home – potentially even grander, as you get a lot more for your money in India, and if you share with another English teacher, you'll have two salaries between you to spend. However, in the underpopulated regions such as Madhya Pradesh, don't expect more than a tiny room, and you'll be lucky if you have running water!
Where could I teach English in India?

Whilst demand isn't huge for native English teachers in India, there is no specific peak hiring time, with employers advertising positions all year round. As the majority of positions are in private schools, teaching English to both children and business professionals, the cities with the larger populations including Bangalore, New Delhi and Calcutta. Schools in smaller towns are poorer and are unlikely to be able to pay teachers, so stick to the large cities for paid positions!
Bangalore – otherwise known as the 'Silicon Valley' of India because of the large number of IT companies situated there, has a lot of opportunities for teaching business English to professionals. Bangalore is growing in popularity amongst the Indians and is seen as the place to be, and you'll find that there's plenty of things to do there – top of the list being Bangalore Palace; a replica of Windsor Castle in Berkshire, with the huge 454 acre grounds hosting a range of public and private parties… who knows, you may even be invited with your new colleagues?!
New Delhi is the perfect place to teach if you love to party, regularly topping the list of best nightlife in India, down to the fact that it has a young population, with 1 in 3 locals under 25. The shopping is also amongst the best in India, with shopping malls selling international brands and markets selling luxurious jewellery and fabrics. New Delhi is the second richest city in the country (behind Mumbai), and you'll find that students here tend to be middle class, with much more money than the average Indian.
Finally, if you love nothing more than immersing yourself in all-things culture, then you should definitely teach English in Calcutta! This city is very proud of its history, and is home to Mother Theresa's old house, which you can visit for free and see her tomb. To see how the locals live, take a walk through the Mullik Ghat Flower Market, before strolling across the Howrah Bridge directly above for amazing views of Calcutta!
Transportation

In the city
The major cities in India have both a metro and buses, but avoid the buses if possible as they're overcrowded and hot, and can be very frustrating if you're travelling into school on them! The locals much prefer catching the metros instead, which are much more modern and quicker. A one way ticket costs a mere 15p/$0.24, so getting to work will be extremely cheap no matter whereabouts in the city you're living in!
The taxis in India are amongst the safest in Asia, with the government recognising the need for passengers – and in particular women – to feel safe. A lot of companies now offer tracked taxis – such as Meru Cabs in Bangalore – where passengers can send either a family member or friend a text, and they can then track whereabouts they are in relation to their desired destination. As you can imagine, the fare is cheap too: a 15 minute journey in the capital of New Delhi only costs an average of £2.65/$4.30.
Further afield
Contract hours vary hugely for TEFL teachers – if you work for an international school, you'll be working an average of 20 hours a week actually teaching English, whereas in smaller private schools, you could be working as many as 40. International schools represent the best opportunities not just in the form of working hours, but also in holidays, with English teachers in India getting 10 weeks off a year, with summer holidays in April and May, which means there's a lot of 'further afield' exploring to be done!
The best way to travel round India is by plane, because as it's so huge, catching a train or driving takes too long. You can get cheap flights between the larger cities with India's low-cost carriers IndiGo and Spice Jet, with a return ticket from Delhi to Calcutta for £62/$100, taking 2 hours. You can also travel to nearby countries cheaply too, with a return to Kathmandu in Nepal for £125, also taking 2 hours – for prices like that, there's no excuse not to do some travelling during your holidays!
Insider Tips
1000km off the coast of East India, for a perfect getaway be sure to visit the secluded Andaman and Nicobar islands. Boasting gorgeous isolated beaches and impressive marine life, you can spend your days sunbathing and scuba diving!
Respect is very important in Indian classrooms: your students will refer to you as either 'sir' or 'madam', and you will be expected to dress conservatively, with trousers for men and knee-length skirts for women.
If you're moving to Bangalore and want to live in an expat community, search for accommodation in the area of Koramangala. There's always something going on there, with bars, restaurants and even shopping malls right on your doorstep!
Get the Brochure
If you're keen to find out more about teaching English then you'll want to check out the i-to-i free TEFL brochure. You'll find out all about choosing the right TEFL course, finding TEFL jobs abroad and the opportunities available to you.
Get your free brochure now