Teach English in Hong Kong

Why teach English in Hong Kong…
From the stark beauty of the Chinese coastline to the neon cityscapes; there's nothing quite like teaching English in Hong Kong.
Plus, with English now one of the official languages of Hong Kong and near essential to finding a well-paid job for Hong Kong citizens, you can see why there is such a high demand for English teachers from overseas.
The process for placing teachers in Hong Kong is quite a lot longer than most of Asia, for this reason you'll want to obtain your TEFL qualification a minimum of 5 months before you are wanting to move to Hong Kong – the earlier the better!
It's great for TEFL teachers because…
Many people who speak to us here at i-to-i ask us where they can have the best TEFL experience. By that they usually mean where can they go and teach English that is culturally different, where they can make good money and where they can really connect with the local community. If this is what you're looking for from your TEFL adventure then teaching English in Hong Kong fits the bill!
Hong Kong is also a great place to teach English if you want to teach overseas for a longer period of time. Most TEFL contracts last for 2 years, and after 7 years of living in Hong Kong you can apply for permanent citizenship!
All you need to teach in Hong Kong is…
Reputable Private Schools and Hong Kong International Schools will ask that you have a Bachelor's degree and a good level of TEFL training, such as i-to-i's Professional Certificate (140 Hours).
Average Monthly Teaching Salary
25000 HKD/ £1500 / $2600
Free TEFL Brochure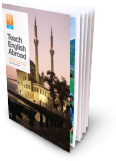 Get your free TEFL brochure and find out everything you need to know about teaching English as a foreign language.
Get the Brochure
Basic Info
Language: Chinese & English
Currency: Hong Kong Dollar (HKD)
Population: 7.1 million
Capital City: Victoria
Cost of Living

Since its colonization by the British back in 1843, Hong Kong has been a major player on the global scene and is home to over half a million expats. This internationalisation of Hong Kong has meant that the cost of living here is quite a lot higher than in Mainland China. Nevertheless, it is still possible to live comfortably on a teacher's wage.
As land in Hong Kong is scarce, accommodation is going to be your biggest outlay. In the trendy Hong Kong Island, you will pay around £700/$1000 for a studio apartment, whereas in Kowloon or the New Territories you will pay around 20% less.
Not everything in Hong Kong is expensive though and eating out is surprisingly cheap. A typical Cantonese meal of dim sum or egg tart will cost you only £3/$5.
Another thing that you'll be able to do cheaply in Hong Kong is to go out for a few drinks (particularly if you're female). It's common for Chinese bars to host ladies nights where women drink for free all evening in an attempt to entice the male locals!
Food and Drink

An eclectic mix of Cantonese and South East Asian, Hong Kong Chinese food is a delight for the taste buds. You can expect to eat such delights as shrimp dim sum, egg waffles and crispy roast duck during your time teaching in Hong Kong. Plus, there is no shortage of quality restaurants in Hong Kong, with the Mong Kok area of town boasting the world's cheapest Michelin starred restaurant with a meal for two (including drinks) costing only $12.
In a country built on tea, Hong Kong residents are unsurprisingly big tea drinkers. Make like a local and head to one of the authentic Chinese 'Chaguan' tea houses. If alcohol is more your thing then Hong Kong has a wide range of choices for you too. Kick back with a couple of beers after a long day teaching in one of the city's many karaoke bars.
Weather

As the country is located in the equatorial part of the Northern hemisphere, the weather is subtropical and warm all year round. In winter you can expect low temperatures of around 18°C and in summer high temperatures of around 35°C. As a small area, the weather doesn't differ dramatically across the region and wherever you're teaching in Hong Kong, you can expect it to be humid!
Accommodation

There are two main options for accommodation when it comes to Hong Kong; you can live on Hong Kong Island or off. If you choose to live on Hong Kong Island, accommodation will be expensive and small, with the tiniest studios only measuring 5 metres squared! If you'd prefer a little more space (who wouldn't?!) then Kowloon is probably a better choice. You'll only be a 5 minute ferry ride away from the main island but you'll get double the space for your money.
Where could I teach English in Hong Kong?

In Hong Kong there are 3 different types of schools; schools that are run by the government, schools that are subsidised by the government and schools that are completely private and independent. The likelihood is that as a TEFL teacher you will be teaching English in one of the private language schools, although if you do have some practical classroom experience prior to your TEFL course it could be possible to find a position within the CNET public school system. Speak to an expert i-to-i TEFL advisor to find out which is the right course for you!
Transportation

In the city
Like any other modern Asian metropolis, Hong Kong has a comprehensive public transport system and if you find yourself teaching here you'll have no problem getting around. An off-peak return ticket from on the HK metro costs only £1/$1.70 each way.
If you're planning to live (or teach) in the central area of Hong Kong another great way to get around is via the Kowloon Sky ferry. A round-trip economy class ticket from Wanchai to Kowloon costs only £3/$5. Regardless of the cost, sailing by the Hong Kong skyline is priceless!
Although not particularly useful at getting you anywhere (unless you live on top of a mountain that is) Hong Kong is also famous for its peak tram. This tram is the steepest in the world, ascending over 458 metres in the air to the top of Victoria peak. Tickets cost around £10/$15 return and it's definitely worth a ride if you're teaching English in Hong Kong.
Further afield
One of the great things about teaching English in Hong Kong is that you'll have an abundance of paid public holidays – 17 in fact. Plus, the standard teaching contract will also offer anything from 4-8 weeks of paid vacation time. If you do stay in Hong Kong during your holidays from teaching then you'll find navigating the area extremely easy as almost everything is double signposted in English and Cantonese.
Hong Kong is very well connected to the rest of Asia and you can find cheap flights to Kuala Lumpur, Shanghai and Tokyo for under £100/$150 return.
Insider Tips
In Hong Kong, most teaching job applications will ask you to include a salary expectation. To give you an idea of what to ask for, the average salary for a newly-qualified TEFL teacher is £1,500/$2,600 a month; and they will use this to base your salary should you get the job.
Unlike in most other Asian countries, teaching jobs in Universities aren't actually the best paid, but the lack of extra money is more than made up for in perks: expect use of the University's facilities, onsite doctor and dentist, gym membership and even use of a pool!
Hong Kong has an amazing cosmopolitan culture, and there are tonnes of western restaurants, bars, clubs and even shopping malls. To stop you spending your year abroad living in a mini expat bubble, i-to-i teachers advise making a Hong Kong bucket list of everything you want to do in your first 3 months, which will allow you to make your TEFL adventure a real cultural experience!
Get the Brochure
If you're keen to find out more about teaching English then you'll want to check out the i-to-i free TEFL brochure. You'll find out all about choosing the right TEFL course, finding TEFL jobs abroad and the opportunities available to you.
Get your free brochure now