Teach English in Germany

Why teach English in Germany…
Germany's thriving cities, contrasted with beautiful scenery (just look at the Black Forest and the Alps!) are definitely a selling point when it comes to teaching English in Germany.
Plus if you're from Europe, you will be able to teach in the EU countries, including Germany, without any work visa.
It's great for TEFL teachers because…
There is a high demand for business English teachers in Germany, as a lot of international companies' have offices here, so there is a real need for employees to be able to speak English confidently. Approximately half of employers like teachers to have basic knowledge of German (for no other reason than you can converse with beginner students), but these institutions often hold free German lessons if you don't currently understand the language and it certainly isn't a prerequisite to teaching in Germany. There are also vacancies at the numerous 'Volkshochschules' (Adult Educational Centres). As a developed Western country, the competition is high for jobs, and you'll find it much easier if you already have some classroom experience – plus, you'll receive a bigger pay packet, which can only be a good thing!
All you need to teach in Germany is…
All you'll need is a minimum of our 120 hours 140 Hour Combined TEFL Course as while a degree is preferred to teach English in Germany, it isn't necessary. Teachers with experience find it much easier to get a job, as German employers prefer hearing about previous experience to qualifications. If you've got your heart set on Germany still as your first teaching job, don't worry: take our 140 Hour Combined TEFL Course to equip yourself with classroom training!
Average Monthly Teaching Salary
1,185 EUR / £935 / $1,500
Free TEFL Brochure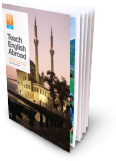 Get your free TEFL brochure and find out everything you need to know about teaching English as a foreign language.
Get the Brochure
Basic Info
Language: German
Currency: Euro (EUR)
Population: 80.2 million
Capital City: Berlin
Cost of Living

The cost of living may be slightly cheaper in Germany than in other Western European countries, but an average teaching salary is typically less too.
It's not usual for your TEFL employer to supply you with accommodation, so you'll need to pay for this yourself: if you're looking to rent a small two bedroom apartment, you'll be spending around £695/$935 a month including all of the regular bills – gas, electric, water etc.
The food is reasonable in Germany too. If you're looking to cook at home you can expect your weekly groceries on a midlevel budget to cost around £30/$45 per week; or if you'd prefer to eat out then you can pick up a bratwurst from a street vendor for £2.20/$3.50.
Food and Drink

Bratwurst is probably the most famous German delicacy, and there are over 50 varieties with each region preparing them a certain way. One of the favoured varieties is the Coburger Bratwurst, originating in Bavaria, with nutmeg and lemons flavouring the fried sausage.
Germany also have their own spin on traditional Italian food with Kasespatzle; egg noodles that are particularly popular in the South. Served with chicken and cheese in a creamy sauce, it's a great, filling dish that is often served in schools as a lunch option to get students through the icy German winter.
As the third-largest consumer of beer in the world (after the Czech Republic and Ireland), it's no secret that the Germans love a good beer, with each person drinking an average of 119litres a year! Each region is proud of their own types of beer, and with 1,200 breweries, that's a lot of beer for you to sample during your time off teaching!
Weather

Situated in central Europe, Germany is lucky enough to have four distinct seasons, so you'll get to experience all kinds of weather when teaching here! The capital of Berlin has warm summers of up to 25 degrees Celsius, and although in the winter temperatures average at about 5 degrees, the high buildings mean that the heat is trapped, so it's never unbearably cold there. In the South, Munich has much colder winters, with temperatures dipping to around 0 degrees Celsius, and it rains a lot more there too; but you're close to the Alps so you can always go skiing!
Accommodation

Whilst some English teachers have shared accommodation provided for them free of charge by employers, this isn't usually the case. The cheapest major city to rent in is (somewhat surprisingly) Berlin. To find an apartment in Berlin, take a look at the popular WG Gesucht website, where the classifieds appear in both English and German.
Standard of accommodation in Germany is very good, regardless of whether you're living in the city centre, or out in a small village, where you're more likely to get traditional German touches like thatched roofs and timber buildings!
Where could I teach English in Germany?

As the majority of teachers in Germany work in the business English sector, you'll be teaching in one of the major business centres of Leipzig, Frankfurt, Berlin, Cologne or Berlin.
If you love the grit of a big city, then teaching English in Berlin could be a good option for you. A great place to start looking for a teaching job in Berlin is by approaching the local university of Humboldt. They'll be able to give you a list of all of the businesses in the area that they supply their graduates too and they should also be able to point you in the direction of bilingual companies that use both German and English.
If you're planning to spend your time in Germany teaching business English, but you'd rather not work for a large company, then one option is to offer private tuition to German middle management staff. Accountancy firms in particular invest in their staff learning English so flyering buildings around the major financial districts of Berlin or Frankfurt would be a good choice.
Transportation

In the city
Germany is well-equipped with public transport, with all towns and cities having their own bus and/or tram system. Berlin, Munich and Frankfurt all have metros (known as the U-Bahn), favoured by locals as the quickest means of getting from the suburbs to the centre, and an S-Bahn, which is an over-ground train. In Berlin, the S-Bahn runs 24 hours on Friday and Saturday nights, so it's a great way of getting back home after a night out cheaply – and with a one-way ticket costing an average of £2/$3.40, it won't break the bank!
Further afield
Average teaching hours in Germany are around 25-30 hours a week, and if you're working in a private English language school, you'll be working in the evenings when students are available. This means you'll have lots of time to explore your new home during the day! Trains in Germany are very expensive – much more so than in other European countries – a train from Berlin to Munich for instance costs more than a plane flight, with a six hour journey costing £118/$190.
Germany's central location means that it's well served by low-cost airlines, and you can go to pretty much anywhere in Europe for a reasonable price: why not try the beautiful Copenhagen in Denmark for £54 return, or Geneva for the same price?
Insider Tips
For a true German experience book your annual teaching holidays in advance, and go enjoy Oktoberfest, held in Munich every year. You can drink beer by the litre (or opt for vodka, wine or soft drinks) in the tents – our favourite tent is Käfer Wies'n Schänke, offering cake and champagne!
Germans are nothing if not organised and serious: keep a professional relationship amongst students, and greet students with a firm handshake at the beginning and end of the lesson. It's also extremely frowned upon if you turn up late for class, so don't do it: there's a common saying that turning up 5 minutes early is too late in Germany!
If you're thinking of teaching English in Berlin and want to live in a central location, search for accommodation in Friedrichshain-Kreuzberg; which has veered away from its working-class roots into a quirky district, with café's, galleries; and there's an annual water fight at Oberbaumbrücke, where the Berlin wall used to stand.
Get the Brochure
If you're keen to find out more about teaching English then you'll want to check out the i-to-i free TEFL brochure. You'll find out all about choosing the right TEFL course, finding TEFL jobs abroad and the opportunities available to you.
Get your free brochure now