Teach English in Colombia

Why teach English in Colombia…
It was voted the happiest country in the world in 2012, it is a relatively unexplored land with amazingly friendly locals and so it's easy to understand why many people enjoy teaching English in Colombia.
During your time in Colombia you'll get to experience the colourful and vibrant Latino lifestyle and like most of South America, you don't need a degree to TEFL here. So it's great for new TEFL teachers as well as those who want to experience a culture and country wonderfully different from their own.
If you are planning to head out and teach English in Colombia, then it's worth taking a look at the Colombian vacancies on our TEFL jobs board.
It's great for TEFL teachers because…
The demand for English teachers is reasonably high, but as it's a little off the beaten TEFL track, competition for jobs in Colombia is low. Fringe contract benefits are also very good in Colombia with most TEFL employers providing free airfare, medical coverage, substantial paid holidays and an end of contract bonus.
Most of the opportunities for teachers in Colombia are in private ESL language schools where you'll be teaching between the hours of 9am-4pm. As your schedule is quite flexible many teachers advertise private lessons on the website 'Find My Favourite Teacher' to make some extra cash. Tuition fees start at around £9/$14 per hour.
All you need to teach in Colombia is…
A minimum of our 120 hour Professional TEFL course is required; although 140 hours is preferred if you have no experience of teaching, but you won't need a degree!
Average Monthly Teaching Salary
2,000,000 COP / £625 / $1,000
Free TEFL Brochure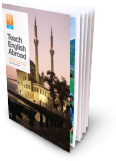 Get your free TEFL brochure and find out everything you need to know about teaching English as a foreign language.
Get the Brochure
Basic Info
Language: Spanish
Currency: Colombian Peso (COP)
Population: 48.3 million
Capital City: Bogota
Cost of Living

Rated as one of the world's cheapest countries to live in, Colombia is perfect for TEFL teachers looking to live a nice lifestyle. The average wages in Colombia are slightly higher than for a South American country at $1000 per month, although it's still fair to say that most English teachers go here for the lifestyle more than the money.
If you decide to rent an apartment on your own in the capital, you'll spend around 40% of your salary (it's worth spending a bit extra to make sure you're living in the nicer area of Bogota. Plus when it comes to going out bars are cheap and in a nightclub it's common to get bottle service, where you'll pay around $30 for the bar to bring you a bottle of spirits and serve them to you with free mixers all night!
With that extra cash, indulge yourself in a traditional Colombian pastime of Salsa dancing, bars all over the country offer group classes, with 2 hours of training costing a mere £2.10/$3.40, and it's a great way to meet fellow expats and Colombians!
Food and Drink

As Colombia is such a huge country, traditional dishes vary between regions, and what's considered a delicacy in one city could be seen as pretty disgusting in another (roasted ants, anyone?!). One dish Colombians can all agree on however, is Bandeja Paisa, which for many is considered as the national dish. Consisting of steak, chorizo, beans, rice, avocado, banana chips and a fried egg means it's SO big, it's more of a platter than a main meal!
If you're still not full after having eaten the mountain of food above, try the much-loved dessert of Arroz con Coco: coconut-infused rice with a squeeze of lemon and sprinkling of cinnamon to give it an extra-sweet taste. It's served at nearly all Colombian restaurants, so you'll definitely have to give it a try.
Drinks-wise, Chocolate Santafereño (hot chocolate) is very popular in Colombia, and is often consumed at both breakfast and in the evening, with bread or pastries. Chocolate is melted, and a dash of cinnamon added for a warming taste – perfect for during the winter!
If it's something stronger you're after, try Firewater (Aguardiente), a strong aniseed, sugar cane alcoholic drink that can either be drunk straight as a shot, or mixed with sugar and lime juice for a sweet cocktail that Colombians drink after dinner.
Weather

The weather varies depending on whereabouts you decide to teach in Colombia: in Bogota for instance, although temperatures are fairly consistent year-round at 20 degrees Celsius, it often feels much cooler, so make sure to layer up. Nestled in the Andes, Bogota is susceptible to a LOT of rain, so prepare to either pack an umbrella, or embrace big hair!
The North is much warmer and enjoys more sunshine, whereas in contrast cities in South Colombia such as Pasto has a varied climate, with temperatures shooting up and down month by month – well if anything, it makes for an interesting experience!
Accommodation

Unfortunately, you're unlikely to be provided with accommodation free of charge in Colombia, and it's not a common requirement for employers to help you look for housing either. In the larger cities like Bogota and Medellin, the quality of accommodation will be pretty much of the same standard as at home, although things like the bathroom and kitchen fittings may be dated. Try the Fincaraiz website to find flats to rent.
Where could I teach English in Colombia?

In recent years, demand for English teachers in Colombia has increased and teaching positions are now available all over the country. Bogota, Medellin and Cali offer most of the vacancies but there are opportunities to teach in smaller towns too. Be warned though, if you do teach in a small town or village then the population may not have much knowledge of global culture – it's common for teachers from England to be asked if they know the Queen; or if they're from the US if they know the President!
Like shopping? You'll love Bogota! Boasting 30 shopping malls, you can shop 'til you drop with a whole range of international and Colombian fashion brands. If you're looking for authentic Colombian goods, check out the San Alejo Flea Market, open on Sundays – you can pick up everything from antiques to souvenirs, but be prepared to haggle!
If you're interested in Colombian history, then Medellin is the perfect city for you: transformed from the drug-fuelled culture to a thriving city; since the death of drug lord Pablo Escobar in 1993, the government drove huge amounts of money into creating jobs for locals, and it has the most advanced public transport system in all of Colombia. To truly understand the hard times Medellin went through, take a Pablo Escobar tour; which takes half a day and visits sites such as where he committed his crimes and his grave. Once you've taken all of that in, fully enjoy Medellin's mountainous terrain by paragliding, with a 20 minute flight costing just £24/$38!
Finally, whether you want to reclaim your student years (or enjoy the student lifestyle you never had), join the party in Cali – home to the Universidad del Valle, one of the most prestigious Universities in Colombia, you may even find an opportunity to teach English there. Thank the students for the amazing nightlife – either try some salsa, or visit the bars on Sexta Avenida (Sixth Avenue). If you're female, be sure to dress up as clubs can be pretty strict; and it's also worth noting that the nightlife kicks off earlier than other South American countries – make sure to get to a bar before 11pm if you want to grab a table!
Transportation

In the city
All Colombian cities have a cheap bus system, with a one-way ticket costing around 50p/$0.80. However, these can be confusing: not all bus stops are marked, with locals on the bus requesting the bus to stop saying "por acá, por favor" ("here, please"). Routes are taped up on the windscreen, but it can be very daunting for foreigners!
Medellin has a highly-developed public transportation system, with half a million people travelling by cable car to get around the mountainous terrain. It also boasts the only metro system in the country – though Bogota is catching up, with a metro line due to be completed by 2018.
Further afield
Get ready to explore. When you're teaching English in Colombia you'll get a minimum of 3 weeks of paid holiday over every school year (9 months). If you're employed by an international school will get a massive 10 weeks paid holiday!
Despite Colombia's proximity to the rest of South and Central America, flight costs are huge. To fly to Peru for instance, costs are £580/$920 for a return ticket, and there aren't even direct flights to neighbour Venezuela's capital, Caracas!
Insider Tips
The classroom culture is very relaxed, and as such, students will often be late or not show up at all. However, Colombian students can be very fun to teach, and you'll enjoy a close relationship where you're on first name terms with your pupils.
Northern Bogota is the nicest (and safest) place to stay in the capital, with classy bars and huge shopping malls right on your doorstep. Chapinero is particularly nice and is one of the more affluent areas, with great transport networks into the city.
Tayrona National Park is a must-see attraction whilst living in Colombia: described as a sanctuary, it boasts beautiful sandy shores off the Caribbean coast with lush green trees, and is a firm favourite with both locals and tourists.
Get the Brochure
If you're keen to find out more about teaching English then you'll want to check out the i-to-i free TEFL brochure. You'll find out all about choosing the right TEFL course, finding TEFL jobs abroad and the opportunities available to you.
Get your free brochure now