Teach English in China

Why teach English in China…
If you want to teach English in China, you'll be in good company! China is one of the world's most popular TEFL destinations and has a huge amount of jobs available whether you're a new graduate or a seasoned teacher.
English is compulsory in Chinese schools for children from the age of 9, but there are also many business people wanting to improve their English skills and parents increasingly are paying for their children to get a head start with English – no wonder there are thousands of native speakers heading across to teach English in China.
It's great for TEFL teachers because…
The demand for native speakers to teach English in China is extremely high, with over 400 million English language students in the country. The opportunities are also highly varied – you could be teaching in either state or private secondary schools, at university or even in a hospital teaching English to the medical staff! Generally, public schools pay the lowest at around £1000/$1600 per month, whilst university jobs offer the most attractive salaries and great holidays. In fact, schools look for native speakers to teach English in their schools as it enhances their reputation.
All you need to teach in China is…
The laws surrounding degrees and China are complicated. Technically, you do need a degree to obtain the correct teaching visa; however demand is so high, that with an accredited TEFL Certificate you will likely find a teaching job anyway. The 120 Hour Online TEFL Course is the recommended level of qualification although the 140 Hour Combined TEFL Course is recommended if you have no experience of teaching; or you can teach in China with the China internship, where you will travel as part of a big group, and enjoy 24/7 support from our expert Chinese partners.
Average Monthly Teaching Salary
10,000 CNY / £1,200 / $1900
Free Teaching English in China Guide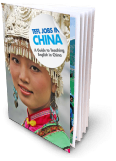 Get your free guide to teaching English in China and find out more.
Get the Guide
Basic Info
Language: Chinese
Currency: Chinese Yuan (CNY)
Population: 1.35 billion
Capital City: Beijing
Cost of Living

Although prices in China are gradually increasing, the cost of living is still very low compared to the western world. Plus, a lot of your costs (medical insurance, accommodation and travel) will be included in your salary package.
Most TEFL employers in China will pay for a one bedroom or studio apartment for you to live in whilst you are employed by them. These apartments are generally modern but basic and are equipped with everything you'll need – although they probably won't have an oven! If you would prefer to find your own place while you're teaching English in China, then your employer will usually provide a housing allowance of around $500, enough for a studio apartment in Shanghai or Guangzhou and a medium-sized house in rural China.
The self-sufficient mind-set and abundance of farmland in China means that food is really cheap. In Southern China (cheapest of all) a bag of apples costs around 30p/$0.50c and a 1kg bag of rice only £1/$1.80.
The nightlife is very affordable – even in Beijing – with a meal in a nice restaurant just £3/$4.50. It is common for teachers in China to be taken out for several 'post-work' drinks by their employer. Make sure to remain professional and fill up your boss's glass first!
Food and Drink

Chinese food is popular all over the world, but for traditional cuisine, there truly is no place better than China! The nation's favourite dish has to be Peking duck – originating from Beijing, it is served with pancakes and lashings of hoisin sauce and won't be too dissimilar to a Western palate.
Not for the squeamish, a much-loved dish amongst the Chinese is chicken feet (sometimes referred to as 'Phoenix Claws'), which can be eaten plain or in a soup. Be sure to suck the bones dry of skin and cartilage to enjoy the many health benefits of this delicacy (rumoured to help with arthritis and make you look younger, as chicken feet provides a source of collagen!).
Weather

Beijing and Shanghai both experience four distinct seasons, with temperatures regularly rising to 30 degrees Celsius in the summer months. The winters are freezing with sub-zero temperatures, so if you're teaching English here, be sure to pack lots of warm clothes.
If you prefer year-round warm weather, then looking for teaching jobs in Southern China is a better option for you. The southern city of Kunming hires a large number of English teachers and the temperature rarely dips below 16 degrees Celsius.
Accommodation

As mentioned above, during your time teaching English in China your employers will likely provide free accommodation. However, if you do decide to take the 'housing allowance' instead and find your own place there are a few things you'll need to know.
On the lower end of a public school teachers wage, you'll be able to comfortably afford a large 1 bedroom apartment in a nice area in all major cities (Beijing, Shanghai, Guangzhou)
If you're on a university salary, you'll be able to afford significantly more. In a smaller city, such as Guilin or Changsha you'll be living in a 3 bedroom luxury apartment.
It's unlikely that you'll be living in a house. 1 bedroomed Chinese houses tend to be rural dwellings that would not be considered adequate accommodation by Western standards
Where could I teach English in China?

A lot of teaching opportunities are found in the cities of Beijing, Shanghai and Guangzhou but with hundreds of cities and a strong desire to learn English prevalent across the country, you can find opportunities almost everywhere in China.
As China is so vast the major language school employers do vary across the country. In Beijing a major employer that i-to-i partner with is Best Learning and in Shanghai, English First (commonly known as EF). If you would prefer to work for a public school then you will apply straight to the Chinese government. Private language schools in China hire English teachers all year round and the recruitment turnaround is very quick. i-to-i have known teachers to get a job within 10 days of completing their TEFL course.
Transportation

In the city
Transportation is extremely cheap in the major cities, with the subway convenient and affordable. Beijing's subway will soon be extended to make it the largest in the world, and with a one way ticket costing just 20p/$0.32, if you choose to live in the suburbs you could travel to your teaching job easily.
Taxis are a good way of getting around in China, especially at the end of a night out. The drivers are generally trustworthy and fares are cheap, with a 10km trip in Shanghai costing around £3/$5. If you are planning to take taxis, then ask one of your Chinese co-teachers to write down your address in Chinese for you. This will mean that wherever you go, you'll always be able to get home!
Further afield
If you're teaching English in China you can expect to get between 4 and 10 weeks of paid holiday (with university jobs at the higher end of the spectrum). During that time you'll certainly want to explore this vast and fascinating country. Most teachers use the public holidays and long weekends to travel around China whilst using their contracted paid holiday to go further afield.
China has a comprehensive train system that serves hundreds of cities, with different carriages offering different classes – be aware that the cheaper prices are for hard seats, and it's worth spending a little extra so that you can travel in comfort! Being such a huge country, travel times are long, with a train from Beijing to Shanghai taking 12 hours, costing either £30/$50 one way if you pay for a seat, or £65/$90 if you choose a soft sleeper.
Many teachers in China head to another nearby country during their vacation time. You could discover Tokyo for £300/$500 return, Korea (£150, $250 return) or even Bangkok, for £300/$500 return.
Insider Tips
If you want to work somewhere in China stunning and rural, then you could consider getting a teaching job in the Guizhou province in the South West of the country. As there are just a few language schools in this area, it's worth getting your resume out to the major language schools in Guangxi city well in advance.
If you're going to learn one Chinese phrase, make it "chifanle meiyou", which translates to "have you eaten?". This is an extremely common greeting in China as food is such an important part of their culture, and your new Chinese friends will be very impressed with you!
If you get the chance during your breaks from teaching, you should catch the 'sky train' to Lhasa in Tibet – reaching heights of over 16,000 feet during the journey; it's the highest passenger railway in the world and is definitely an experience to enjoy!
Get the Guide
If you're keen to find out more about teaching in China then you'll want to check out the i-to-i TEFL free guide. You'll find out loads more useful information on finding your first job, where you can teach and how to negotiate the best salary package.
Get your free guide to teaching English in China now