Teach English in Austria

Why teach English in Austria…
It's not hard to see why it's great to teach English in Austria. The rolling countryside, diverse culture and picturesque Alps make it a lovely place to live and work – especially as it has some of the lowest crime rates in the world.
The majority of English teachers move to Austria before finding a job, contacting schools directly through the Herold (the Austrian equivalent of the Yellow Pages). Employers prefer interviewing candidates face-to-face, and they're much more likely to offer you a job if you meet them in person.
It's great for TEFL teachers because…
Whilst the demand for people to teach English in Austria isn't as great as other European countries, there are a lot of opportunities for teaching business English to professionals, as there are many international companies located in the larger Austrian cities, such as Vienna. That being said, you will also find vacancies in private schools; and newly-qualified TEFL teachers particularly enjoy working here as students are respectful and eager to learn, and Austrian schools have some of the highest test scores in the world!
All you need to teach in Austria is…
To teach English in Austria, you don't need a degree unless you're applying for a position in a public school, and a minimum of an i-to-i Professional TEFL certificate (120 hours); although our 140 Hour Combined TEFL Course is preferred if you have no experience of teaching. If you're hoping to teach Business English in Austria, some employers would also prefer you to have experience in working in that particular business area e.g. law.
Average Monthly Teaching Salary
1,550 EUR / £1,250 / $2,000
Free TEFL Brochure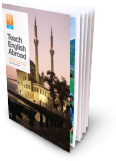 Get your free TEFL brochure and find out everything you need to know about teaching English as a foreign language.
Get the Brochure
Basic Info
Language: German
Currency: Euro (EUR)
Population: 8.5 million
Capital City: Vienna
Cost of Living

Everyone knows that Sweden and Denmark are expensive European countries to teach in but what about Austria? In fact, despite being perceived as an expensive place to live, Austria is quite reasonable and you'll afford a comfortable life on a TEFL teacher's wage.
Accommodation will probably be your main outgoing during your time teaching English in Austria. Most teachers spend around £600 per month for a 2 bedroomed apartment and as Austrian schools frequently have 2 teachers you may choose to share to cut costs! It's also worth knowing that apartments in the suburbs of Vienna are not much cheaper than right in the centre.
Food is cheaper in Austria than most other European TEFL destinations, and this is largely down to a reduced tax rate on 'essential food items'. A loaf of bread will cost you around 80p and a piece of fish £2/$3.
The cost of nightlife varies in Austria: Vienna is more expensive than Graz (Austria's second biggest city). A meal in the suburbs of Vienna would cost around £6.30 – you could eat out most nights on your teaching salary for that price! Alcohol is expensive, but we all need treating every now and again, don't we?!
Food and Drink

Austrian cuisine is heavily influenced by their German neighbours, and is home to some world-famous dishes; perhaps most well-known is the Wiener Schnitzel. The national dish of Austria, it's essentially a thin strip of veal coated in breadcrumbs and fried.
For dessert, Austrians love Sacher Torte, which is potentially the most famous cake in the world and is a firm favourite amongst chocoholics. This gorgeous chocolate cake is topped with apricot jam and served with whipped cream. Originally developed in 1832 at the Sacher Hotel in Vienna, the original recipe is kept top secret, although there are variations in practically every café in Austria!
Drinks-wise, it's no secret that the Austrians – like their German neighbours – love a bit of beer. The most popular brand is Märzen, which can be found in all bars, clubs and supermarkets. So when you're teaching English in Austria, be sure to round up your new Austrian friends and enjoy a couple of bottles of Märzen – not forgetting to clink your glasses and shouting 'Prost' of course! Make sure you don't have to class the next day though.
Weather

Austria has four very distinct seasons, with summers a warm 25 degrees Celsius on average, although it does rain a lot, so be sure to pack an umbrella if you're teaching English in Austria! In the winter however, it's a completely different story: sub-zero temperatures are a daily occurrence, as is snow, frost and wind – and if you dare to head into the Alps, the weather is even more extreme.
Accommodation

Whilst employers won't provide you with accommodation, they will often help you in finding somewhere suitable; and the great thing about Austria is that being located in Western Europe, accommodation is of an extremely good standard – whether in major cities or small towns – and on par with what you're used to at home.
Where could I teach English in Austria?

As the majority of opportunities are for teaching business English in Austria, jobs are easier to find in the metropolitan cities of Vienna, Salzburg and Graz, where international businesses are located. There will be vacancies in schools in smaller towns, but these are more limited and harder to find. Both Fullbright Commission and the British Council help English teachers find jobs in Austrian schools, so they're a great starting point when searching for your dream job!
To give yourself the best opportunity of getting a teaching job in Austria, apply for jobs in July and August, as this is the peak hiring time.
If you love living in a fast-paced city, then the capital Vienna is definitely the best choice, and with so many things to offer, you'll never be bored! The best shopping is found on Maria Straβe, with a mixture of high street brands, chocolatiers and souvenir shops lining the street. After you've shopped 'til you've dropped, enjoy the beauty of Stephensplatz, stopping off for a hot chocolate in one of the cute café's.
If you want all of the charm of Vienna, but a smaller sized city, then you should teach English in Salzburg. The city is seeped in culture, with music extremely important in this city – not surprising, seeing as Mozart was born in Salzburg! Bearing this in mind, the nightlife is more relaxed and chilled out: if you're looking for a crazy night, this city isn't for you. Instead, you'll find the locals enjoying a few beers in one of the hundreds of traditional pubs.
The second largest city of Graz offers unique teaching opportunities at summer camps during June-August, and is the perfect way of earning some extra money if you don't want to go travelling through Europe over summer. You'll be working an average of 20 hours a week, to children between 10-15, with the most popular camps including Graz International Summer School and Berlitz.
Transportation

In the city
Vienna has a comprehensive public transport system of buses, trams and the metro – the last of which is a favourite amongst the locals. The six lines cover the whole of the centre of Vienna and surrounding suburbs, and with a one-way ticket costing £1.65/$2.65, you'll easily be able to afford travelling to your place of work. Public transport is always on time in Austria, so you won't have to worry about being late to work either.
Taxi drivers in Austria are trustworthy, and many speak good English and will understand you when you say where you want to go. Calling a taxi is cheaper than hailing one in the street, although prices are fairly high: a 15 minute journey will cost you around £16/$26; not the best mode of transport for getting to work, but it's certainly good for getting you back home after a few beers!
Further afield
With an average English teacher in Austria working 25 hours a week, you'll have plenty of time off to explore your new home, and a two month period when your contract ends at the end of June means you can travel around Europe, like lots of English teachers opt to do.
Catching a train is the best means of travelling through Austria and other European countries: you can travel from Vienna to Salzburg in just 2.5 hours, costing a mere £15/$24 for a one-way ticket – a perfect way to spend your weekend after a hard week of teaching English!
Austria's central position makes it the perfect place to travel through Europe quickly and cheaply – Vienna is just an hour away from the Slovakian capital Bratislava, with a return ticket costing just £12/$20; or you can travel even further afield to the likes of Poland, Serbia and even Russia!
Insider Tips
The easiest way to find a job in Austria is to go to each institution and hand in your CV personally rather than emailing it through – Austrian employers appreciate candidates who go the extra mile and are genuinely eager to teach English.
No stay in Austria is complete without a trip to the Alps – 62% of Austria is covered in them – so make sure you indulge in some hiking, skiing or even après skiing in the chic chalets: a special mention goes to the Obergurgl resort, known as the 'Diamond in the Alps' due to its pristine white snow-capped mountains.
It's much easier for EU nationals to start teaching in Austria, with significantly higher paperwork for non-EU members. Don't let that deter you though: Austrian employers are very helpful and organised, and will help you to obtain your work visa once you've been offered a job!
Get the Brochure
If you're keen to find out more about teaching English then you'll want to check out the i-to-i free TEFL brochure. You'll find out all about choosing the right TEFL course, finding TEFL jobs abroad and the opportunities available to you.
Get your free brochure now